PHILADELPHIA -- Veteran reliever Buddy Carlyle is headed to Philly to aid an overworked Mets relief corps.
The reinforcement was needed after Rafael Montero lasted only 3 2/3 innings and Terry Collins exhausted his bullpen in a 14-inning loss to the Phillies on Friday.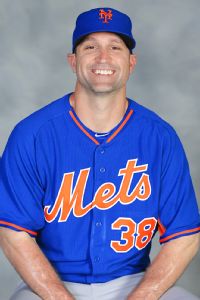 Courtesy of New York Mets
Buddy Carlyle
The corresponding move was not yet clear, but a source suggested Montero could be optioned to Triple-A Las Vegas to open the spot, which would presumably mean Daisuke Matsuzaka stepping into the rotation, potentially until Dillon Gee returns from the disabled list.
Carlyle is 1-1 with a 1.27 ERA and one save in 21 1/3 innings with Vegas spanning 18 relief appearances. The 36-year-old right-hander has appeared in the majors during parts of seven seasons, with the Padres, Dodgers, Braves and Yankees.
Carlyle will have to travel from El Paso, Texas, where the 51s are currently playing.
After allowing four runs (three earned) in 3 2/3 innings Friday against the Phillies, Montero now has a 5.40 ERA in four major-league starts. He is averaging five innings per start. Montero also has surrendered five homers. He has walked 11 in 20 innings -- bucking his career minor-league pattern of low walk totals (until this year, when his bases on balls also spiked with Vegas).
"The troubling part is the deep counts, the ball-one counts, because that is not how we thought he would attack up here," Collins said. "Certainly his whole history, as we've said so many times before, has been he's a strike-thrower. To be behind in the count like he is and to get himself in some deep situations, that's the troubling part."
Montero said he did not have an explanation for falling behind in counts.
"I don't really look much into that," he said through an interpreter. "Each start is different."