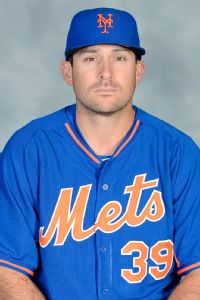 Courtesy of New York Mets
Dana Eveland
PHILADELPHIA -- After playing 10 extra innings over the past two games, the New York Mets will summon left-hander Dana Eveland from Triple-A Las Vegas as a bullpen reinforcement for Sunday's game against the Philadelphia Phillies.
Eveland, 30, last appeared in the majors in 2012 with the Baltimore Orioles.
He was 4-1 with a 3.91 ERA in 12 appearances (eight starts) for Vegas. He last pitched Tuesday, when he logged five innings at El Paso.
The Mets did not announce a corresponding move.
Temporarily dropping a position player might be difficult since Juan Lagares may be unavailable for a short period of time with a right rib-cage injury. As unfair as it might be, one option is dropping Buddy Carlyle, despite the veteran right-hander tossing three scoreless innings and earning his first win since 2008 in Saturday's 5-4, 14-inning victory against the Phillies.