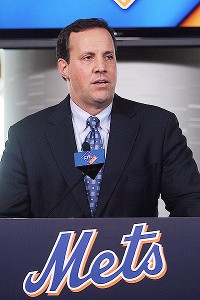 Rick Maiman/Bloomberg News/Getty Images
Dave Howard
PHILADELPHIA -- Dave Howard, who left the Mets early in 2013 to become president of MSG Sports, is out at the Garden.
"We are grateful for Dave's contributions as MSG has pursued strategic initiatives that have driven the company's growth and wish him the very best moving forward," an MSG spokesman told the Post.
Howard had served as Mets executive vice president for business at the time of his departure from the baseball club. In 20 years with the Mets, he also had served as general counsel, corporate secretary, vice president of business affairs and senior vice president of business and legal affairs.