PHILADELPHIA -- For the second time in the series, the Mets got a big performance from a veteran journeyman in his return to the majors after a prolonged absence.
Saturday, Buddy Carlyle tossed three scoreless frames in extra innings and the Mets won in 14.
Monday, Terry Collins summoned 30-year-old left-hander Dana Eveland, who had spent last season pitching in South Korea, in the eighth inning. Inheriting two baserunners from Bartolo Colon, Eveland proceeded to coax a flyout from Chase Utley, then struck out Ryan Howard to preserve a four-run lead en route to an eventual 11-2 win against the Philadelphia Phillies. It marked Eveland's first major league action since July 13, 2012 with the Baltimore Orioles.
The Mets are Eveland's eighth major league team.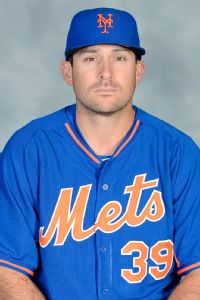 Courtesy of New York Mets
Dana Eveland
"You're still playing? That's amazing! I thought you were coaching," Eveland joked afterward about the content of text messages he received.
Eveland said he chose to play in South Korea last season because of economics. The salary offer there trumped what he could get should he end up in the minor leagues in the United States.
"I was 29 years old and at that point in my career where I had bounced around so much and been around so much, it was like, 'I've got to find a way to make some money before this thing runs out,'" he said. "You never know how long you can play, obviously. I'd love to play until I'm 40 if I can, but there's no guarantee that can happen."
What Eveland underestimated was how much difficulty he would have trying to latch on with an organization in the United States after the one lucrative season in Asia. He eventually signed with the Mets and headed directly to minor-league camp for spring training.
"We begged everybody and the Mets were nice enough to say yes," Eveland said. "I had a tough year last year in Korea (a 5.54 ERA for a 42-85 team), and it almost felt like this offseason I had been forgotten about. I had a decent year with Baltimore the year before and I did well in the big leagues in L.A. the year before that. Coming home I didn't think it would be an issue getting a job. It ended up being tough. I was fortunate enough to land somewhere that not only did I get a job period, but I got an opportunity if I did my job that I would have a chance to come here."
Eveland earned the promotion because the Mets needed extra arms after playing consecutive 14-inning games in Philly. Initially in the bullpen with Las Vegas, he quickly ended up in the rotation, producing a 3.91 ERA in 12 Triple-A appearances (eight starts).
"I've been throwing well, but we have two lefties in the bullpen here," Eveland said. "I wasn't really sure, but I kind of had a feeling eventually they were going to need some length in the bullpen. Hopefully I can provide that. That obviously wasn't the situation today."
Collins said he used Eveland in that late-inning, lefty-lefty situation because Scott Rice and Josh Edgin were unavailable because of their recent workloads. Collins could have had Eveland start the eighth clean with the 5-1 lead, but he decided to have Colon open the inning at 104 pitches so that Eveland could entire sight unseen for the lefties Utley and Howard. It just so happened that Colon surrendered consecutive singles before Eveland entered.
"Yeah, I got thrown right in the fire," Eveland said. "That's fine. I've done pretty decent against lefties this year. I know my slider plays here. I was confident. I figured, 'What's the worst that could happen -- you lose?' That's happened too many times in the past. So I think you get to a point in your career where that fear kind of goes away."
Said Collins: "What they told me about him is right on -- good command, not afraid, good slider."
Eveland, incidentally, said he did enjoy his season in Korea overall. He felt like a rock star walking around a mall or grocery story with 6-foot-5 Dominican teammate Denny Bautista. People stopped them to pose for photographs and to seek autographs.
"I enjoyed myself over there, but the baseball just wasn't the same," Eveland said. "It's definitely gratifying to be back here and be in the big leagues again. It makes you really cherish the time you have here."