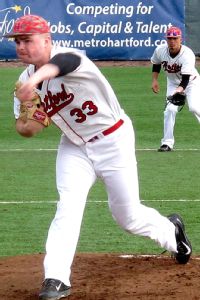 Pat Eaton-Robb/Associated Press
Keith Law continues to project the Mets select Sean Newcomb.
CHICAGO -- ESPN's Keith Law continues to project University of Hartford left-hander Sean Newcomb will be selected by the Mets with the 10th overall pick in the draft on Thursday.
Law lists NC State shortstop Trea Turner as a potential alternative.
Oregon State outfielder Michael Conforto or San Diego high school catcher Alex Jackson are projected to be selected before the Mets pick. Otherwise, they might trump Newcomb as the expected selection.
Insiders can read the full mock draft and bios here.