NEW YORK -- Right-hander Jon Velasquez has considered retiring from professional baseball at least twice in the past few years, first after playing independent ball for the Rockland Boulders in 2012, then again when he went to winter ball last November to pitch for Santurce in Puerto Rico.
Eight months later, the 28-year-old Bronx native is pitching in Double-A for the Binghamton Mets, where he has a 3-2 record and 3.52 ERA in 19 appearances. He has produced a 0.913 WHIP.
He throws a fastball that sits at 93-94 mph, cutter and changeup while working in relief.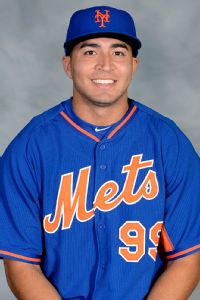 Courtesy of New York Mets
Jon Velasquez
"I wasn't in the right state of mind. I thought the game was getting a bit unfair to me," Velasquez said about his flirtations with walking away. "But I only know myself to play baseball and I knew this is what I wanted to do. Graduating from college and having student loans, it's hard to deal with. It was getting hard to make ends meet at the time. That was pretty much what it came down to, because I wasn't making much in indy ball."
After graduating from Harry S. Truman High School in the Bronx, Velasquez played college ball, picking up an associate degree in entertainment and sports promotion management, then a bachelor's degree in management from Northwood University in West Palm Beach, Fla.
Undrafted, he signed with the Phillies and rose to the Florida State League. In 2010 with Clearwater, he went 3-9 with a 3.19 ERA in 45 appearances (five starts) for the high-A club.
Velasquez subsequently was released. He pitched for Rockland in the Can-Am League in 2011 and '12 and was prepared to walk away and get a regular job when his manager, former major league pitcher Dave LaPoint, called with an opportunity to finish the season with Camden in the Atlantic League.
Velasquez enjoyed the experience and returned for 2013.
"I was thinking about retiring and just moving on with life and getting a regular job," Velasquez said. "My manager, Dave LaPoint, called me up like 12 days after our Can-Am season and asked me if I wanted to go out and play in the Atlantic League. I was like, 'Sure.' So I went there and played and had such a great time. I had a newfound love for the game after I went to Camden. They asked me if I wanted to play in 2013."
Still, though, independent ball can be a difficult way to make a living. And Velasquez still did not get an offer from a major league club to join its farm system, even though he posted a 1.95 ERA in 61 relief appearances last year with Camden.
He resolved to go to winter ball in Puerto Rico to try to draw interest. If that did not work, he was done with pro baseball.
The decision worked out. The Minnesota Twins signed Velasquez less than a month after he arrived in Puerto Rico. Then things got interesting.
Because he had signed only a week or so before the winter meetings, Velasquez was exposed for the minor-league phases of the Rule 5 draft. The Mets selected him. Velasquez, not expecting such a move, found out via Facebook while trying to reach a Spanish-language baseball site's alert on his phone. Velasquez is of Puerto Rican descent but not perfectly fluent in Spanish.
"I had a notification on Facebook and I clicked on it," Velasquez said. "Usually they just put things up if I pitched the night before with how I did. I was like, 'I didn't pitch yesterday. Why did they tag me?' And I started reading it. It was in Spanish, and I'm not really fluent. It takes me a little bit to understand. So I was reading through it and I kind of saw something about the Mets. As soon as I was like, 'Wait, what's going on?' my agent called me."
Organization leaders
Average: Andrew Brown, Vegas, .359; T.J. Rivera, St. Lucie, .356; Eric Campbell, Vegas, .355; Matt Reynolds, Binghamton, .352; Jairo Perez, St. Lucie, .351; Jeff McNeil, Savannah, .346; Kevin Plawecki, Binghamton, .335; Brandon Nimmo, St. Lucie, .332; Matt Clark, Binghamton, .331; Wilfredo Tovar, Binghamton, .313.
Homers: Andrew Brown, Vegas, 13; Taylor Teagarden, Vegas, 8; Matt Clark, Binghamton, 8; Allan Dykstra, Vegas, 8.
RBIs: Allan Dykstra, Vegas, 44; T.J. Rivera, St. Lucie, 44.
Steals: Jeff McNeil, Savannah, 14; Patrick Biondi, Savannah, 13; Dilson Herrera, St. Lucie, 13; Brandon Nimmo, St. Lucie, 9.
ERA: Kevin McGowan, Savannah, 1.66; Steven Matz, St. Lucie, 1.73; Darin Gorski, Vegas, 2.44; John Gant, Savannah, 2.67; Matt Koch, St. Lucie, 2.70; Ricky Knapp, Savannah, 3.09; Gabriel Ynoa, St. Lucie, 3.88; Luis Cessa, St. Lucie, 3.98; Noah Syndergaard, Vegas, 4.02.
Wins: Matt Koch, St. Lucie, 6; Miller Diaz, Savannah, 5; John Gant, Savannah, 5; Noah Syndergaard, Vegas, 5; Gabriel Ynoa, St. Lucie, 5.
Saves: Chasen Bradford, Binghamton, 11; Robert Coles, Savannah, 10; Vic Black, Vegas, 7; Randy Fontanez, St. Lucie, 7; Jeff Walters, Vegas, 6; Beck Wheeler, St. Lucie, 6.
Strikeouts: Darin Gorski, Vegas, 59; Dana Eveland, Vegas, 58; Noah Syndergaard, Vegas, 57; Miller Diaz, Savannah, 53; Dario Alvarez, Savannah, 52.
Short hops
• St. Lucie will have seven players in the Florida State League All-Star Game on June 14 in Bradenton, Fla.: second baseman Dilson Herrera, center fielder Brandon Nimmo, infielder T.J. Rivera, catcher Cam Maron, left-hander Steven Matz and right-handers Matt Koch and Randy Fontanez.
• Savannah placed seven players in the South Atlantic League All-Star Game, which will be played June 16 in Hickory, N.C.: right-handers Kevin McGowan, Miller Diaz, Akeel Morris and Robert Coles, left-hander Dario Alvarez, third baseman Jeff McNeil and shortstop Gavin Cecchini. Gnats manager Luis Rojas will lead the Southern Division team.
Nimmo resumed playing Monday after missing three days with pinkeye. Rivera also just returned from a three-game absence because of soreness.
• Frank Viola, who underwent open-heart surgery on April 2, is due to join Las Vegas on Friday as pitching coach. Viola and Mike Piazza first will represent the Mets on the opening day of the draft Thursday at Secaucus, N.J.
• The player to be named in the Ike Davis trade with the Pirates will not be announced immediately after the draft. The PTBN can be announced a year after he signed his first pro contract, not a year after he was drafted. If it does turn out to be Connecticut prep right-hander Neil Kozikowski, which has been speculated, he signed June 21. So the Mets would have to wait until the one-year anniversary to receive him. Kozikowski was selected in the eighth round and signed for an over slot $425,000 in 2013.
• Rafael Montero walked four in 5 1/3 innings in his return to Las Vegas on Tuesday night. Combined between the Mets and 51s this season, Montero has walked 33 in 67 innings, or 4.4 per nine innings. That is the highest rate of his career by a wide margin. The rate was 1.6 per nine innings in 2011, 1.4 in 2012 and 2.0 in 2013.
• Noah Syndergaaard is due to reenter the Vegas rotation Thursday after dealing with a forearm strain.
• Cory Mazzoni, who suffered a lat-muscle injury starting for the Mets in the final Grapefruit League game, is due to pitch an inning in extended spring training on Wednesday for the first time since suffering the injury.
• Rob Whalen, who raced to a 4-0 start with a 1.80 ERA through 20 innings with Savannah before developing an infection in his pitching hand, has been cleared to start throwing on flat ground.
• Amed Rosario is not yet done with Savannah, even though he was transferred off their roster temporarily to clear a spot. The 18-year-old shortstop still will be joining Brooklyn when the New York-Penn League season opens June 13 at Staten Island. Rosario struck out in all five at-bats in his lone South Atlantic League appearance so far.
• Jairo Perez, who missed two weeks in April with a right hamstring pull, now has enough at-bats to qualify for the Florida State League leaderboard. Perez checks in at No. 2, with a .351 average. Rivera, his teammate, is first overall at .356. Nimmo ranks fourth in the league at .332.