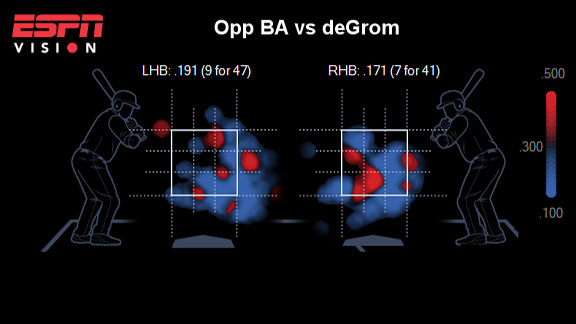 Jacob deGrom has been very tough to hit, particularly down in the strike zone.As a kid growing up in Florida, Mets starter Jacob deGrom got a lesson in pitch command at an early age.
#48 SP
New York Mets
2014 STATS
When he would play catch with his father, Tony, his dad would yell at him to hit a target right around the center of his chest. If Jacob's throws were askew, his dad would make Jacob chase the ball down himself.
That was the story that deGrom told ESPN baseball analyst Rick Sutcliffe before his start against the Dodgers a couple of weeks ago, when Sutcliffe asked him where he learned to hit his target as well as he does.
DeGrom's pitch precision is the primary reason he's been so successful in the first four starts of his major-league career. He'll be trying for his first win when he starts against the Cubs tonight.
The numbers
DeGrom is one of five pitchers to open his career with four straight quality starts for the Mets, but only the second (along with Mets broadcaster Ron Darling) to go winless in those four games.
Jacob deGrom
DeGrom's 25 strikeouts are one shy of the most by a Mets pitcher in the first four games of his career (Matt Harvey, Dwight Gooden and Dick Selma had 26) and his 1.08 WHIP matches Tom Seaver for second-best among Mets pitchers to throw at least 20 innings in their first four games (Dennis Ribant had an 0.88 WHIP in his first four in 1964).
DeGrom struck out 11 Phillies in his fourth start. He's one of seven pitchers in the past 10 seasons to have an 11-strikeout game that early in his career. That bodes well when you consider that the other six are Felix Hernandez, Stephen Strasburg, Mike Minor, Matt Moore, Matt Harvey and Chris Archer. In other words, no flukes in that group.
What's working?
We've heard a lot of rave reviews about deGrom's approach. A couple of long-effective pitchers shared their thoughts.
"I thought deGrom was impressive," said former Met and Yankee David Cone, who broadcast deGrom's debut on YES. "Plus fastball. Good change. Couple of different breaking balls. He looks like a keeper to me."
Sutcliffe broadcast his second start against the Dodgers, shared the father-son catch story with his viewing audience and said this as deGrom warmed up:
"He has a good, clean delivery and a nice arm angle. He looks like Bronson Arroyo to me. For him to be successful, he's got to live down in the strike zone. The changeup has to be a plus pitch to make his fastball more effective. What impresses me is that he can maintain 94-95 miles per hour when pitching out of the stretch."
Let's take a closer look at some of the points they brought up.
Fastball command
The best thing that deGrom has going for him is that he is getting misses on swings against fastballs thrown in the strike zone at a well-above average rate (20 percent).
When he throws his fastball within the lower half of the zone, opponents are 4-for-25 against it. And he does that often, as this image shows: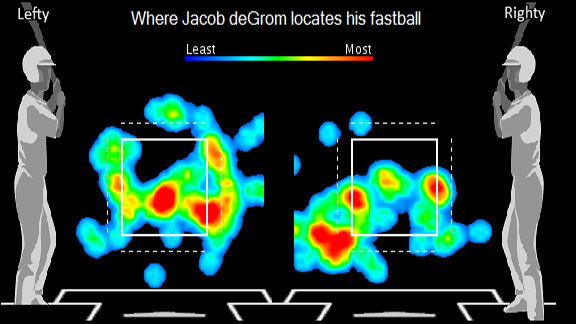 "In our system, we try to identify what the low strike is, and we work on it every day," said Mets pitching coordinator Ron Romanick, who has watched deGrom closely since taking that position in 2012. "He took to it right away."
When deGrom gets a little extra on his pitches, he's very tough. He's hit 94 mph or faster with his fastball 95 times, getting 23 outs and allowing one hit at that velocity. Among those who struck out on pitches at that velocity: Brett Gardner, Mark Teixeira, Marlon Byrd and Chase Utley.
One last stat: The folks at Sportvision/BAM use video technology to evaluate how close a pitcher comes to hitting a catcher's initial target. DeGrom's fastball, on average, comes within 11 inches of the target, a number that rates among the 10 best in the majors. The average pitcher throws one about 13.5 inches from the target.
That's the sort of thing for which the Mets are looking.
The changeup
The pitch that has been deGrom's most consistent through four starts is the changeup (in which he uses the grip taught by Johan Santana), one he throws 10 to 12 mph slower than his fastball.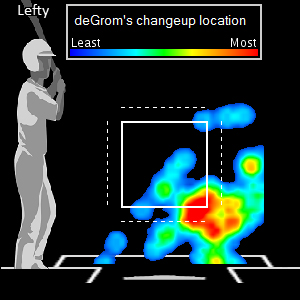 Jacob deGrom has located his changeup well too.Opponents have two hits and a walk and have made 21 outs against the 61 he's thrown. They've missed on 17 of the 37 swings they've taken against it, a 46 percent rate.
Phillies hitters were 0-for-17 with 10 strikeouts against the fastball-changeup combo.
"The first contrast pitch we teach is the changeup," Romanick said. "We prioritize that over the breaking ball. Jake has a swing-and-miss changeup."
Romanick also noted that deGrom doesn't leave too many hangers.
"When he misses, he misses in good spots," Romanick said.
Poise
Opponents are 3-for-27 with men on base against deGrom and 1-for-13 with runners in scoring position, with the only hit being Ryan Howard's three run home run on Saturday.
"The composure has been there," Romanick said. "He'd always had that polish at the minor league level."
Looking ahead
DeGrom has a sense of self-awareness. He is still trying to find his ideal breaking ball. The home run by Howard came on a hanging curveball. Lefties are 4-for-4 against his hook so far. The slider has been good sometimes, but not consistently.
Remembering Jacob deGrom
"I've struggled with my slider a little bit," deGrom said on Tuesday. "I'm working on that in the bullpen. My curveball has come a long way, but I would say probably fastball, changeup have been the best two for me."
The Mets have also stressed that deGrom needs to be aware of his pitching patterns. Romanick thought that Howard knew what was coming based on what he'd seen in previous at-bats.
"Those type of hitters make pretty good adjustments," Romanick said.
The other thing to keep in mind is that his abnormally-low BABIP (.206) and the good numbers with men on base and runners in scoring position aren't going to last forever. Zack Wheeler learned that this season, as his batting average in the latter situations has jumped from .173 as a rookie to .349 in 2014.
The various ERA-estimating stats peg deGrom as being someone whose ERA should be one to two runs higher than it currently is. But in fairness, deGrom is still very much a work in progress. His 4.52 FIP (an ERA estimator based on strikeouts, walks and home runs allowed) is skewed a bit by the three homers he allowed to the Dodgers.
As such, Romanick is not worried. DeGrom learned pitching relatively late in his scholastic career. He primarily was a shortstop in high school and college, which might explain why he can hit a little bit. There is still upside, even for a 25-year-old first-year big leaguer.
"I think he can handle anything thrown his way," Romanick said.