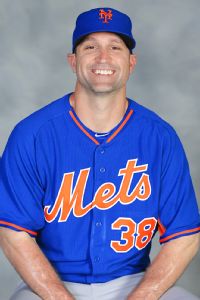 Courtesy of New York Mets
Buddy Carlyle
CHICAGO -- Right-hander Buddy Carlyle, who earned his first major league win in six years last weekend in Philadelphia, was designated for assignment by the Mets after a 5-4 loss to the Chicago Cubs on Wednesday.
The Mets needed the roster spot for outfielder Andrew Brown, which will return the bench to its customary five players.
The Mets selected Carlyle over lefty reliever Dana Eveland as the roster casualty. The Mets will continue to have three southpaws in their now-seven-man bullpen.
Carlyle allowed one hit and one walk and struck out three in 1 1/3 innings Wednesday at Wrigley Field in his second appearance with the ballclub. He logged 4 1/3 scoreless innings overall during the brief major league stint.