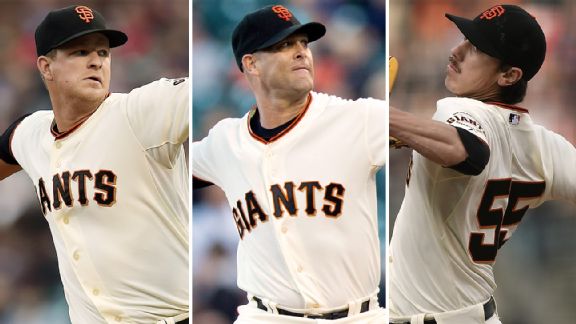 Getty Images
The Mets face Matt Cain, Tim Hudson and Tim Lincecum this weekend in San Francisco.METS (28-32, fourth place/NL East) vs. SAN FRANCISCO GIANTS (39-21, first place/NL West)
Friday: LHP Jonathon Niese (3-3, 2.69) vs. RHP Matt Cain (1-3, 3.66), 10:15 p.m. ET
Saturday: RHP Bartolo Colon (5-5, 4.52) vs. RHP Tim Hudson (6-2, 1.75), 10:05 p.m. ET
Sunday: RHP Zack Wheeler (2-5, 3.89) vs. RHP Tim Lincecum (4-4, 5.01), 4:05 p.m. ET
Giants short hops
• Three-time All-Star Matt Cain will be activated from the disabled list to face the Mets. He departed a May 21 start after three scoreless innings with a strained right hamstring. Former Mets farmhand Yusmeiro Petit, who was traded to the Miami Marlins to acquire Carlos Delgado on the eve of Thanksgiving in 2005, had stepped into the rotation in Cain's absence. Petit has returned to the bullpen.
• In the same May 21 game against the Colorado Rockies that Cain became injured, reliever Santiago Casilla also strained his right hamstring. His remains on the disabled list and is at least two weeks away from being activated.
• After nine seasons with the Atlanta Braves, 38-year-old Tim Hudson signed a two-year, $23 million contract with San Francisco during the offseason. Hudson's 1.75 ERA ranks second in the majors, trailing only Cincinnati's Johnny Cueto (1.68). Hudson has tossed seven scoreless innings in each of his past two starts.
Thearon W. Henderson/Getty Images
Ex-Met Angel Pagan is hitting .321 this season.
• Sergio Romo's 18 saves are tied with San Diego's Huston Street for the major league lead. Romo has converted 90 percent (18-for-20).
• Right fielder Hunter Pence (.290, 8 HR) signed a five-year, $90 million extension with the Giants on Sept. 29. Pence has started 232 straight games, the longest active streak in the majors.
• San Francisco has won 11 of its past 14 games to move a season-high 18 games over .500. The Giants' 39-21 record is the best in the majors. They play 20 of their next 25 games at AT&T Park.
• The Giants have scored an MLB-best 47 runs in the first inning.
• Tim Lincecum, who appeared last season like he may be headed elsewhere, re-signed with the Giants for two years, $35 million on Oct. 23. Linecum allowed eight runs in 4 1/3 innings at Cincinnati in his last start as his ERA swelled to 5.01. He left his previous start with a blister on his right middle finger after tossing five no-hit innings against the Cubs, albeit with four walks and 96 pitches thrown. Lincecum turns 30 on June 15.
• Reliever Jean Machi has a 21 2/3-inning scoreless streak, trailing only Atlanta's David Hale (22 2/3) on the active leaderboard. Miami's Henderson Alvarez ranks third at 21 innings.
• Outfielder Tyler Colvin was promoted from Triple-A Fresno on May 10 after first baseman Brandon Belt suffered a broken left thumb. Belt is scheduled to get two pins removed on Friday. The fracture occurred when he was struck by a fastball from Paul Maholm.
Belt's injury prompted Michael Morse to move from left field to first base. Morse is 14-for-his-last-36 (.389), with 11 extra-base hits and 12 RBIs during that span. He signed with the Giants on Dec. 12 for one year at $6 million.
• Shortstop Brandon Crawford had been 4-for-his-last-32 before producing a three-run homer in the fourth inning Thursday afternoon against Cincinnati's Mike Leake.
• With Marco Scutaro having missed the season's first 60 games with a lower-back strain, Brandon Hicks has emerged as the regular second baseman. Brandon Hicks? Yes, the same player who looked challenged defensively in spring training with the Mets in 2013 and went on to hit .283 with 11 homers and 49 RBIs in 318 at-bats with Triple-A Las Vegas. Hicks is in the midst of a 4-for-37 slump over his past 13 games that has dropped his average to .182, albeit with a .303 on-base percentage. Scutaro recently received platelet-rich plasma therapy.
• Ex-Met Angel Pagan is hitting .321 and has a .370 on-base percentage as San Francisco's leadoff hitter and center fielder.
• Buster Posey, whose gruesome left leg fracture in 2011 prompted MLB to institute the new blocking-the-plate rule, is 11-for-his-last-63. He has missed five games since May 20 with lower-back tightness related to a nerve issue. Posey has started 40 games at catcher and nine games at first base this season.
• Madison Bumgarner, whom the Mets do not face, is the reigning NL Pitcher of the Month. He was the first Giant to win the award since Lincecum in June 2009. Bumgarner went 5-0 with a 2.08 and MLB-best 48 strikeouts in six starts in May.