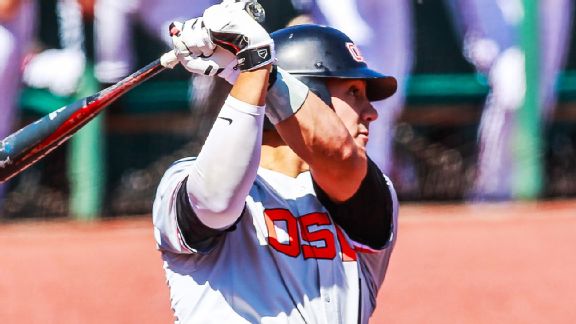 Steve Conner/Icon SMI
The Mets have selected Oregon state outfielder Michael Conforto with the 10th overall pick in the draft.CHICAGO -- With the 10th overall pick in the draft, the Mets have selected two-time Pac-12 Player of the Year Michael Conforto, a power-hitting outfielder from Oregon State.
That halts a pattern of three straight years under Sandy Alderson and Paul DePodesta of taking a high school position player with the organization's top pick (Brandon Nimmo, Gavin Cecchini and Dominic Smith).
Conforto, 21, had been projected to be a top-three pick by ESPN's Keith Law.
"I kept an open mind coming into the draft," Conforto said. "I knew there were a lot of different things that could happen, just depending on the way things went. I know there were a few surprises there in the beginning. So I just kept an open mind. I had heard from a couple of sources and just online that maybe I was going to New York. Obviously that was very, very exciting to see that."
He hit .345 with seven homers and 56 RBIs in 203 at-bats with Oregon State during his junior season and produced a .504 on-base percentage. He set a single-season school record with 55 walks.
He has played internationally for Team USA in Japan and Cuba.
Mets executives say Conforto's combination of patience and power ideally fit the Mets' philosophy. They added that the draft pool pushed them in the direction of a college player and then the outfielder Conforto when he remained available, refuting any suggestion the pick was based on need.
"We were just really hopeful that we would have a chance to call his name," Paul DePodesta said. "I wouldn't say we were optimistic, but we were hopeful. ... We don't go into any draft and say, 'We want a college player here.' Or, 'We want a pitcher here.' We need to see what the draft is going to offer us. The last few years we really felt, at least the spot where we were in the draft, that the high school position player was the best option on the board and the best bet to take. This year, even as we got into the last week or two and the top four, five, six picks started taking shape ... we really thought, 'You know what? This looks like a college player for us. The best-available player at 10 is going to be a college player, whether it's a position player or pitcher.'"
Said director of amateur scouting Tommy Tanous: "It's a real fit for what we like in a hitter -- the patience, the discipline. He's got many strengths. One of the strengths is the patience, but he also has power. He is going to make a pitcher come in with a pitch that the pitcher doesn't want to come in with. And then he's really going to unleash on the ball. That's probably one of his biggest strengths. This is a guy who has the ability to lay off pitches and the ability to really hurt pitchers when they make a mistake with him. As far as weaknesses, we saw very few. And we scouted him more than any other hitter all spring. This was our No. 1 hitter since last spring."
The Mets obviously have a glaring need for a power outfield bat, but DePodesta was cautious in predicting how long it would take Conforto to reach the majors.
"It's difficult to say," DePodesta said. "We need to learn how he's going to move through the system. He's obviously a different player than we've taken the last three years. We've taken high school players the last three, but this is a pretty polished college player. ... Who knows? We'll see how it goes. Generally we'll take things certainly slow this first summer and try to get him in the right spot beginning next April, just so he can get his sea legs as a professional player. But we do think he's an advanced hitter and certainly has a chance to move quicker than the high school players that we have taken the last few years."
The 6-foot-1, 215-pound Conforto hails from Woodinville, Wash. His father Mike played linebacker at Penn State under Joe Paterno. His mother Tracie Ruiz-Conforto won two gold medals in the 1984 Olympics in Los Angeles in synchronized swimming, then a silver four years later in Seoul, South Korea.
Conforto was recruited to play college football and baseball by some Division I schools, and football only at some Ivy League schools, but went exclusively in the baseball direction in part because of the toll football took on his father, who needs double-knee replacement surgery and is having difficulty walking.
"I had a great future started in baseball and I could see the way football affected my dad later on in life," Conforto said.
Law writes about Conforto:
There's no doubting Conforto's offensive ability, with above-average power from the left side and a solid approach at the plate, but a severe lack of defensive value hurts his value considerably.
At the plate, Conforto has average bat speed, though he rotates his hips well and gets his hands moving quickly. He also has plus power to the pull side. He works counts well and is willing to go the other way when necessary, and patience shouldn't be an issue at the plate. He's a well below-average runner, however, and adds little value on the bases.
Defensively, however, Conforto is a bit of a mess. He doesn't get good jumps on the ball in the outfield, and when he does get to the ball he has a poor throwing arm that runners can take extra bases on.
"The past few years I've been working hard on my defense," Conforto said. "I think that's something that I definitely will continue to work on. I think I've really improved and taken a big step forward with that."
The Mets last used their first selection on an Oregon State product in 2007, when reliever Eddie Kunz was taken 42nd overall.
So thankful for the opportunity that the New York Mets have given me. Dreams really do come true!!! Thank you everyone for your support!

— Michael Conforto (@mconforto8) June 6, 2014