SAN FRANCISCO -- Former New York Mets catcher Paul Lo Duca, a devout Mets fan, ripped into past and present members of the club during an appearance Friday on WFAN.
Regarding current catchers Travis d'Arnaud and Anthony Recker, Lo Duca said: "I could hit better left-handed than the schmucks they've got there now."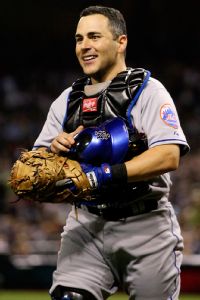 Jay Drowns/Sporting News
Paul Lo Duca unloaded on the Mets' catchers and GM Omar Minaya.
Regarding former GM Omar Minaya, Lo Duca said: "The issue that the Mets have is that after 2006 and 2007, when we all were there ... they stuck their hopes in a guy that, let's be honest, had no clue what was going on. None. The guy was an idiot. And he ended up making the franchise go backwards. Where the Mets have always made the mistake is they've always settled for mediocrity.
"Now, listen, Bartolo Colon? Great sign. He had an unbelievable year. But, for me, what does he serve for you as a Mets fan? So you can go 78-85? Why not bring up a kid from Double-A and give a kid some experience and try to find lightning in a bottle? They've never done that.
"They've also seemed like, you know what, let's throw out an 80-80 team. And, as a Mets fan, I'm done with it. Besides '06 and '07, give me some other years besides 2000. It seems like that's always been the premise. And then they go build this ballpark that's mammoth, and your franchise player is a hitting star who has four home runs."
Expanding on Minaya, Lo Duca said: "How did that guy have his job for that long? Let's be honest."
Reminded Minaya brought him in, Lo Duca laughed and added: "The guy didn't even know what my age was. And I never got a phone call. So I'm never gonna support that guy. Because when the collapse happened, I wasn't part of that collapse. It was the other guys who collapsed."
Lo Duca did absolve ownership and current manager Terry Collins.
"Well, I don't know that they have a ton of responsibility -- $87 million is still a solid payroll, and you can win ballgames," Lo Duca said about the Wilpons. "And they've got a good manager. I think Terry is a very good manager."