Ben Margot/Associated Press
Buster Posey strikes a pose after connecting on a game-deciding two-run homer against Carlos Torres on Friday.SAN FRANCISCO
FIRST PITCH: The Mets will need a win against the pitcher with the top ERA in the majors to prevent their dive from reaching five Saturday.
Bartolo Colon (5-5, 4.52 ERA) opposes San Francisco Giants right-hander Tim Hudson (6-2, 1.75) at 10:05 p.m. ET at AT&T Park.
Saturday's news reports:
• Carlos Torres surrendered a tiebreaking two-run homer to Buster Posey in the eighth and the Mets lost to the Giants, 4-2, Friday night.
Matt Cain no-hit the Mets into the sixth, but served up a go-ahead two-run homer to Daniel Murphy an inning later. Jonathon Niese allowed a game-tying RBI single to Brandon Crawford in the bottom of the seventh.
Travis d'Arnaud went 0-for-3 and grounded into two double plays as his average dropped to .180.
"I got to be better than this," d'Arnaud told reporters. "This is unacceptable to me."
Read game recaps in the Post, Daily News, Newsday, Times, Star-Ledger, Record and at MLB.com.
• Read more on d'Arnaud in the Star-Ledger.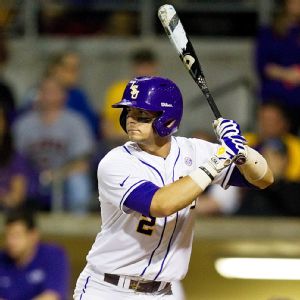 John Korduner/Icon SMI
The Mets selected LSU catcher Tyler Moore with their sixth-round pick.
• On Day 2 of the draft, the Mets selected defensive whiz Milton Ramos, a high school shortstop from Florida, in the third round. They then selected slugging third baseman Eudor Garcia out of El Paso Community College, Seton Hall right-hander Josh Prevost and LSU catcher Tyler Moore. Read the recap of rounds 3-10 here and comments from amateur scouting director Tommy Tanous and VP Paul DePodesta here. The draft concludes Saturday with rounds 11 to 40.
Matt Ehalt in the Record profiles first-round pick Michael Conforto out of Oregon State. College coach Pat Casey compares Conforto favorably with fellow Beavers product Jacoby Ellsbury in terms of demeanor and bat.
Read more on the Mets draft in the Post, Times and Star-Ledger.
• Top prospect Noah Syndergaard again dodged a serious injury bullet. Syndergaard, who injured his left shoulder covering the plate after delivering a first-inning wild pitch Thursday with Las Vegas, was diagnosed with a sprained A/C joint in his left, non-throwing shoulder. An X-ray of the scapula was negative for a fracture. Syndergaard may resume tossing a baseball in five to seven days if he is comfortable. He watched Friday's Las Vegas game from the stands wearing a sling. Read more in the Post, Daily News, Star-Ledger, Record and at MLB.com.
• Former Mets catcher Paul Lo Duca ripped into ex-GM Omar Minaya and the organization's culture and mocked current the catchers, d'Arnaud and Anthony Recker, during a WFAN radio appearance Friday. On SNY, Lo Duca added: "The Mets need to go back to square one, go back to their roots, go to younger players. If that means to trade David [Wright], that means to trade David."
Read more in the Post and Daily News.
• Columnist Kevin Kernan in the Post suggests the Mets can learn a lot by observing the Giants.
• Johan Santana, who was nearing a return to the major leagues with the Baltimore Orioles after undergoing shoulder surgery for a second time, suffered a serious blow to his comeback bid. The 35-year-old Santana tore an Achilles tendon in an extended spring training game and will miss the remainder of the season. Read more in the Baltimore Sun.
• Eric Young Jr. suffered tightness in his strained right hamstring while attempting to run and will be backed off his rehab. As a result, he will not return from the DL on Tuesday when eligible.
• Dillon Gee (lat strain) has resumed tossing a baseball on flat ground, but will take a while to get back into game-ready shape.
• Gabriel Ynoa struck out 11 in seven scoreless innings as St. Lucie blanked Dunedin, 5-0. Brandon Nimmo left that game an inning after being struck in the right wrist/forearm by a pitch. Read the full minor-league recap here.
• Mets shortstops are outperforming Yankees shortstops, Cody Deraspina writes in Newsday.
• From the bloggers … Faith and Fear offers a uniquely Metsian take on the legacy of Don Zimmer.
BIRTHDAYS: Speedy outfielder Esix Snead, who appeared in 18 major league games with the club in 2002 and '04, turns 38.
TWEET OF THE DAY:
Two of my favorite men @FrankViola16 @FrankViola3 are back in uniform tonight doing what they love... So happy and proud!! #LetsPlayBall

— Kathy Viola (@MommaV16) June 7, 2014
YOU'RE UP: Should the Mets consider demoting Travis d'Arnaud?