NEW YORK -- One year certainly has made a dramatic difference for 23-year-old middle infielder Matt Reynolds, the Mets' second-round pick in 2012 out of the University of Arkansas.
A year ago, in his first full professional season, Reynolds hit only .226 in 433 at-bats with Class A St. Lucie.
This season, he has a .361 average in 194 at-bats with Double-A Binghamton. Add in 27 walks and Reynolds has a .437 on-base percentage. The batting average is tied for second in all of minor league baseball.
Reynolds indicated his offseason work with Rick Strickland in St. Louis paid big dividends.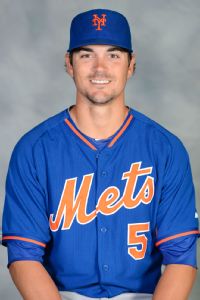 Courtesy of New York Mets
Matt Reynolds
Reynolds' agent, Jason Wood, sent him to work with Strickland. Another client, the Phillies' Cody Asche, also had success working with the part-time Mets scout and former Yankees minor leaguer.
"Luis Rivera, our [Binghamton] hitting coach, has been huge with me, too," Reynolds added. "We've just been working on staying through the middle, having a confident approach at the plate, and really just getting a good pitch to drive. And if they don't give it to me, and I get to two strikes, just battle and find a way to get on base.
"I'm trying to keep a positive attitude, even when things are going bad. So far things really haven't gone too bad. So it's pretty easy to keep a positive mental state. But even when things start going bad, just to stay positive and keep working."
Reynolds missed six days last week with a back issue, but he has come back on fire. He is 11-for-24 in five games since returning.
"It was just muscle tightness," Reynolds said. "They never really said specifically what it was, but they said if I kept having pain to take time off until I was better. I think I took four days off and felt 100 percent. I feel a lot better now."
Reynolds "definitely" continues to aspire to be a shortstop, although deficiencies may result in him playing elsewhere. He also sees roughly two games a week at second base with the B-Mets.
"I only played a couple of games in college at second, but I worked there a lot and practiced and everything," Reynolds said. "I actually played summer ball at second. So I have a little background at second. I just had to get used to it again after playing third and short in college and everything. It's nothing different to me -- just another position to help my value and to get better."
Asked what he wanted to still polish in the minors, Reynolds added: "I really want to improve on being able to pull the ball a little bit better, and my defense, obviously. I want to stay at shortstop or even at second base. And I know there are a lot of things that I need to work on, like my hands and footwork, to be able to stay at that position. I know that may not come today or tomorrow, but eventually I feel like I'll be able to get everything I need to do to play at those positions."
Reynolds is athletic. A point guard in high school, he indicated he had invitations to walk on to basketball programs at Iowa State, Furman and Butler.
"After my sophomore year [of high school], I was almost for sure that I was going to play basketball in college," Reynolds said. "I was close to playing basketball in college. And then I had a good junior year. And in the summer of my junior year I was talking to some professional scouts and they said I really had a chance of being a good player in baseball. I sat down with my parents and decided that baseball was probably my best route to go -- better than basketball – because I was a 6-foot guy trying to make it in an NBA where the point guards are 6-8 now. So it would be have been tough for me."
Organization leaders
Average: Matt Reynolds, Binghamton, .361; Jairo Perez, St. Lucie, .353; T.J. Rivera, St. Lucie, .351; Kevin Plawecki, Binghamton, .344; Jeff McNeil, Savannah, .341; Brandon Nimmo, St. Lucie, .327; Matt Clark, Binghamton, .313; L.J. Mazzilli, Savannah, .304; Dilson Herrera, St. Lucie, .302; Allan Dykstra, Vegas, .299.
Homers: Andrew Brown, Vegas, 13; Matt Clark, Binghamton, 9; Allan Dykstra, Vegas, 9; Kirk Nieuwenhuis, Vegas, 9.
RBIs: Allan Dykstra, Vegas, 46; T.J. Rivera, St. Lucie, 45; L.J. Mazzilli, Savannah, 43; Kevin Plawecki, Binghamton, 40; Aderlin Rodriguez, St. Lucie, 39.
Steals: Dilson Herrera, St. Lucie, 14; Jeff McNeil, Savannah, 14; Patrick Biondi, Savannah, 13; L.J. Mazzilli, Savannah, 11; Brandon Nimmo, St. Lucie, 9.
ERA: Steven Matz, St. Lucie, 2.13; Kevin McGowan, Savannah, 2.14; John Gant, Savannah, 2.36; Darin Gorski, Vegas, 2.81; Matt Koch, St. Lucie, 3.24; Gabriel Ynoa, St. Lucie, 3.45; Ricky Knapp, Savannah, 3.99; Luis Cessa, St. Lucie, 4.08; Matt Bowman, Binghamton, 4.44; Noah Syndergaard, Vegas, 4.47.
Wins: Matt Koch, St. Lucie, 6; John Gant, Savannah, 6; Gabriel Ynoa, St. Lucie, 6.
Saves: Chasen Bradford, Binghamton, 11; Robert Coles, Savannah, 11; Randy Fontanez, St. Lucie, 9; Vic Black, Vegas, 7; Jeff Walters, Vegas, 6; Beck Wheeler, St. Lucie, 6.
Strikeouts: Darin Gorski, Vegas, 64; Miller Diaz, Savannah, 59; Dana Eveland, Vegas, 58; Dario Alvarez, Savannah, 58; Noah Syndergaard, Vegas, 57.
Short hops
• Sandy Alderson indicated the Mets are within days of signing first-round pick Michael Conforto, an outfielder from Oregon State. The GM added that third-round pick Milton Ramos, a prep shortstop from Florida, is even closer to being signed. Other picks already in or en route to Port St. Lucie include Eudor Garcia (fourth round), Josh Prevost (fifth), Dash Winningham (eighth), Erik Manoah (13th), Darryl Knight (14th), David Roseboom (17th), Tyler Badamo (24th) and Matt Blackham (29th).
• Discussing his rationale for the first time for demoting Travis d'Arnaud, Alderson said: "He needs to go down without the pressure of playing every day at the major league level, get his swing back, get his confidence back, and I would expect that he'll be back -- hopefully -- relatively soon. It's not unusual. Sometimes we expect that guys will come up and everything will click immediately with a young player and it's nothing but an upward trajectory. And that doesn't always happen. I think we have to recognize that and be a little patient. As far as we're concerned, there's no reason Travis can't come back and be a very productive player for us."
• After seven weeks mysteriously away from the organization, John Lannan threw roughly 45 pitches off a mound at the Mets' Florida complex on Tuesday morning. In a post-throwing-session interview with the St. Lucie News Tribune's Jon Santucci, Lannan declined to disclose his whereabouts during his absence. The Mets have labeled it a personal/family matter. Lannan will work as a starter in the minors. He will pitch in the Gulf Coast League or Florida State League to ramp up before being dispatched to Las Vegas.
"Let's call it a mini-spring training -- just stretch out and see how it goes," Lannan told Santucci. "I've been throwing, so now I'm just going to get back in the swing of things, face some batters and get my pitch count up. My arm feels good. I just have to get back on a five-day rotation and get my pitch count going."
• Shortstop Amed Rosario, temporarily with Savannah, is expected to highlight the roster of the Brooklyn Cyclones, who open play Friday at Staten Island. The 18-year-old Rosario signed two years ago for $1.75 million, a franchise record for an international teenager. The Cyclones also will include 2013 third-round pick Casey Meisner, a right-hander out of high school in Texas, as well as infielder Jhoan Urena, catcher Tomas Nido, outfielder Joe Tuschak and right-handers Marcos Molina, Corey Oswalt and Brandon Welch.
Kingsport opens play June 19, with the Gulf Coast League season beginning the following day.
• Vegas reliever Jeff Walters, a 40-man roster member, is debating whether to proceed with Tommy John surgery or to try to rehab after being diagnosed with an ulnar collateral ligament tear in his right elbow. Walters unwittingly had been pitching through the tear this season. He produced an 8.86 ERA in 23 Pacific Coast League relief appearances. He had 38 saves last season with Binghamton.
• 2011 first-round pick Brandon Nimmo remains sidelined since getting struck with a pitch in the right wrist Friday by Dunedin's Matt Boyd. X-rays were negative, but the wrist remains tender and Nimmo is unable to swing. Also injured with St. Lucie, reliever Beck Wheeler and shortstop Phillip Evans have landed on the DL with right-knee strains.
• Right-hander Gabriel Ynoa became the first St. Lucie player to be recognized this season as the Florida State League Pitcher of the Week. Ynoa, 21, struck out a career-high 11 in seven scoreless innings against Dunedin. He has a 1.18 ERA in his last six starts.
• Right-hander Cory Mazzoni, a second-round pick out of NC State in 2011, continues to progress from a lat-muscle strain suffered during the Grapefruit League finale. Mazzoni tossed two innings in an extended spring training game Tuesday.
• St. Lucie has seven players invited to Saturday's Florida State League All-Star Game in Bradenton, Fla.: infielders Dilson Herrera and T.J. Rivera, Nimmo, catcher Cam Maron, left-hander Steven Matz and right-handers Matt Koch and Randy Fontanez.
• Savannah will have seven players in Monday's South Atlantic League All-Star Game, which will be played in Hickory, N.C.: right-handers Kevin McGowan, Miller Diaz, Akeel Morris and Robert Coles, left-hander Dario Alvarez, third baseman Jeff McNeil and shortstop Gavin Cecchini. Gnats manager Luis Rojas will lead the Southern Division team.
• Middle infielder Wilfredo Tovar, a member of the 40-man roster who appeared in seven games for the Mets last September, is expected to be sidelined five to six weeks after undergoing surgery for a ligament tear in his left thumb. Tovar suffered the injury sliding. He was hitting .313 with one homer and 21 RBIs in 150 at-bats with Binghamton.
• Vegas utility player Anthony Seratelli, a Jersey native and Seton Hall product, has an out in his contract next week. The Mets can only lose him if another team agrees to place Seratelli immediately on its active major league roster. Seratelli, 31, is hitting .265 with one homer and six RBIs through 68 at-bats with Vegas, but has walked 18 times for a .422 on-base percentage.
• Left-handed reliever Chase Huchingson made his Double-A season debut on Monday after six appearances with St. Lucie. Huchingson is returning from a 50-game suspension for a drug of abuse. He had a 1.61 ERA and lefty batters hit .125 against him in 45 appearances last season with the B-Mets before the suspension.
• Frank Viola began serving as pitching coach at Vegas on Friday after recovering from April 2 open-heart surgery. That will allow fill-in Tom Signore to serve in his originally intended role with the Cyclones.
• Outfielder Cory Vaughn made his Triple-A debut Thursday despite only hitting .190 with three homers and 10 RBIs in 174 at-bats with Binghamton. Also promoted from the B-Mets to Vegas: reliever Chasen Bradford, a Henderson, Nev., native.
• In two starts since his demotion to Vegas, Rafael Montero has allowed nine runs (four earned) on nine hits and six walks in 8 1/3 innings.
• Jairo Perez leads the Florida State League with a .353 average. He has nine multi-hit performances in his last 14 games.
• Las Vegas has lost 17 of its last 23. The 51s opened the season 31-11.