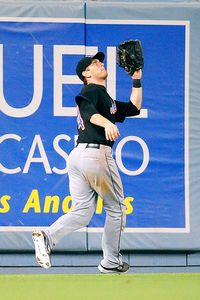 Gary A. Vasquez/US Presswire
Jason Bay remained in a July 23 game at Dodger Stadium to produce this sixth-inning catch despite unknowingly suffering a concussion earlier in the night.
Not everyone was thrilled with Jerry Manuel's pregame prediction Friday that Jason Bay would not return this season because the left fielder was still experiencing concussion symptoms.
Manuel was instructed by the organization to amend his remarks after the Mets beat the Pirates, 7-2.
"It appears that I was a little premature in saying Jason Bay wouldn't be back," Manuel said. "It appears he is recovering nicely and that there is a possibility he will be back to play."
Manuel, forced to tow the company line, then was asked how that revision made sense. After all, multiple team officials acknowledge Bay's headaches have yet to subside for any 48-hour period.
"Maybe they're on the other side -- kind of like my headaches are," Manuel joked. "That's the word I got."