NEW YORK -- The Mets announced the signings of four more draft picks, bringing the total to 21 of 39 selections already on board.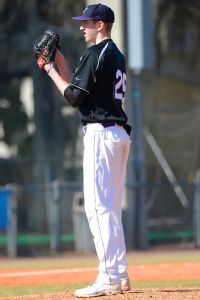 Courtesy of Stonehill College
The Mets officially announced the signing of right-hander Jim Duff from Garden City, Long Island, Friday.
The newly announced additions include a pair with Long Island ties: right-handers Jim Duff (20th round) from Garden City and Tyler Badamo (24th), who pitched at Oakdale's Dowling College. The other two are outfielder Michael Katz (ninth round) from William & Mary and right-hander Matt Blackham (29th) from Middle Tennessee State.
Sandy Alderson has indicated he expects a deal with first-round pick Michael Conforto, an outfielder from Oregon State, will be announced shortly.
Also signed:
3rd rd., Milton Ramos, ss, American Heritage (Fla.) HS
4th, Eudor Garcia, 3b, El Paso (Texas) Community College
5th, Josh Prevost, rhp, Seton Hall University
6th, Tyler Moore, c, LSU
7th, Brad Wieck, lhp, Oklahoma City University
8th, Dash Winningham, 1b, Trinity Catholic (Fla.) HS
10th, Kelly Secrest, lhp, UNC Wilmington
11th, Connor Buchmann, rhp, University of Oklahoma
12th, Alex Durham, rhp, Southern Alamance (N.C.) HS
13th, Erik Manoah, rhp, South Dade Senior (Fla.) HS
14th, Darryl Knight, c, Embry-Riddle (Fla.) University
17th, David Roseboom, lhp, University of South Carolina-Upstate
19th, Bryce Beeler, rhp, University of Memphis
22nd, William Fulmer, 2b, University of Montevallo
25th, Nicco Blank, rhp, Central Arizona Community College
27th, Alex Palsha, rhp, Cal State-Sacramento
30th, Tucker Tharp, of, University of Kansas
Moore, Tharp, Katz, Secrest, Wieck and Prevost already are on Brooklyn's roster for its opener Friday night at Staten Island.