NEW YORK -- Tyler Moore split duties at LSU between catcher, first base and third base. He will have a singular focus as a professional.
The Mets, who have assigned Moore to the Brooklyn Cyclones, have resolved to solely use the sixth-round pick behind the plate. And that's just fine with the 21-year-old native of Baton Rouge, La.
Moore made his pro debut Saturday, going 1-for-3 with two walks and two runs scored as the DH in the Cyclones' season-opening 8-2 win against Staten Island. He started at catcher for the first time Monday.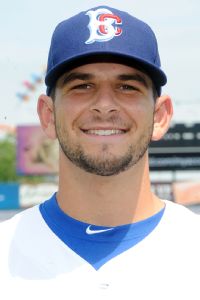 Courtesy of Brooklyn Cyclones
Tyler Moore
"I'm definitely looking forward to that -- just really to be precise in catching, really be great at it," Moore said. "Instead of having to work at multiple positions, now I can just focus on one. It will give me the opportunity to get even better at that position.
"I think my whole life it's really been something that I loved, even though I didn't do it all the time. In high school it became a primary position for me. That's really the first time I was a catcher."
As for which skills he most wants to hone behind the plate, Moore added: "I think the biggest thing is throwing. Moving into pro ball, calling your own games and getting to know the pitchers as well -- just building some bonds with the pitchers and getting to know their tendencies and what they want."
Moore grew up less than 15 minutes from the LSU campus and rarely missed a home football game, even before enrolling there. He joked that a big difference in New York for him is no swamps or alligators. (No, he did not grow up on a bayou.)
"I'm not used to taking the subway to the field, stuff like that," he said. "It's fun. It's a new experience."
Moore had a major role in Stony Brook's first-ever College World Series berth. In the opening game of that best-of-three Super Regional in Baton Rouge in 2012, Moore -- a freshman -- homered in the bottom of the 10th inning to re-tie the score in what became a 12-inning win for the SEC powerhouse. Stony Brook went on to win the Super Regional in three games.
"It was a school that wasn't supposed to be there," Moore recalled. "They just came over there and they acted like it was their stadium and it was their ballgame. That was probably the biggest thing about the Super Regional. They came in with confidence and they played their game and they just flat-out beat us."
As for his game-tying extra-inning homer, Moore added: "That was definitely one of the best experiences of my college career. It's definitely up there in the top two or three. It helped my confidence going forward, knowing that I came through in the late innings, and knowing that I could do it in the future."
Moore had enrolled at LSU after going undrafted out of high school.
"A lot of scouts knew that LSU was in my backyard and I had grown up watching it," Moore said. "The biggest dream of mine is to play in the big leagues, but another dream was to play at LSU. I talked to a few scouts and told them I wanted to go to school unless the opportunity was there to play pro ball. It would have had to have been a pretty good opportunity to pass up LSU. I'm definitely glad I went there. It was an awesome experience. Now I'm glad that I'm getting my chance and I'm in pro ball."
Organization leaders
Average: Joe Tuschak, Brooklyn, .375; Jairo Perez, St. Lucie, .365; Matt Reynolds, Binghamton, .356; T.J. Rivera, St. Lucie, .341; Jeff McNeil, Savannah, .332; Kevin Plawecki, Binghamton, .329; Brandon Nimmo, St. Lucie, .322; Dilson Herrera, St. Lucie, .307; Matt Clark, Binghamton, .307; Brandon Allen, Vegas, .297.
Homers: Andrew Brown, Vegas, 13; Brian Burgamy, Binghamton, 11; Matt Clark, Binghamton, 10; Allan Dykstra, Vegas, 10; Kirk Nieuwenhuis, Vegas, 10.
RBIs: Allan Dykstra, Vegas, 48; T.J. Rivera, St. Lucie, 47; L.J. Mazzilli, Savannah, 45; Matt Clark, Binghamton, 44; Aderlin Rodriguez, St. Lucie, 44.
Steals: Jeff McNeil, Savannah, 15; Dilson Herrera, St. Lucie, 14; Patrick Biondi, Savannah, 14; L.J. Mazzilli, Savannah, 11; Brandon Nimmo, St. Lucie, 9.
ERA: Gaither Bumgardner, Brooklyn, 0.00; Casey Meisner, Brooklyn, 0.00; Corey Oswalt, Brooklyn, 0.00; Marcos Molina, Brooklyn, 1.50; Octavio Acosta, Brooklyn, 1.93; John Gant, Savannah, 2.12; Kevin McGowan, Savannah, 2.14; Steven Matz, St. Lucie, 2.21; Darin Gorski, Vegas, 2.90; Matt Koch, St. Lucie, 3.63.
Wins: John Gant, Savannah, 7; Gabriel Ynoa, St. Lucie, 7; Matt Koch, St. Lucie, 6.
Saves: Chasen Bradford, Binghamton, 11; Robert Coles, Savannah, 11; Randy Fontanez, St. Lucie, 10; Vic Black, Vegas, 7; Jeff Walters, Vegas, 6; Beck Wheeler, St. Lucie, 6.
Strikeouts: Darin Gorski, Vegas, 67; Matt Bowman, Binghamton, 65; Steven Matz, St. Lucie, 62; Noah Syndergaard, Vegas, 60; Miller Diaz, Savannah, 59.
Short hops
• With St. Lucie's first half due to be completed Wednesday, promotions to Binghamton are imminent. Outfielder Brandon Nimmo and left-hander Steven Matz should be on the move to Double-A as soon as the end of the week. St. Lucie would win its first-half title in the Florida State League with a win and Fort Myers loss.
• After considering the rehab route, Jeff Walters underwent Tommy John surgery on Tuesday for the torn ulnar collateral ligament in his right elbow. Walters, a member of the 40-man roster, set Binghamton's single-season and career records with 38 saves in 2013.
• The prolonged absence of Dillon Gee demonstrates side-muscle injuries can take a while, but Rafael Montero's left oblique strain "doesn't appear substantial," a team official said. Montero left his last start with Las Vegas after five pitches.
• Outfielder Bradley Marquez will not be joining the Mets this summer. The Texas Tech wide receiver, who was splitting time between the Mets and college football, will remain in Lubbock and take classes this summer, although the Mets have not been informed he officially is giving up on baseball. Marquez, 21, was selected in the 11th round in 2011. He hit .250 with one homer, nine RBIs and three steals in 84 at-bats last season with Kingsport. He has one more season of college football eligibility. (See college football bio here.)
• Brooklyn manager Tom Gamboa offered high praise for two Cyclones standouts:
On 18-year-old Amed Rosario, who signed with the organization two summers ago out of the Dominican Republic for a franchise-record $1.75 million, Gamboa said: "He's a five-tool player at shortstop. … It's kind of ironic that his favorite player is Hanley Ramirez, because by the time he's 21 or 22, that's probably the type of player that his skill set is going to be. … I was with the Angels twice. In my first tenure I got to manage Erick Aybar at the Double-A level. In my second go-around I managed Jean Segura. And I love both of those guys. And they're both not only in the big leagues, Segura has already been an All-Star. But Rosario has as much or more talent than both of those guys. And he's only 18."
On right-hander Casey Meisner, the Mets' third-round pick out of high school in Texas last year, Gamboa said: "He couldn't have possibly had a better spring down in Florida. He's a young kid, one year removed from high school, but he throws 93 mph. He's got a very good changeup. And in the spring he developed a pretty good curveball to go with it. So he's got two real good pitches, and he's developing the third. And for a youngster he's got pretty good feel for the strike zone and dominant stuff.
"He reminds me a lot of a pitcher we had in my tenure with Kansas City -- he made the All-Star team one year, a guy name Mike MacDougal. They're both tall, lanky, red-haired, freckle-faced guys that are blessed with God-given ability. But, fortunately, Meisner has better control than MacDougal ever did."
• Kingsport opens its season Thursday. The roster is highlighted by 19-year-old Wuilmer Becerra, the outfielder acquired from Toronto with Travis d'Arnaud and Noah Syndergaard in the R.A. Dickey trade. Becerra hit .243 with one homer and 25 RBIs in 173 at-bats in the Gulf Coast League in 2013. Players assigned to Kingsport from this month's draft include power-hitting third baseman Eudor Garcia (fourth round) and right-handers Jim Duff (20th) and Matt Blackham (29th).
• The Gulf Coast League opens Friday. John Lannan is expected to pitch in that game as he ramps up to enter Las Vegas' rotation after a seven-week absence from the organization.
• Right-hander Cory Mazzoni's full return from a right lat-muscle strain, which he suffered in the final Grapefruit League game, should be complete shortly. Mazzoni's next outing is due to be in an official Gulf Coast League game.
• Right-hander Luis Mateo, who underwent Tommy John surgery last June, is in the final stages of his comeback. Mateo, 24, has been pitching in simulated games in Port St. Lucie, Fla.
• First-round pick Michael Conforto most likely will open his professional career with Brooklyn after his deal is announced in the very near future. The recommended slot figure for the 10th overall pick is $2,970,800, although the Oregon State outfielder is represented by Scott Boras, which means the figure may end up north of that sum. The Mets had drafted high school players with their first-round picks the previous three years. Before that, though, first-round picks such as Ike Davis and Reese Havens began their pro careers in Brooklyn.
• Zach Lutz reportedly will receive a $400,000 salary to play for Rakuten this season. The Mets officially released Lutz after the Japanese club compensated the Mets for his services. The Mets relinquished any future rights to Lutz.
• Brandon Brosher, who played left field in limited work in the Gulf Coast League last season, is now a full-time catcher. The 2013 36th-round pick out of high school in Florida has been assigned to Kingsport.
• Veteran infielder Brian Burgamy earned the Eastern League Player of the Week award for the period ending Sunday. He went 12-for-24 with three doubles, three homers and nine RBIs. Burgamy, who turns 33 this month, spent last year playing independent ball with St. Paul, York and Sugar Land as well as in Mexico with Campeche. He also had a grand slam Tuesday with the B-Mets.
• The Mets have all but written off signing 28th-round pick Keaton McKinney, a prep right-hander from Iowa. The Mets made McKinney a late-round selection hoping to entice the University of Arkansas baseball commitment with a sizable financial offer.
• The Mets are in the process of making Triple-A utility man Anthony Seratelli available to any other team. The Seton Hall product has an out in his contract, but only if he immediately is placed on a major league roster.