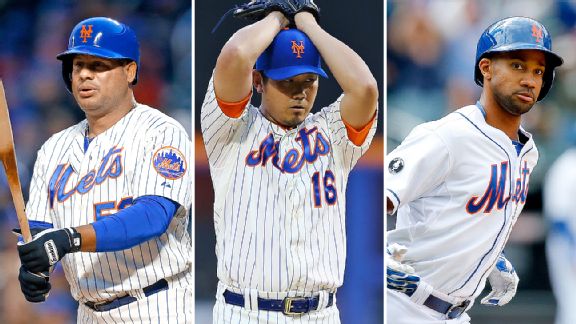 Getty Images
The most likely scenario may be Bobby Abreu, Daisuke Matsuzaka and Chris Young remain with the Mets after July 31.ST. LOUIS -- There are still six weeks until the July 31 non-waiver trade deadline. And the Mets' season can take any number of directions in that period.
But one tenet already has emerged. And it should sound familiar to those acquainted with how the Mets handled Scott Hairston in 2012.
Two seasons ago, the Mets were 50-53 entering the games of July 31 -- 12 games behind the Washington Nationals in the division and 5 1/2 out of the wild card. Hairston, making only $1.1 million, was hitting .264 with 14 homers and 44 RBIs in 231 at-bats entering deadline day.
And the Mets, absent an overwhelming offer, retained Hairston rather than take what they deemed a middling prospect in return. Hairston finished the season with 20 homers, then departed as a free agent without compensation to the Mets.
A similar scenario sounds like it may play out at this trade deadline based on the early rumblings from a team insider.
The Mets do not have an overly attractive piece in the final year of a contract, like when they shipped Carlos Beltran to the San Francisco Giants in 2011 for Zack Wheeler.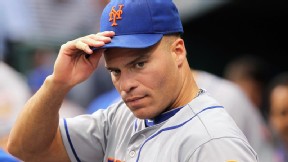 Kim Klement/USA TODAY Sports
The Mets retained Scott Hairston at the trade deadline in 2012. He then bolted as a free agent after the season.
The two potentially marketable pieces who fit that final-year-of-contract criteria are 40-year-old Bobby Abreu and Daisuke Matsuzaka.
Would the Mets receive enough for either to justify moving him? That seems doubtful under their criteria of getting something meaningful in return. And with Abreu making only $800,000 and Matsuzaka making $1.5 million, there is no financial motivation to make a salary-clearing trade.
The one big expiring contract belongs to Chris Young. But good luck finding a taker, even if the Mets picked up the entire amount remaining on his one-year, $7.25 million deal.
The wild cards for the Mets are players they control through 2015: Daniel Murphy and Bartolo Colon.
Murphy is hitting .299 with five homers and 26 RBIs in 284 at-bats -- obviously making him one of the few offensive threats in the Mets' lineup. So what would be the incentive to trade him?
Murphy is making $5.8 million this season. He has one more year of arbitration eligibility, then becomes a free agent after the 2015 season.
There's no guarantee the team payroll remains at the $85 million to $90 million level. But if it will hover in that range, it seems impractical to devote more than $10 million a season to Murphy, when David Wright annually will be earning $20 million and Curtis Granderson will be earning as much as $16 million a season. With Murphy, that potentially would concentrate more than half the payroll in three players.
So the question may become: When do the Mets trade Murphy, not if.
It may very well wait until the offseason, unless there is an overwhelming offer from someone by July 31 -- say San Francisco, which currently is using Brandon Hicks at second base. Make no mistake, though: The Mets listened on Murphy last offseason, and are expected to do so again.
Sandy Alderson, asked by a season ticket holder last weekend for an assurance Murphy will not be traded, went on to praise the second baseman's improved OBP. The GM then recommended to the fan to stay off Twitter and blogs. He never said Murphy is staying put.
As for Colon, he would be marketable to teams, scouts say, even though he also is under contract for next season at $11 million and will turn 42 that year. After all, playoff-tested veterans are the type of players that playoff-bound teams like to acquire.
And the Mets do have young pitching on the way, even if retaining a surplus of pitchers is wise.
Still, do not look for the Mets to give Colon away without exacting a significant price they may not be able to command.
Remember, Alderson's modus operandi has been to win trades or not make them at all. So Colon may not be going anywhere in-season.