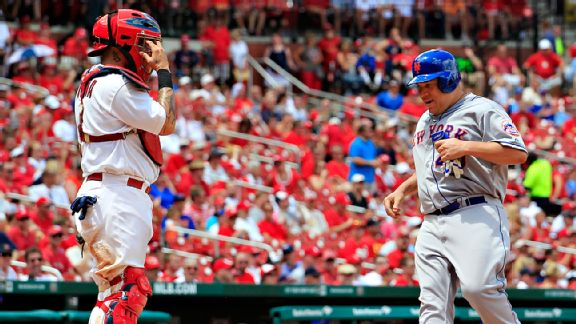 Jeff Roberson/Associated Press
Bartolo Colon doubled to snap an 0-for-43 streak dating to 2005, then scored the tying run.ST. LOUIS -- Terry Collins left himself open to second-guessing after pulling Bartolo Colon at 86 pitches after eight dominating innings.
The manager narrowly avoided getting burned as the Mets held on for a 3-2 win against the St. Louis Cardinals at Busch Stadium.
Collins said the combination of Colon having to run on a double and two sacrifice bunts, the muggy heat, Colon's age and the situation in the game contributed to the pitcher being pulled with a 3-1 lead for a pinch hitter in the top of the ninth.
With Taylor Teagarden on first base and two outs, Bobby Abreu hit for Colon, trying to expand the lead.
Collins said he would have allowed Colon to hit and begin the ninth had there been one out when Colon's batting turn came up, but not with two outs.
"I told him when I took him out, '90 pitches in this heat is like throwing 120. You've done your job,'" Collins said.
The manager later added: "He's 41 years old. It's 115 degrees on the field. Even though it's only 85 pitches, he's had to run the bases. He's come off the mound [to field balls]. He ran down to first twice. How far are we going to push it? He did a great job."
Collins said it was unlikely he would have let Colon finish the game anyway. He definitely wanted Jenrry Mejia to face Matt Holliday, who was due up third in the bottom of the ninth.
"I could have finished the game, but I was aware of the heat and the way T.C. and everybody runs the game, just to be careful in a situation like that," Colon said through an interpreter. "The situation of the game dictated being removed."
Collins said Colon (8 IP, 4 H, 1 R) was still hitting his spots in the eighth, but with less velocity.
It was a complete performance by Colon -- combining hitting and pitching.
Colon produced his first hit since 2005 (as a visitor at Shea Stadium), scored a run for the first time since he was with the Montreal Expos in 2002, and produced an extra-base hit for the first time in his professional career -- majors or minors.
Colon's leadoff double in the sixth against Lance Lynn sparked a two-run inning as the Mets grabbed a 2-1 lead.
"It made everyone laugh. I can say that much," said Eric Young Jr., who followed with a double to drive in Colon, and who also had an RBI double the following inning. "Sometimes laughter gets everything going and we start having fun playing baseball."
Said Colon, who turned on an 89 mph fastball: "If he threw me a breaking ball, I would have missed it. I was just sitting fastball. That was how I sat the whole time. I just ran into it."
Asked if he could remember his last major league hit, Colon replied: "No."
Reminded it was against Mets reliever Mike DeJean at Shea Stadium nine years ago, Colon said: "No, I don't remember."
He did correctly recall remember the lone other time he scored a run in his career.
"2002 at Milwaukee."
Then came a trick question.
Asked if he recalled the last time he doubled, Colon confidently said: "At Milwaukee."
False.
"Nunca ... Never," he was told.
"In Double-A," Colon then falsely chimed in, before continuing to insist he must have produced a double in the majors.