MIAMI -- Why did the Mets swap Kirk Nieuwenhuis for fellow lefty-hitting outfielder Matt den Dekker for Thursday's series opener at Marlins Park?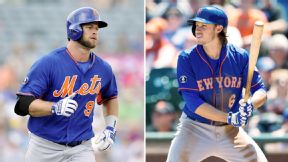 USA TODAY Sports, Getty Images
Kirk Nieuwenhuis was promoted and Matt den Dekker demoted before Thursday's series opener in Miami.
Yes, den Dekker had not started since Saturday, was hitting only .156 in 45 at-bats and was 0-for-4 as a pinch hitter. And, yes, Nieuwenhuis had four multi-hit games in his last five starts with Las Vegas before the promotion to lift his season average in the Pacific Coast League to .272 with 10 homers.
Still, Terry Collins suggested there was another layer to the reasoning.
"There are several reasons, but I'm going to give you one of them: One of the things we like to do is to try to keep guys going as best we can. Matt wasn't playing much. He needs to play," Collins said. "We thought, 'Hey, look, in this particular role, let Matt go get some at-bats. We'll bring Kirk up here.' Certainly he has a little bit more time up here. Maybe off the bench might be a little better for him."
Nieuwenhuis took a red-eye from Vegas to Miami and arrived at 7 a.m. Thursday.
"I'm fine," Nieuwenhuis said. "Ready to go."