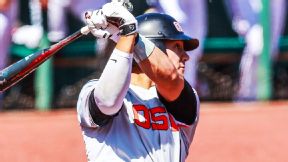 Steve Conner/Icon SMI
First-round pick Michael Conforto reportedly has the framework of a deal in place with the Mets.
MIAMI -- While first-round pick Michael Conforto tweeted that he remains in Redmond, Wash., with family and friends and is unsigned, the Oregon State outfielder reportedly has agreed to the terms of a contract with the Mets.
Conforto, a Scott Boras client, will sign for $2,970,800, which is the precise MLB recommendation for the 10th overall pick, according to MLB's Jim Callis.
Conforto is the two-time Pac-12 Player of the Year.
He hit .345 with seven homers and 56 RBIs in 203 at-bats with Oregon State during his junior season and produced a .504 on-base percentage. He set a single-season school record with 55 walks.
Sandy Alderson has said Conforto is close to having a completed deal with the club.