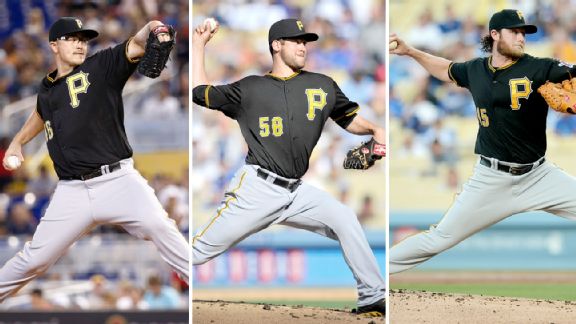 Getty Images
The Mets face Vance Worley, Brandon Cumpton and Gerrit Cole in the opening three games of a series at PNC Park.METS (36-42, fourth place/NL East) vs. PITTSBURGH PIRATES (39-39, fourth place/NL Central)
Thursday: RHP Daisuke Matsuzaka (3-1, 2.68) vs. RHP Vance Worley (1-0, 1.98), 7:05 p.m. ET
Friday: RHP Jacob deGrom (1-4, 3.75) vs. RHP Brandon Cumpton (3-2, 4.93), 7:05 p.m. ET
Saturday: LHP Jonathon Niese (4-4, 2.78) vs. RHP Gerrit Cole (6-3, 3.64), 4:05 p.m. ET
Sunday: RHP Bartolo Colon (8-5, 3.67) vs. RHP Edinson Volquez (5-6, 4.35), 1:35 p.m. ET
Pirates short hops
• Gerrit Cole (shoulder fatigue) returns from the disabled list to take Saturday's start, pushing Edinson Volquez to Sunday and Jeff Locke out of the series against the Mets. Cole, the first overall pick in the 2011 draft, threw an 83-pitch simulated game spanning six innings Monday. Manager Clint Hurdle has not declared which starter will be dropped from the rotation with Cole reentering.
• Left fielder Starling Marte sat out Wednesday's matinee against the Tampa Bay Rays. A day earlier, Marte departed the game with concussion-like symptoms after a headfirst slide into second baseman Sean Rodriguez's knee in the fifth inning. Marte cleared a concussion test. He also suffered a swollen middle finger on his right hand and was unavailable Wednesday.
Lisa Blumenfeld/Getty Images
Ike Davis has a .360 on-base percentage since the trade.
• Ex-Met Ike Davis moved to the cleanup spot for Pittsburgh on May 23. The Pirates are 15-9 when Davis starts in the No. 4 slot. Davis is hitting .254 with four homers and 19 RBIs and has a .360 on-base percentage in 58 games since the trade.
• Second baseman Neil Walker returned from the disabled list Tuesday after recovering from an appendectomy. Outfielder Jose Tabata was outrighted to Triple-A Indianapolis to clear the roster spot, even though he is due roughly $9 million through 2016.
Tabata had lost his playing time to Josh Harrison in right field, and then to rookie Gregory Polanco once Harrison shifted to second base to cover for Walker.
Travis Snider (.234, 4 HR, 137 ABs) started the season as the regular right fielder, but has receded to the bench.
Polanco made his major league debut June 10. He is hitting .325 with one homer, six RBIs and three steals in 65 at-bats since his promotion and has settled into the leadoff spot. His 0-for-4, two-strikeout performance Wednesday at Tampa Bay snapped a streak of reaching base in 14 straight games to begin his major league career. His 11-game hitting streak to begin his career set a Pirates franchise record. It was the longest hitting streak in the majors to begin a career since Glenn Williams had a 13-game streak with the Minnesota Twins in 2006 and the longest in the National League since Juan Pierre had a 16-game hitting streak with the Colorado Rockies in 2000.
• Center fielder Andrew McCutchen's .315 average ranks fourth in the National League. He is fifth in the league in RBIs (48). Eight of his 12 homers have come this month. McCutchen is slated to be an All-Star Game starter. He has 2,461,722 votes. The Dodgers' Yasiel Puig narrowly leads NL outfielders with 2,468,376 votes. The Brewers' Carlos Gomez is third at 2,409,860.
• Reclamation project Vance Worley is a combined 1-0 with a 1.98 ERA in starts against the Chicago Cubs and Miami Marlins since making his Pirates debut on June 15. He was acquired from the Minnesota Twins on March 25 for cash and spent the first portion of the season in Triple-A. Worley went 1-5 with a 7.21 ERA last season with Minnesota.