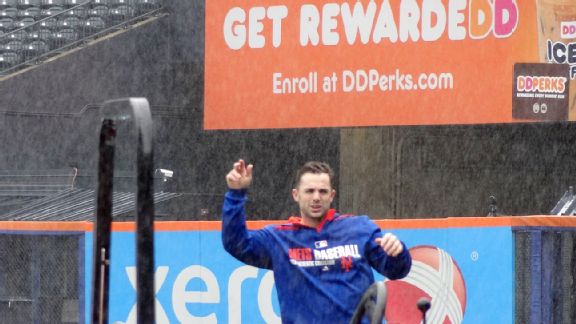 Adam Rubin
David Wright loosens at a rainy Citi Field on Friday afternoon.NEW YORK -- David Wright is still sidelined.
Eight days after he last appeared in a game, the Mets said Friday that Wright will not start the series opener against the Texas Rangers.
Wright has been sidelined with a bruised left rotator cuff.
Terry Collins said Wright needs to go through a series of pregame baseball activities before convincing staff he can return. It was too wet pregame Friday to do so.
The Mets have decided to play shorthanded during Wright's absence rather than place him on the disabled list since doctors predicted a short-term absence.
In six starts at third base in Wright's absence, Eric Campbell has hit .400 (10-for-25) with two doubles, one RBI and nine strikeouts, although he also had a critical error in an eighth-inning meltdown by the Mets at Turner Field on Monday.