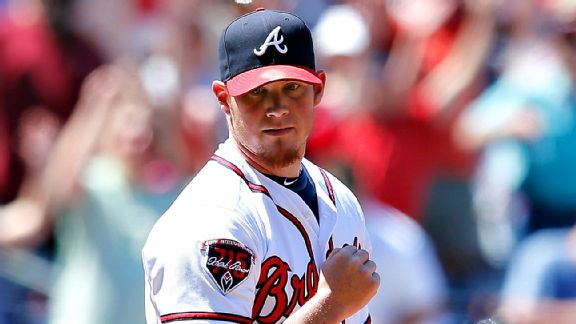 Kevin C. Cox/Getty Images
Terry Collins has no issue with the discoloration on the brim of Craig Kimbrel's cap.NEW YORK -- Although some Mets fans watching on SNY went ballistic during last week's series over the discoloration on the brim of Atlanta Braves closer Craig Kimbrel's cap, Terry Collins told ESPNNewYork.com he has no issue with the substance.
#46 RP
Atlanta Braves
2014 STATS
"He's had the same hat for four years," Collins said. "It's not pine tar. It's rosin."
As in rosin from touching the legal rosin bag behind the mound, then touching his brim.
Collins continued by saying that 20 teams have faced Kimbrel. The manager added that he asked Braves pitching coach Roger McDowell if any team had complained about the visible discoloration.
"Never," McDowell replied, according to Collins.
Kimbrel has struck out 43 percent of the batters he has faced in his career, the highest percentage in major league history among relievers with at least 150 saves. Billy Wagner ranks second at 33 percent.