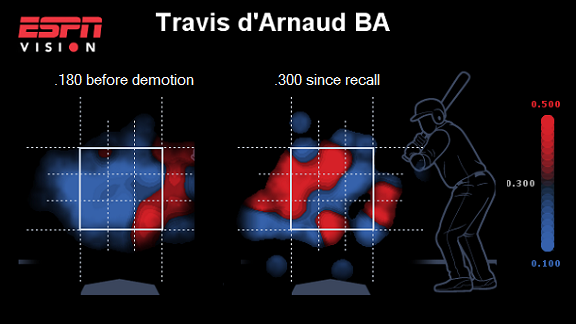 Travis d'Arnaud's heat map has a vastly different lookTravis d'Arnaud continues to look like a different hitter since his recall from Triple-A Las Vegas.
d'Arnaud added another home run to his ledger and is now 15-for-50 (.300) with three home runs in 13 games, raising his batting average from .180 to .213.
"What we're seeing right now is everything we heard [about him]," said manager Terry Collins after Wednesday's win. "He's got tremendous hand strength. The bat speed is still there. The power is still there. Whatever adjustments he made [in Las Vegas] have been huge."
Travis d'Arnaud vs Outer-Half Pitches
d'Arnaud now stands closer to home plate then he was prior to his demotion, allowing him to reach the outside pitches he'd done little against earlier this season.
The chart on the right shows d'Arnaud's improvement in that regard.
d'Arnaud has been more aggressive at the plate, both inside and outside the strike zone, with his swing rate at 46 percent before his recall and 53 percent since his return.
Though d'Arnaud's pitch-catching has been a little shaky all season (he entered the day with the 26th most innings caught, but the 11th-most times behind the plate for a wild pitch), he's continued to excel at making sure his pitchers get called strikes, particularly in the lower-third of the strike zone.
Case in point the last two days when d'Arnaud got strikes on all 14 of 15 pitches that Jacob deGrom and Dillon Gee threw to the bottom part of the zone, that were taken by Braves hitters.
The average major-league catcher gets strikes called on 75 percent of pitches to that lower-third area. D'Arnaud's rate this season is 85 percent, third-best among those catchers with at least 50 games played this season.