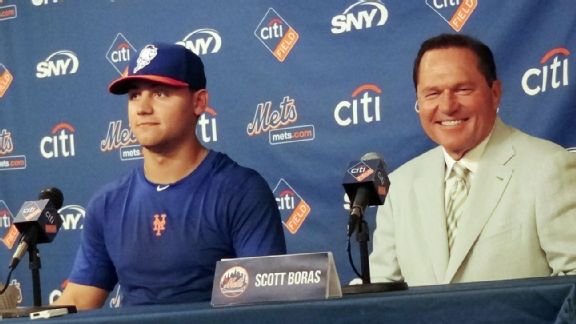 Adam Rubin
Michael Conforto and agent Scott Boras attend a press conference introducing the first-round pick.NEW YORK -- Michael Conforto's first trip to New York City included viewing the Freedom Tower, heading to the top of the Empire State Building and taking batting practice with the New York Mets at Citi Field. It also included sampling the local cuisine. And it will soon include playing for the Brooklyn Cyclones.
"We've been eating a whole lot since we got here," said Conforto, the Mets' first-round pick out of Oregon State, who officially passed a physical and was introduced Friday at Citi Field. "We're Italian, and we've had some pretty good Italian food. I mean, really good. Usually you can only get that from family back home."
While the 21-year-old Conforto will be assigned to Brooklyn, Sandy Alderson suggested the first-round pick could rise to a higher level by season's end. He will join the Cyclones on Saturday for their game at Connecticut, but will not immediately jump into games. In fact, Conforto will be in Los Angeles next week for the Golden Spikes Award presentation. The finalists are Conforto as well as LSU right-hander Aaron Nola and Kentucky left-hander/infielder A.J. Reed.
The New York-Penn League also was the professional launching point for the three other position players selected in the first round out of college by the organization in the past decade: Kevin Plawecki in 2012 and Ike Davis and Reese Havens in 2008.
"Since I've been home I've been making sure I've been staying in shape and doing the things I need to keep my swing feeling good," Conforto said. "Throughout my life I've learned how to do that in those times I'm not actually on the field. I had some teammates from Oregon State that came back home with me and I was able to take some swings and work out and do all those things."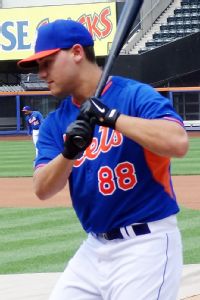 Adam Rubin
Conforto took batting practice with the Mets on Friday afternoon.
A two-time Pac-12 Player of the Year, Conforto hit .345 with seven homers and 56 RBIs in 203 at-bats as an outfielder for Oregon State during his junior season. He produced a .504 on-base percentage. He set a single-season school record with 55 walks. He has been praised by Mets officials for his combination of power and selectivity at the plate.
His father Mike, who accompanied him at Citi Field on Friday, played linebacker at Penn State under Joe Paterno. His mother Tracie Ruiz-Conforto won two gold medals in the 1984 Olympics in Los Angeles in synchronized swimming, then a silver four years later in Seoul, South Korea.
Conforto, who grew up in Seattle, said he revered fellow lefty hitter Ken Griffey Jr. growing up.
"His outstanding on-base approach as well as his left-handed swing and the power potential that he brings are sort of the natural fit for our organization and this ballpark, as sort of a gap-to-gap kind of hitter," Alderson said.
How quickly could Conforto reach the majors?
Only one player taken in last year's first round -- right-hander Corey Knebel, the 39th overall pick by the Tigers out of Texas -- has made his MLB debut.
From the 2012 draft, five first-rounders have reached MLB, although four are pitchers: Kevin Gausman, fourth overall, LSU, Orioles; Michael Wacha, 19th, Texas A&M, Cardinals; Marcus Stroman, 22nd, Duke, Blue Jays; and Eddie Butler, 46th, Radford, Rockies. The lone college position player from that class to reach the majors: Mariners third overall pick Mike Zunino, a catcher out of Florida.
Of the 25 players selected in the first round out of four-year colleges in 2011, nine have appeared in the majors, including six position players: Anthony Rendon, George Springer, C.J. Cron, Kolten Wong, Jackie Bradley and Jace Peterson.
Meanwhile, agent Scott Boras and the Mets had agreed to the monetary terms of a deal three weeks ago. Conforto will receive $2,970,800 -- the precise amount recommended by MLB for the 10th overall pick.
So why the delay? Boras said it was haggling over things that are not uniform to all contracts, but perhaps should be. A Mets official suggested there was nothing really substantive to it at all.
"We're two of the more stubborn people in the game," Alderson said, referring to himself and Boras. "Whatever delay occurred had absolutely nothing to do with Michael."