NEW YORK -- A potential future battery for the New York Mets is headed to Minneapolis to participate in Sunday's Futures Game at 5 p.m. ET at Target Field.
Right-hander Noah Syndergaard and catcher Kevin Plawecki will represent the Mets in the prospect showcase, both playing for the U.S. team.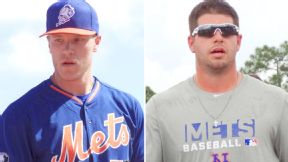 Adam Rubin
Noah Syndergaard and Kevin Plawecki are representing the Mets in Sunday's Futures Game.
Syndergaard, who has been slowed this season by left shoulder and right forearm injuries, is 7-4 with a 5.31 ERA and 1.51 WHIP in 16 starts with Triple-A Las Vegas this season.
Plawecki, a supplemental first-round pick out of Purdue in 2012, hit .326 with six homers and 43 RBIs in 224 at-bats with Double-A Binghamton to open the season. That earned the 23-year-old catcher a promotion to Vegas, where he has a .214 average (6-for-42) with two homers and 10 RBIs so far.
"No. 1, I think he's going to be an outstanding offensive player," Terry Collins said. "He's really got a good swing. He's going to have some power. They all talk about that this guy can really hit. I talked to [Binghamton manager] Pedro [Lopez] about him earlier in the year. I talked to [Vegas manager] Wally [Backman] the other day. Even though he got off to a little bit of a slow start, Wally said he's actually hit the ball pretty good in Vegas, but nothing to show for it yet because they've been catching the ball. But he said he can really hit.
"That's why he's there. When you've got another guy coming up the chain who can be a dynamic catcher, it's going to make you that much better."
Syndergaard's season obviously has been disappointing. With the Super 2 deadline having long passed, there's no hint of the top prospect getting a call-up to the majors anytime soon, if at all this season.
Still, Collins suggested Syndergaard's last outing was encouraging. He allowed one run on six hits in seven innings at Albuquerque on Sunday. Syndergaard struck out eight and did not issue a walk.
Syndergaard tossed a scoreless inning in last year's Futures Game at Citi Field.
"I think a lot of it has to do with he's 20 years old and playing in a league where mistakes can hurt you," Collins said. "But the other day he stepped up. And Wally said that's the best he's thrown all year. So maybe he's turning the corner."
Asked if Syndergaard had been too reliant on his fastball this season, Collins added: "I've heard the same thing about Matt Harvey, I've heard the same thing about Zack Wheeler when they were in Triple-A. There's a growing period that you've got to go through, especially in that Pacific Coast League. Here's a guy that can throw 98, 99 mph, but they're still getting hits, where the year before they didn't. I think it's just something you have to learn to get through."