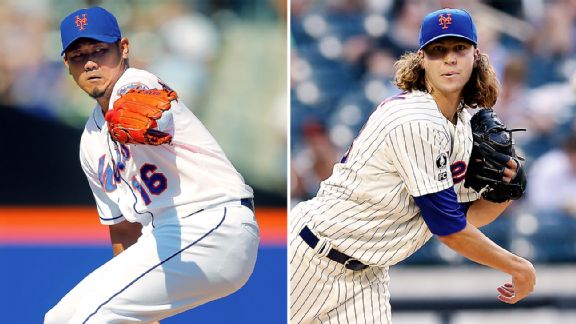 Getty Images
With Jon Niese poised to return from the DL, something has to give in the rotation between Daisuke Matsuzaka and Jacob deGrom.NEW YORK -- The expectation is Daisuke Matsuzaka ends up in the bullpen for the Mets at some point very soon. Still, Terry Collins threw a small curveball into the timeframe after Saturday's 5-4 win against the Marlins.
The manager said he would need to discuss with Sandy Alderson on Sunday whether any innings restriction on Jacob deGrom would warrant the rookie opening the second half for a week or two in the bullpen, which would delay Matsuzaka's reassignment to relief.
The Mets will have an extra starter with Jonathon Niese due to return from the disabled list, so someone needs to be rerouted to the bullpen.
Alderson recently said deGrom should be able to pitch 185 innings this season without restriction. He's currently at 105 between the majors and minors.
If deGrom pitches every five games for the remainder of the season, beginning with Sunday's first-half finale, that's 14 more starts in 2014. Eighty innings give him more than 5 2/3 innings per outing.
Collins said he is uninterested in pulling deGrom after five innings in starts to conserve innings with the Mets trying to win games. He's either in games for as long as he's productive, or his number of outings need to be curtailed, according to the manager.
"I don't know, but it's been talked about before that with all of those young guys we're going to take a break this summer -- [Noah] Synderaard and [Rafael] Montero and deGrom -- and back off their innings a little bit," Collins said. "That'll be discussed tomorrow."
Ultimately, though, Matsuzaka is going to pitch in relief soon, since it would only be a temporary bullpen stay anyway if it materialized for deGrom.
"Daisuke has done everything we've asked him to do. Everything," Collins said after Matsuzaka allowed four runs in six innings in Saturday's no-decision. "... We're very, very lucky to have him on this club, no matter what happens next week."
Said Matsuzaka through an interpreter: "I haven't been told anything as of now. I'll think about it when it happens, or if it happens."