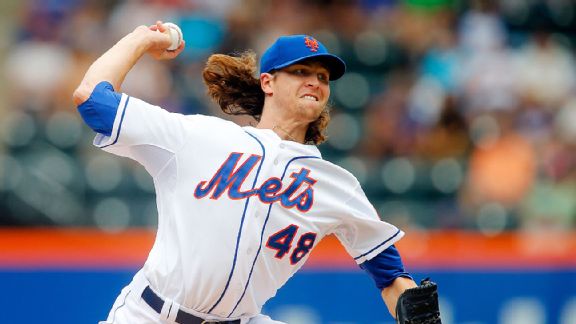 Jim McIsaac/Getty Images
Jacob deGrom closed the first half by limiting the Marlins to one run in seven innings.NEW YORK -- Terry Collins' recent suggestion that Jacob deGrom temporarily might find himself in the bullpen to open the second half to conserve innings was a false alarm.
After the Mets entered the All-Star break with a 9-1 win against the Miami Marlins that included seven strong innings from the 26-year-old rookie, Collins confirmed deGrom would remain in the rotation as Jonathon Niese returns from the disabled list.
DeGrom will start in Seattle during the second series of the second half, meaning Daisuke Matsuzaka is headed to a bullpen role.
DeGrom is 3-1 with a 1.65 ERA over his past five starts. And although the Mets typically are conservative with innings counts for their young pitchers, deGrom logged 147 2/3 last season in the minors. So Sandy Alderson has said he is comfortable with deGrom reaching 185 innings this season.
DeGrom is at 112 innings right now between the majors and minors. He would have 13 more starts during the regular season if he took the ball every five games.
"We're not going to take Jacob deGrom out of the rotation," Collins said postgame Sunday, after deGrom limited Miami to one run on five hits and two walks in seven innings. "I say that now, but we might look up in a month where he is starting to run out of gas a little bit, where we have to make a decision. He's pitched very, very well. He didn't even have his best stuff today. He did a great job."
No pitcher feels perfect at this point in the season, but deGrom indicated he has plenty of petrol remaining.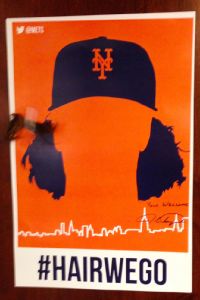 Adam Rubin
David Wright cut a lock of Jacob deGrom's hair and affixed it to a clubhouse poster featuring the rookie after deGrom nearly smoked Wright with a foul ball during batting practice.
"I feel really good," he said. "I think working on my mechanics and getting back to where I wanted to be with [pitching coach] Dan [Warthen] has helped my arm recover. I haven't really been sore this year."
DeGrom certainly has earned the respect of teammates. He initially was scripted to have a bullpen role. But Dillon Gee's side-muscle injury lingered for two months and deGrom outperformed Rafael Montero to solidify a spot in the rotation for the long haul.
"He's one of guys that was a little under the radar," captain David Wright said. "You heard about the Syndergaards. You heard about the Wheelers. [Steven] Matz has been getting a lot of attention. And Montero. But you never really hard too much about deGrom. And he was actually slated to be in the bullpen when he first got called up and something happened and he got a start and really has seized that opportunity. He's got a live arm and throws strikes. It's fun to play defense behind those guys."
Wright had some fun with deGrom in recent days. After deGrom nearly smoked a stretching Wright with a foul ball while the pitcher was taking batting practice, Wright cut a lock of deGrom's floppy hair and affixed it to a poster hanging in the clubhouse between their adjacent lockers. The poster had been created by the Mets' social media team, with a silhouette of the rookie's mane and the hashtag "#HAIRWEGO."
"I let him do it," deGrom said about Wright playing barber. "That's the second one I almost hit him with, too. I guess I kind of deserved it."
DeGrom said he has matured as a pitcher since arriving in the big leagues. An effective sinkerballer, he has learned to elevate four-seam fastballs to get batters to chase upstairs for strikeouts.
"And if they don't swing at it then maybe go to the curveball in the dirt. Just raise their eye level and then try to get them out with something down," deGrom said.
Overall, he is now 3-5 with a 3.18 ERA. The floppy hair he has not cut in six months and his hitting are giving him notoriety, too.
DeGrom broke a 1-all tie Sunday with an RBI single after a two-out intentional walk to No. 8 hitter Ruben Tejada in the fourth inning. DeGrom has seven hits in his first 12 major league games. That is tied with Matt Harvey for second-most in franchise history. Rick Aguilera had eight.
After the 1-for-3 performance that included his first career RBI, deGrom was asked if he could sustain his current .280 batting average if he were an everyday player.
"I have no clue," deGrom said. "That's a tough question."