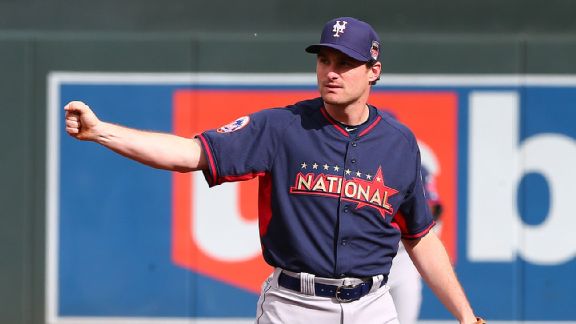 Elsa/Getty Images
Daniel Murphy works out at Target Field on Monday with the NL All-Star squad.NEW YORK -- Daniel Murphy's season began with the birth of his first child, Noah, an hour before the first pitch on Opening Day. After his paternity leave became the target of neanderthal talk-radio criticism, Murphy visited the White House in June to discuss the value of fathers' workplace rights. And now the eventful year includes his first All-Star appearance.
Selected by National League manager Mike Matheny after the Mets were overlooked in fan and player voting, Murphy will be the lone representative from the organization in Tuesday's 8 p.m. ET game at Target Field in Minnesota.
#28 2B
New York Mets
2014 STATS
GM

92

HR7

RBI37

R56

OBP.342

AVG

.294
"I didn't think I'd ever play in the big leagues, much less this long or be awarded an All-Star Game," Murphy said. "It's a humbling experience to see it now. When you see the way that Jesus has drawn up my life with my wife and my son and all the blessings we have, I couldn't have imagined this even on my own. It's been pretty cool."
Murphy, 29, is hitting .294 with seven homers and 37 RBIs. His 113 hits trail NL co-leaders Andrew McCutchen and Casey McGehee by two.
Still, Murphy's biggest career feat may be willing himself into being, arguably, an adequate second baseman. And, yes, that's a compliment.
Murphy always has been known for his bat. When he arrived at Jacksonville University for his freshman season and the incoming players were invited to share their positions, Murphy introduced himself as a No. 3 hitter. (He since has acknowledged that is not his proudest moment.)
A natural but unremarkable third baseman drafted in the 13th round in 2006 and blocked by David Wright, Murphy made his major league debut on Aug. 2, 2008 as a left fielder. He had logged only four minor-league games there, and it showed.
The left-field assignment lasted only through mid-May of the following season. During an opening-week game at the Marlins in 2009, Murphy's second-inning drop of Cody Ross' fly ball led to two unearned runs as Johan Santana was beaten by Josh Johnson, 2-1. After that game, Santana bluntly said: "It cost us the whole ballgame, but it's part of the game."
There was a short spurt at first base.
And then there was a twice-painful introduction to second base.
Murphy, after opening the 2010 season on the disabled list, was getting acclimated to second base at Triple-A Buffalo when Syracuse's Leonard Davis slid into him. Murphy tore the MCL in his right knee while attempting the double-play turn. He missed the season's final 90 games.
His lack of grace at second base left him a sitting duck for another injury the following season. Atlanta's Jose Constanza slid into Murphy with his spike high on a steal attempt and tore the MCL in Murphy's other knee. He was hitting a career-best .320 when he suffered the season-ending injury that Aug. 7.
Murphy wore braces on both knees in 2011.
"His bat is what has carried him throughout his career. He's played first, third, left field, now second base," Mets infield coach Tim Teufel said. "He's a hitter. He can hit. So he's an offensive player, first and foremost. I think he's made himself into a second baseman that you don't even think about him out there as far as, 'Can he make this play? Can he not make it?'"
Teufel conceded: "He makes the game exciting out there."
Translation: It may not be graceful, but it is functional.
"He gets the job done," Teufel said. "At the end of the day, you look out there and he's had a nice game. We can say that more times than not."
One metric disputes how successful Murphy has been at second base.
According to Baseball Info Solutions, there have been 100 instances this season in which Murphy has either fielded a groundball or been a relay man in a double-play situation. There have been 59 double plays turned.
The 59 percent conversion rate ranks 29th among the 35 second basemen who have played the most innings this season. It ranks six percentage points below the MLB average, according to ESPN Stats & Information.
Still, Teufel said generally about double-play metrics: "They don't know the speed of the grounder. They don't know the speed of the runner. They don't know where the ball was hit. Technology is getting close, but right now we have to trust our eyes on the ones that are double plays and aren't double plays, and I think our efficiency has been really good."
Murphy has been financially rewarded for his play. He is earning $5.7 million this season. He is eligible for arbitration one more time next winter (and a hefty raise, perhaps to in excess of $8 million). He then is eligible for free agency after the 2015 season.
Given the Mets already have $20 million a year committed to Wright and as much as $16 million annually committed to Curtis Granderson, there is founded speculation that Murphy could be dealt at some point before reaching free agency.
Asked if he thinks he might price himself out of the Mets' payroll, Murphy said: "That might be a question for Sandy [Alderson]. I don't do salary. I just try to play second."
Does he wonder?
"The only thing I know about salary now is I'm making way more money this year than I thought I'd ever see in my life," Murphy said. "That's what I know about salary."
As for his ascent, Murphy added: "I like the strides I've been able to make offensively. The defensive work, I think, has more to say about the people who have been around me, with what Teufel has done, with what Justin Turner did when he was here. Ruben [Tejada] has always helped me at second. I think that speaks so much about the work that they've done with how I've done defensively."