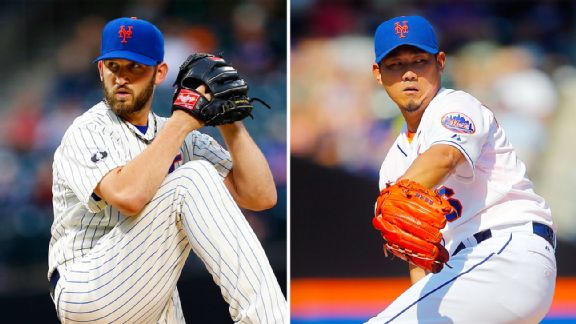 Getty Images
Jon Niese's return means Daisuke Matsuzaka is headed to the bullpen.SAN DIEGO -- Jonathon Niese is poised to return from the disabled list on Monday to face the Seattle Mariners, Terry Collins confirmed Sunday.
The manager added that Daisuke Matsuzaka is now a reliever, although he will be on standby Monday in case Niese has an issue in his first game action since a 12-pitch effort on July 4. Niese officially has been on the DL with a left shoulder strain. The Fourth of July start separately was shortened by getting struck with a line drive in the lower back.
Matsuzaka opened the season in the bullpen, marking the first time in his career in that role. He has a 2.22 ERA and opponents are hitting only .145 in 17 relief appearances this season. Still, he has walked 19 in 24 1/3 innings in that role.
Collins met with Matsuzaka on Sunday morning to inform him of the decision. Matsuzaka is 2-3 with a 4.24 ERA in nine starts in 2014.
"I don't feel it's something to comment on. I'm just going to pitch where I'm told and it's done," Matsuzaka said through an interpreter in his lone remark about the reassignment.
Perhaps acknowledging at least a slight possibility that Bartolo Colon could be traded and Matsuzaka could reenter the rotation, Collins said: "I don't have a crystal ball to tell you what's going to happen in the next five or six days. I really don't know. But, as of right now, he's going to go to the bullpen. He did a great job for us there. He pitched very well as a starter. I said, 'You fill a lot of holes for us.' … I think he brings a real useful piece to our pitching staff."
The Mets will need to make a roster move Monday to active Niese. Buddy Carlyle would appear most vulnerable.