SEATTLE
FIRST PITCH: The Mets have stumbled out of the gate since the All-Star break, and now have lost three straight. They are back in fourth place and nine games behind the division-leading Washington Nationals.
Rookie Jacob deGrom (3-5, 3.18 ERA) looks to right the ship Tuesday. He opposes right-hander Erasmo Ramirez (1-4, 4.58) at 10:10 p.m. ET at Safeco Field.
Bobby Abreu is due to DH the final two games of the series.
Tuesday's news reports:
• Jonathon Niese's streak of 21 straight starts allowing three earned runs or fewer was snapped in his return from the disabled list as the Mets lost to the Mariners, 5-2, Monday.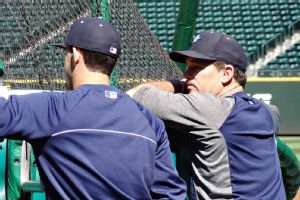 Adam Rubin
Mariners hitting coach Howard Johnson watches Seattle's early batting practice Monday.
Travis d'Arnaud was robbed of a solo homer by left fielder Dustin Ackley, a converted infielder. D'Arnaud said he immediately thought about his brother Chase d'Arnaud taking away a homer Sunday while playing a Triple-A game for the Indianapolis Indians.
The Mariners, meanwhile, maintained a 2½-game wild-card lead over the Yankees and Blue Jays, although starter Roenis Elias was forced to leave the game in the sixth inning with left forearm cramping.
Read game recaps in the Seattle Times, Post, Daily News, Star-Ledger, Record, Times and at MLB.com.
• Left fielder Chris Young departed the game in the eighth inning with a left calf cramp. Read more in the Star-Ledger.
• David Wright went 2-for-5 and drove in the Mets' opening run on the 10th anniversary of his major league debut. Wright's teammates surprised him by taking him to dinner on Sunday night in Seattle to celebrate the occasion. Read more in the Times, Journal, Post, Star-Ledger, Record, Newsday and at MLB.com.
• Wilmer Flores extended his hitting streak to 22 games and rehabbing Taylor Teagarden homered, but Las Vegas lost at Tacoma, 11-8. Zach Mathieu had a walk-off two-run homer and drove in all three runs as Kingsport beat Princeton, 3-1. Read the full minor-league recap here.
• Teagarden is not expected to join the Mets when his rehab assignment ends.
• The Mariners adjusted their rotation. Prospect Taijuan Walker may start against the Mets in Wednesday's series finale. Hisashi Iwakuma, originally listed for that day, instead will get an extra day of rest and miss the Amazin's.
• Seattle optioned first baseman Justin Smoak to Triple-A after Monday's game to clear the roster spot for Ramirez's promotion to start against the Mets on Tuesday. Read more in the Seattle Times and at MLB.com.
• Daisuke Matsuzaka in the Daily News weighs in on Masahiro Tanaka's injury.
• From the bloggers …Faith and Fear thinks about the strange ways the Mets have lost ballgames in recent years.
BIRTHDAYS: Former Mets catcher Rob Johnson, who also has a franchise-record 0.00 ERA, turns 32.
TWEET OF THE DAY:
@AdamRubinESPN The @Mets come out of the all-star break as flat as the Jets come out of their bye week. C'mon man

— Andrew Conrad (@aconrad283) July 22, 2014
YOU'RE UP: Do you bereave?