SEATTLE -- Jacob deGrom for rookie of the year?
Why not? It's not like there is a runaway candidate this year.
So far, the NL Rookie of the Month winners have been Arizona's Chris Owings, St. Louis' Kolten Wong and Cincinnati's Billy Hamilton.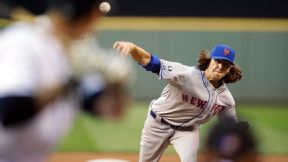 Associated Press
Jacob deGrom limited the Mariners to one run in seven innings.
DeGrom limited the Seattle Mariners to one run on five hits in seven innings in a 3-1 win Tuesday. He improved to 4-5 with a 3.01 ERA.
Showing no ill effects from a nine-day layoff because of the All-Star break, deGrom now has a 1.59 ERA in six starts since June 21. He has not allowed a home run in his last 52 2/3 innings.
"He's always flown under the radar. He still is," Terry Collins said. "This guy has got numbers to match up with any rookie in the league, and you never hear his name mentioned."
DeGrom faced a runner on second base with one out in the first inning but wriggled free by consecutively striking out Robinson Cano and Kyle Seager. In the fifth, after allowing his lone run on an RBI double by Dustin Ackley, deGrom stranded Ackley at third base by getting Mike Zunino to fly out and Endy Chavez to ground out.
"That was a big at-bat," said deGrom about the Cano faceoff in the first inning. "He was fouling off a lot of pitches and then got to 3-2, and I wanted to throw the changeup. And that's what [Travis] d'Arnaud put down. So that made me feel a little bit better about throwing it. It was a good one, and he swung through it."
DeGrom said he and d'Arnaud were so in tune all night that he did not shake off the rookie catcher except for "fake shakes" to throw the Mariners off.
DeGrom's changeup was particularly effective Tuesday.
"With a lot of lefties in the lineup, it was a good night to have my changeup being really good," deGrom said.
"You have to give him credit," Cano said. "He was locating his pitches very well and throwing a good changeup."
Collins said deGrom has been particularly impressive because he battles on the nights his arsenal is not as crisp.
"We are seeing exactly what all the reports out of the minor leagues have ever said about this guy," Collins said. "He keeps the ball down. He gets ground balls. Although he's striking some guys out here because he's learned how to do it a little bit, he keeps the ball in the ballpark. It's really impressive to see."