NEW YORK -- Ninth-round pick Michael Katz out of William & Mary is off to a solid start to his professional career with the Brooklyn Cyclones.
Katz, who turns 22 on Aug. 6, is hitting .299 with 18 RBIs in 137 at-bats.
"Basically I feel like a freshman in college all over again, just being a rookie and getting accustomed to everything," the first baseman/left fielder said.
The 6-foot-3, 235-pound Katz certainly has an athletic pedigree. His father Jim played two seasons of baseball at George Washington University. His mother Laurie played two seasons of college basketball at UNC Charlotte. Both parents then transferred to Virginia Tech to complete their academic careers.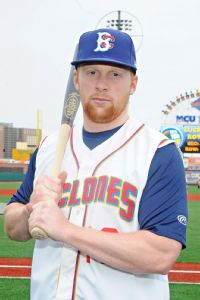 Courtesy of Brooklyn Cyclones
Michael Katz
"My mom likes to brag about that," Katz said. "She usually says she played at UNC, but she went to UNC Charlotte. A little different."
Although he played defensive end and linebacker for his high school football team in Virginia, baseball was always first for Katz.
His sophomore season at William & Mary he helped lead the Tribe to its first-ever NCAA Tournament wins, a pair of regional victories against Ole Miss while playing at NC State. He was named Colonial Athletic Association Player of the Year as a junior and also was a semifinalist for the Dick Howser Trophy and Golden Spikes Award.
Katz hit .363 with 14 homers and a school-record 75 RBIs this past college season. He had a .445 on-base percentage and .646 slugging percentage.
He also developed a reputation for using the whole field and commanding the strike zone, which obviously is consistent with the Mets' preaching.
"I guess I've never really thought of myself as a guy that goes up there intentionally taking pitches or anything like that, trying to work the count," Katz said. "I pretty much just go up and see a ball that I can hit well and go for it. But I guess just usually being in the middle of the lineup, people will pitch around you, so I will find myself in a bunch of three-ball counts or 3-2 counts or stuff like that.
"When I look at my game, I like to see a lot of pitches. It kind of falls in with what the Mets like -- run producers and on-base percentage and seeing a lot of pitches. I guess it fits perfectly."
Katz is a natural first baseman. His first real introduction to the outfield came this past college season, when a couple of teammates had labrum issues in their shoulders and William & Mary used him in left field.
"I played first base my whole life, so that's always been natural," Katz said. "I played a little bit of right field in like showcase ball in high school. But, other than that, left field pretty much this past spring season was my first real taste of playing outfield in games. I started doing some more here [with Brooklyn]. I can definitely play in the corner outfield. It's just something I need to work on just to get better at it."
Katz predicted the final question of an interview with ESPNNewYork.com before it came. It is a question that seems to arise frequently these days, because he was drafted by a New York team and is playing in Brooklyn.
"Oh, I know what's coming" he lightheartedly said.
No, despite the last name Katz, he is not Jewish.
"I went to Catholic School, kindergarten all throughout high school," Katz said. "That's a common misconception. I got a lot of cheers during Jewish heritage night. The fans seem to love me. I'm sure that's 75 percent of the reason why."
Organization leaders
Average: John Mora, GCL Mets, .352; Matt Reynolds, Vegas, .340; T.J. Rivera, Binghamton, .338; Oswald Caraballo, Kingsport, .333; Wuilmer Becerra, Kingsport, .325; Dilson Herrera, Binghamton, .323; Enmanuel Zabala, GCL Mets, .319; Matt den Dekker, Vegas, .318; Kevin Plawecki, Vegas, .310; Jhoan Urena, Brooklyn, .308.
Homers: Brian Burgamy, Binghamton, 18; Dustin Lawley, Binghamton, 18; Andrew Brown, Vegas, 16.
RBIs: Allan Dykstra, Vegas, 59; L.J. Mazzilli, St. Lucie, 59; Brian Burgamy, Binghamton, 58.
Steals: Patrick Biondi, Savannah, 20; Dilson Herrera, Binghamton, 19; Jeff McNeil, St. Lucie, 16; Champ Stuart, Savannah, 14; Stefan Sabol, Savannah, 13.
ERA: Marcos Molina, Brooklyn, 1.26; Octavio Acosta, Brooklyn, 1.46; Kevin McGowan, St. Lucie, 2.31; Steven Matz, Binghamton, 2.38; Corey Oswalt, Brooklyn, 2.48; Andrew Massie, Kingsport, 2.55; John Gant, Savannah, 2.76; Robert Gsellman, Savannah, 2.77; Darin Gorski, Vegas, 3.33; Matt Bowman, Binghamton, 3.41.
Wins: Gabriel Ynoa, Binghamton, 10; John Gant, Savannah, 10.
Saves: Chasen Bradford, Vegas, 12; Robert Coles, St. Lucie, 12; Randy Fontanez, Binghamton, 10; Akeel Morris, Savannah, 9; Cody Satterwhite, Binghamton, 8.
Strikeouts: Darin Gorski, Vegas, 105; Noah Syndergaard, Vegas, 92; Steven Matz, Binghamton, 91; Dario Alvarez, Savannah, 90.
Short hops
• First-round pick Michael Conforto is off to a quick start at the plate since making his professional debut Saturday with the Cyclones. Conforto is hitting .375 (6-for-16) with two doubles and two RBIs so far in four games. After serving as the designated hitter in his debut, he has started three straight games in left field.
• After going 5-for-8 with a homer and four RBIs in a doubleheader Tuesday at Tacoma, Matt den Dekker is hitting .318/.382/.521 in Triple-A for the season.
• Dave LaRoche, a 14-year major league veteran and the father of Adam and Andy LaRoche, will fill in as Brooklyn Cyclones pitching coach. Tom Signore has been dealing with continued symptoms of a head injury suffered when he was struck with a baseball while in the dugout with Vegas. Signore was filling in for Frank Viola earlier this season when the incident occurred.
• Catching prospect Kevin Plawecki has been diagnosed with vertigo and has been out of Vegas' lineup since Thursday.
• Wilmer Flores lost a 22-game hitting streak Tuesday. The Las Vegas record remains 37 games by Joey Cora in 1989, when the Triple-A club was affiliated with San Diego. The longest hitting streak in the organization now belongs to Savannah DH/first baseman Matt Oberste. He has hit safely in 20 straight games.
• Right-hander Chris Flexen, a 14th-round pick in 2012 out of high school, underwent Tommy John surgery. Flexen, 20, had been 3-5 with a 4.83 ERA in 13 starts for Savannah this season.
• Right-hander John Gant, the Mets' 21st-round pick in 2011 out of high school, is the reigning South Atlantic League Pitcher of the Week. Gant took a no-hit bid into the sixth inning in his most recent start. He is now 10-5 with a 2.76 ERA in 17 starts for Savannah this season.
• Right-hander Rob Whalen has rejoined Savannah. Whalen began the season 4-0 with a 1.83 ERA in four appearances (three starts) with the Gnats. He then was diagnosed with an infection in his pitching hand that required surgery to clean out.
• Andrew Brown had an opportunity to go to Japan earlier this season, but the Mets did not want to lose him and never reached agreement with the Japanese club. Brown is hitting .291/.382/.571 with Vegas this season.