NEW YORK -- T.J. Rivera last regularly started at shortstop during his freshman year in college, while he played for ex-Met Mackey Sasser at Wallace-Dothan Community College in Alabama.
However, once Matt Reynolds earned a promotion to Las Vegas in mid-June, and with Wilfredo Tovar having not yet returned to Double-A following surgery to repair a thumb ligament, Rivera at least temporarily has been restored to the position he also played at Lehman High School in the Bronx as a teenager.
Rivera, 25, is hitting .340 with one homer and 13 RBIs in 27 games with Binghamton. He spent the first half at St. Lucie, hitting .341 with four homers and 47 RBIs in 252 at-bats.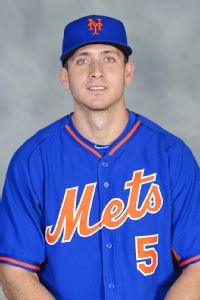 Courtesy of New York Mets
T.J. Rivera
Overall, his .341 season average leads the organization, narrowly ahead of Reynolds' .337.
"With Reynolds going up to Triple-A, we didn't have a shortstop," B-Mets manager Pedro Lopez said. "Talking to [director of player development] Dicky [Scott], I felt like it was a good opportunity for T.J. to basically go out and play short on a daily basis. He's done a good job."
Said Rivera: "It's awesome. I haven't played there in a while. When I first signed, I played a little bit of it. But after that, last year I played maybe one or two games when Reynolds didn't play. It's been a great experience. It's a great position if you can play it -- a lot of opportunities open up for you. I'm really just trying to go out there and make every routine play I can to help the team and the pitchers."
Rivera has earned his way to Double-A, perhaps more so than most farmhands. He went undrafted as a senior as he finished his college career at Troy University in Alabama. He still doesn't know how the Mets found him, although he believes Sasser, his JUCO coach, must have put in a good word. Rivera signed with the Mets a week after the draft in 2011.
"It was weird," Rivera said. "My senior year I p1ayed my whole year and didn't really talk to any scouts or anything like that. I don't know if they had seen me in junior college or they had been watching me at Troy. It was the week after and I got a call. It was out of the blue."
For Rivera ultimately to reach the majors would be a big-time accomplishment.
According to MLB data, there were 853 players on Opening Day rosters -- either active or on the DL or restricted list. Of those, 650 were drafted and 188 were foreign-born and not subject to the draft. That leaves only 15 other players. Of those, MLB identified 10 who were eligible for the draft and went unselected: Heath Bell, Chris Colabello, Greg Dobbs, Ryan Hanigan, Elliot Johnson, Daniel Nava, Matt Shoemaker, Joe Thatcher, Dale Thayer and Ian Thomas.
Bell was an undrafted Mets signee who debuted with the Amazin's.
Assistant GM John Ricco could only recall one Mets signee since Bell to reach the majors: right-hander Robert Manuel, who went to the Reds in a 2006 trade for Dave Williams and made his major league debut with Cincinnati in '09.
"It's nice that I'm showing that people that aren't drafted can still have a chance as long as you prove yourself. I still have a lot more to prove, which I know," Rivera said. "It's awesome that I'm doing something like that. But either way -- if I was drafted high or not -- it's a great experience. Hopefully I'm opening eyes for other people that aren't drafted. We still have an opportunity to come out and play, just like anybody else does."
Rivera by no means is a power hitter. He cleared the left-field wall once in batting practice at Trenton on Friday and expressed surprise that he accomplished it. If he reaches the majors, it probably would be as a versatile infielder. He has some minor-league experience at first and third, although the bulk of his work has been at second base and now shortstop.
"I like to stick to the gaps," Rivera said. "When I try to do too much, my swing goes downhill. I try to keep low line drives and keep the ball in the gap and try to get on base. Once in a while I'm able to get them out."
Said Lopez: "He's patient, but at the same time he's aggressive. He's got pretty good plate discipline. Not to say he doesn't swing at pitches out of the strike zone, because they all do. That's the reason why they're here. But he's got a solid approach and he's got a good understanding of the strike zone."
Organization leaders
Average: T.J. Rivera, Binghamton, .341; Matt Reynolds, Vegas, .337; Wuilmer Becerra, Kingsport, .330; Matt den Dekker, Vegas, .326; Dilson Herrera, Binghamton, .320; John Mora, GCL Mets, .318; Kevin Plawecki, Vegas, .314; Enmanuel Zabala, GCL Mets, .306; Jeff McNeil, St. Lucie, .304; Josh Satin, Vegas, .304.
Homers: Brian Burgamy, Binghamton, 18; Dustin Lawley, Binghamton, 18; Andrew Brown, Vegas, 17; Allan Dykstra, Vegas, 14; Wimer Flores, Vegas, 13.
RBIs: Allan Dykstra, Vegas, 62; L.J. Mazzilli, St. Lucie, 62; Brian Burgamy, Binghamton, 60; T.J. Rivera, Binghamton, 60; Wilmer Flores, Vegas, 57.
Steals: Patrick Biondi, Savannah, 22; Dilson Herrera, Binghamton, 21; Champ Stuart, Savannah, 17; Jeff McNeil, St. Lucie, 16; Darrell Ceciliani, Binghamton, 14.
ERA: Martires Arias, Kingsport, 0.50; Marcos Molina, Brooklyn, 1.30; Octavio Acosta, Brooklyn, 2.14; Corey Oswalt, Brooklyn, 2.56; Steven Matz, Binghamton, 2.60; Robert Gsellman, Savannah, 2.63; John Gant, Savannah, 2.72; Kevin McGowan, St. Lucie, 2.86; Darin Gorski, Vegas, 3.33; Matt Bowman, Binghamton, 3.35.
Wins: Gabriel Ynoa, Binghamton, 10; John Gant, Savannah, 10; Greg Peavey, Binghamton, 9.
Saves: Chasen Bradford, Vegas, 13; Robert Coles, St. Lucie, 12; Randy Fontanez, Binghamton, 10; Akeel Morris, Savannah, 10; Cody Satterwhite, Binghamton, 10.
Strikeouts: Darin Gorski, Vegas, 105; Noah Syndergaard, Vegas, 100; Steven Matz, Binghamton, 99; Tyler Pill, Binghamton, 96; Dario Alvarez, Savannah, 95.
Short hops
• First-round pick Michael Conforto lost a 10-game hitting streak to begin his career when he went 0-for-3 with a walk in Brooklyn's 4-1 win at Lowell on Tuesday. Conforto's streak was the longest to start a professional career as a Cyclone since former first-round pick Ike Davis began his career with a 15-game hitting streak in 2008.
Conforto nonetheless is hitting .366 with four RBIs in 41 at-bats in the New York-Penn League. No promotion is imminent for the Oregon State product, but Conforto should finish his first season at a higher level -- potentially Savannah, which will be playoff-bound after winning the first half.
• Mets prospects will be assigned to the Scottsdale Scorpions in the Arizona Fall League along with players from the Yankees, Phillies, Pirates and Giants. Jeff Bannister from Pittsburgh's organization will manage the club. The Mets do not have a representative on the coaching staff, but Binghamton trainer Debra Iwanow will work with the AFL club.
• St. Lucie shortstop Gavin Cecchini went 3-for-6 Monday and ignited a 12th-inning rally. His Florida State League average climbed 16 points in one day, but still remains only .195 in 35 games since a promotion from Savannah.
• Binghamton first baseman Jayce Boyd, a Florida State product, had a .246 average on July 6. Since then, he leads the Eastern League with a .396 (21-for-53) average.
• Brooklyn's Jhoan Ureña had his second 13-game hitting streak of the season snapped Monday. He became the second player in Cyclones history to have a pair of double-digit-game hitting streaks in the same season. The other: Angel Pagan in 2001, the inaugural season of the Cyclones.
• Binghamton second baseman Dilson Herrera, who was acquired from the Pirates last August, has hit safely in 29 of 35 games since a promotion to Binghamton. The production includes 12 multi-hit games. He also has produced 32 RBIs in 35 games.
• Princeton product Matt Bowman rejoined Binghamton after a spot start with Las Vegas in which he took a scoreless effort into the eighth inning.
• John Lannan has joined Las Vegas after a seven-week absence from the organization, then a ramping-up process in the Florida State League.
• Tovar currently is playing with St. Lucie as he works back from a ligament tear that required surgery.
• Jeremy Hefner will continue pitching with St. Lucie for at least one more start as he works back from Tommy John surgery performed last August.