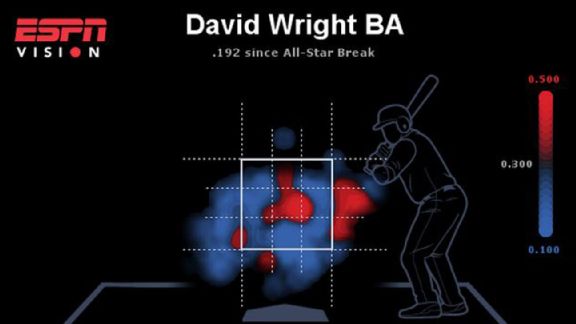 Mark Simon/ESPN Stats & Information
PHILADELPHIA -- David Wright has the most homers of any visiting player in Citizens Bank Park history with 19. Like the homer total, Wright's 64 RBIs at the ballpark are the captain's most at any road site.
So Terry Collins suggested Philly is the perfect place for Wright to break out of his rut, especially with baseballs flying out of the ballpark during early batting practice list "Titleists," according to the manager.
#5 3B
New York Mets
2014 STATS
GM

109

HR8

RBI54

R44

OBP.326

AVG

.269
Wright arrived in Philly for Friday's series opener hitting .192 (15-for-78) with two doubles and no homers since the All-Star break.
"It's a good place to hit, but at the same time the ballpark doesn't cure mechanical flaws or not seeing the ball very well," Wright told ESPNNewYork.com.
Asked if he was particularly having trouble with away pitches, Wright said: "I don't think there's a certain pitch or pitches. I feel like I'm missing some pitches I should be putting in play -- like fouling them off. I think one of my biggest issues is I'm falling behind in the count because I'm getting pitches to hit early and fouling them off instead of hitting them the way I should be.
"And then it's about feeling comfortable in the box. For me, when I'm going at my best, my mind is kind of blank, and you're not thinking many things. You're just reacting. When you're not going so well, you're, 'OK, where are my hands? Where are my feet? I've got to do this with my swing. I've got to do that with my swing.' And then it distracts you from the battle with the pitcher."
Meanwhile, Collins does not plan to drop Wright from the No. 3 spot in the lineup.
"I thought about it, but there's really only one other guy you'd hit there," Collins said. "And so where do you move David? And then you have to have somebody hitting in front of him. We thought about it, but I'm not going to. I don't want to show any panic. I know he's going to bounce out of it."