PHILADELPHIA -- The Mets were not blaming the umpires for Sunday's 7-6 defeat against the Philadelphia Phillies, but Terry Collins did feel his club was wronged on a call to open the bottom of the ninth.
Cody Asche opened what became a two-run frame with a leadoff double down the line, which first-base ump Mark Wegner ruled fair.
Collins went out to argue, although infield fair/foul calls cannot be challenged. The fair call remained, and Asche soon thereafter scored the tying run on Marlon Byrd's single against Jenrry Mejia.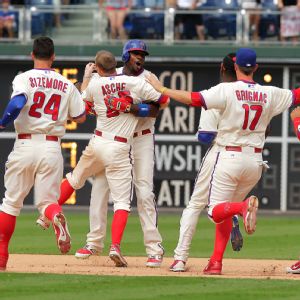 Hunter Martin/Getty Images
Ryan Howard receives congratulations after delivering a walk-off RBI single in the ninth.
"My whole thing was Lucas [Duda] is on the line, playing no doubles," Collins said. "He dives for the ball and can't get near it. The ball has got to be pretty much foul for me. That was my argument. I just asked the home-plate umpire. I know he's not allowed to check (video). You can't challenge it. I just thought the home-plate umpire might have had a better angle."
Regarding managerial decisions Sunday:
• Collins said he instructed Mejia to intentionally walk Chase Utley ahead of Ryan Howard's game-ending RBI single because Utley was the more dangerous hitter. Byrd had swiped second on a 2-2 pitch, so the decision to walk Utley came with the count full.
Both Mejia and Utley described themselves as "a little bit" surprised by the intentional walk decision.
Said Mejia: "I wanted to finish. I'm not the manager. I just pitch and have to do whatever the manager wants me to do. There's nothing I can do -- just give a walk and face Howard."
Collins said he had intentionally walked players with full counts before.
"No. 1, you've got to make a great pitch to a guy who is leading their team in hitting," Collins said about Utley. "So I'm not going to let him beat me. Howard has been struggling. So we've got to make him beat you, in my book. That's the way I look at it."
• Collins said he had Vic Black face Utley, who delivered a two-out, two-run triple in the seventh, because he wanted to get a full inning from Black with Jeurys Familia unavailable. Josh Edgin ended up entering after Utley's two-RBI shot. Edgin struck out fellow lefty Ryan Howard. The southpaw also struck out the side in the eighth.
"A ball away, it's different," Collins said about Black's pitch location. "He got it down in the nitro zone, and that's what happens."