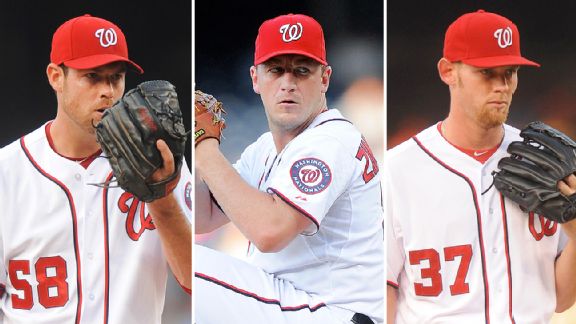 Getty Images
The Mets are due to face Doug Fister, Jordan Zimmermann and Stephen Strasburg at Citi Field.METS (57-62, fourth place/NL East) vs. WASHINGTON NATIONALS (63-53, first place/NL East)
Tuesday: RHP Rafael Montero (0-2, 5.40) vs. RHP Doug Fister (11-3, 2.49), 7:10 p.m. ET
Wednesday: RHP Bartolo Colon (11-9, 3.97) vs. RHP Jordan Zimmermann (7-5, 3.06), 7:10 p.m. ET
Thursday: RHP Dillon Gee (4-4, 3.54) vs. RHP Stephen Strasburg (8-10, 3.68), 7:10 p.m. ET
Nationals short hops
• Center fielder Denard Span has reached base safely via hit or walk in 36 straight games, the longest active streak in the majors, and the second-longest streak in Nationals history. Ryan Zimmerman holds the franchise record, with 43 straight games reaching base in 2008. The longest streak in the majors this season belongs to Toronto's Jose Bautista, with 37 straight games reaching base, through May 10.
Span also has a 14-game hitting streak. He has 23 steals. That is approaching the career-high 26 steals he produced in 2010.
• Stephen Strasburg is 1-8 with a 5.25 ERA in 12 road starts this season. Overall, he already has surrendered 18 homers in 2014, two more than his previous career high. Strasburg nonetheless has a National League-best 186 strikeouts.
Jonathan Ernst/Getty Images
Denard Span has reached base in 36 straight games.
• Outfielder Steven Souza landed on the disabled list with a bruised left shoulder, which he suffered in a collision with the right-field wall Friday at Atlanta while trying to catch Freddie Freeman's homer. Outfielder Michael Taylor has been promoted. He hit a combined .315 with 22 homers and 63 RBIs with Double-A Harrisburg and Triple-A Syracuse this season.
Souza was filling in Friday because Jayson Werth was sidelined with right shoulder and ankle soreness for two weekend games. Werth returned to the starting lineup Sunday night.
Werth earned the NL Player of the Month award for July. He hit .337 with six homers and an NL-leading 24 RBIs during the month.
• Bryce Harper created a stir Saturday in Atlanta when he partially wiped out the "A" in the dirt behind the batter's box at Turner Field. Fans lustily booed him the remainder of the series. Harper denied intent.
Meanwhile, manager Matt Williams vehemently said last week there is no intention of demoting Harper, who recently had struggled. Williams has asked Harper to bunt less frequently.
• The Braves snapped an eight-game losing streak and won two of three weekend games against Washington to pull within 3½ games of the first-place Nats. The middle game ended at 2:29 a.m. Sunday. It was delayed by rain at the beginning for three hours, 41 minutes.
• The Nats acquired free-agent-to-be Asdrubal Cabrera and cash from the Cleveland Indians at the July 31 non-waiver trade deadline for 24-year-old infielder Zach Walters. The intent is for Cabrera, 28, to primarily play second base, displacing switch-hitting Danny Espinosa in the lead role at that position. Cabrera, an All-Star with the Indians in 2011 and '12, last had started at second base in 2009 (28 games). He could be a Mets candidate to sign for shortstop during the upcoming offseason.
• Doug Fister is 5-0 with a 1.80 ERA when pitching on extra rest this season, which he will do again Tuesday.
• Zimmerman is expected to miss most if not all of the remainder of the regular season with a Grade 3 right hamstring strain -- the most severe of the levels. Zimmerman originally suffered the injury on July 22 at Colorado. Anthony Rendon has shifted from second to third base minus Zimmerman, which helped fuel Cabrera's acquisition.
• The Nationals claimed left-handed reliever Matt Thornton from the Yankees last week. Thornton made his D.C. debut against the Mets last Wednesday. Thornton is under contract for next season at $3.5 million.
• Catcher Wilson Ramos did not appear in last week's series against the Mets in D.C. He was on paternity leave for the opening two games, then went unused in the series finale.
• First baseman Adam LaRoche had a rough July, hitting .159 (14-for-88) with one homer. He then got on track against the Mets last week. LaRoche went 6-for-11 with two homers, three RBIs and three walks during the three-game series. LaRoche's father Dave continues to fill in as pitching coach with the Brooklyn Cyclones. He is subbing for Tom Signore, who is dealing with a head-related injury, which Signore suffered getting struck with a baseball while filling in for Frank Viola with Las Vegas.
• Washington has the top run differential in the National League at plus-79.
• Closer Rafael Soriano became the 46th pitcher to notch 200 saves on July 27.
• Shortstop Ian Desmond's 70 RBIs rank fourth in the NL. Desmond launched his 19th homer of the season on Sunday.
• Struggling backup outfielder Nate McLouth landed on the disabled list last Monday with right shoulder inflammation. He has hit only .173 this season.