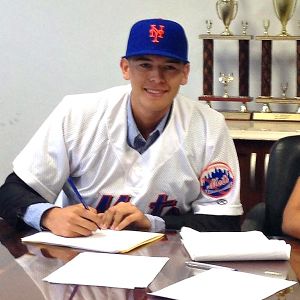 Courtesy of New York Mets
Kenny Hernandez signs with the Mets a day after his 16th birthday.
NEW YORK -- The Mets made their biggest international signing of the summer, inking 16-year-old Venezuelan Kenny Hernandez. Hernandez was rated the No. 13 international prospect by Baseball America, which reported the signing figure at $1 million.
Paul DePodesta described Hernandez as an "advanced left-handed hitting infielder."
Writes Ben Badler at Baseball America:
At 6 feet, 160 pounds, Hernandez has a simple, low-maintenance swing from the left side with good bat speed and balance at the plate. He's an offensive-oriented player who has showcased all around the infield, though most scouts seem to think he fits best at third base, which is where he's expected to begin his career. Hernandez trained at the Carlos Guillen academy.