NEW YORK -- After a stint on the disabled list with rotator cuff tendinitis and then a stumble at Dodger Stadium, Jacob deGrom got his NL Rookie of the Year campaign back on track Friday against the Philadelphia Phillies.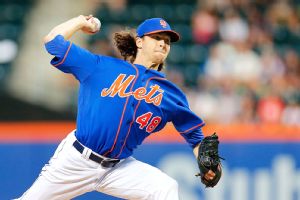 Jim McIsaac/Getty Images
Jacob deGrom allowed one unearned run in seven innings Friday.
DeGrom did not surrender a hit until the fifth inning. He took a scoreless effort into the seventh, when Lucas Duda had a throwing error that led to an unearned run.
DeGrom's final line: 7 IP, 4 H, 1 R, 0 ER, 2 BB, 5 K.
He appeared in danger of suffering a no-decision, but Grady Sizemore's drop in left field led to three unearned runs in the bottom of the seventh en route to a 4-1 Mets win.
"The location was really good all night with all of my pitches," deGrom said.
A quick review of the NL Rookie of the Year competition has deGrom at least a viable consideration at 7-6 with a 2.94 ERA.
Other contenders in a weak field:
• Jeurys Familia: 2-3, 1.90 ERA, four saves
• Cincinnati's Billy Hamilton: .268, 6 HR, 46 RBIs, 53 steals
• St. Louis' Kolten Wong: .248, 9 HR, 43 RBIs
• Atlanta's Tommy La Stella: .268, 1 HR, 30 RBIs
• Arizona's Chase Anderson: 7-6, 3.90 ERA
• Arizona's David Peralta: .289, 7 HR, 32 RBIs
DeGrom was coming off an outing against the Dodgers in which he was charged with five runs in six innings. The big blow that day was a three-run homer by Adrian Gonzalez in the fifth that gave L.A. a two-run lead.
This time, deGrom worked around a jam in the fifth when he walked Marlon Byrd to open the inning and surrendered a single to Sizemore that placed runners at first and second with none out. DeGrom struck out Carlos Ruiz and Cody Asche and retired opposing pitcher David Buchanan on a fielder's choice.
"Like I said in L.A., I didn't make the pitches in that game," deGrom said. "And then in this one I made some big pitches to get out of those innings with runners on."