PORT ST. LUCIE, Fla. -- Michael Cuddyer has alternated between hitter-friendly and pitcher-friendly ballparks throughout his career. He relocated during his time with the Minnesota Twins from the Metrodome to spacious new Target Field. Then he moved back to hitters' paradise when he signed as a free agent with the Colorado Rockies.
So Cuddyer maintained Monday that he is undaunted by now shifting from mile-high Coors Field to Citi Field after signing a two-year, $21 million deal with the Mets in November.
During his three-year Rockies tenure, Cuddyer hit .329 with 26 homers and 103 RBIs in 499 at-bats in Denver. He hit .286 with 20 homers and 70 RBIs in 538 at-bats on the road during that span.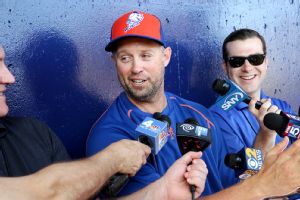 Adam Rubin
Michael Cuddyer addresses the media Monday in Port St. Lucie.
"The last transition taught me that your approach can remain the same," Cuddyer said. "No matter what ballpark you're playing in, as long as you keep that same hitting approach, you can take that approach that I've been able to hone to pretty much any stadium in the big leagues. Now, are some balls going to leave the yard? Are some balls going to fall in? You play in so many different parks, that's the nature of the beast.
"I don't foresee it being a problem at all. I was able to learn in going from a decent hitters' park in the Metrodome going to a terrible hitters' park in Target Field that if I start changing my swing, well, that's when trouble starts."
Cuddyer, addressing the media on Monday morning for the first time in camp, also said:
• The Rockies ought never let Troy Tulowitzki go.
"Whether or not they eventually trade him, I don't know," Cuddyer said. "Nobody in baseball has a player like Tulo except for the Colorado Rockies. In my opinion you never let a guy like that go. I'm also not a front-office guy. I don't know the payrolls in and out, the ins and outs of rebuilding and that nature. I don't know and I don't pretend to know.
"He's a great player, and he's tenacious out there on the field. He has no interest in anything but winning. I think that type of player and that type of attitude is a fit everywhere, not just here [with the Mets]. I don't know if that [trade to the Mets] will ever come to fruition because I don't know if the Rockies will ever trade him. If I was the Rockies, I never would. But that's just me because of the respect I have for him.
"The injuries have been unfortunate, but there's no denying that when he does get out on the field he's, in my opinion, the best shortstop in the game."
• Cuddyer again downplayed playing in only 49 games last season with Colorado. He said his non-displaced shoulder fracture was a fluky thing during a rare appearance at third base. His arm was in a sling while healing and he could not do much general athletic work. He unwisely rushed back from the shoulder injury and jumped into the lineup and injured a hamstring.
• Cuddyer's passion for signing with the Mets was cemented late last season, when the Rockies played from Sept. 8-10 in Queens. Wilmer Flores had a walk-off sacrifice fly against LaTroy Hawkins in the Mets' series-opening win, demonstrating the team's resilience in what essentially was a meaningless game. Jacob deGrom and Rafael Montero then started consecutive 2-0 shutouts, demonstrating the strength of the Mets pitching. That led Cuddyer to conclude the Mets could be very competitive in 2015 with him on board.
In fact, Cuddyer said this Mets team is similar to his early years with the Twins, except that the Mets are more equipped for postseason success because they have power pitchers. He played in six different postseasons with Minnesota, although only once beyond the division series.
• Cuddyer would have returned to the Rockies and accepted that team's qualifying offer if the Mets did not act aggressively in early November, in the days before he had to give a verdict to Colorado. The $15.3 million qualifying offer was too much to decline and pursue full-fledged free agency.
• David Wright and Cuddyer were ultracompetitive in Norfolk, Virginia, as younger players after Wright was drafted and signed with the same athletic trainer. During racquetball games, the athletes threw rackets because of their competitiveness and nearly got ejected from their gym. Wright is roughly four years younger and idolized Cuddyer.
• Growing up in Norfolk, Cuddyer estimated he attended 20 or 25 Norfolk Tides games a year, while the Triple-A club was affiliated with the Mets. Jeromy Burnitz and Rey Ordonez were a couple of the players he most enjoyed watching in that era.