Twenty-year-old rookie Ruben Tejada had a career day at the plate as the Mets avoided getting swept with an 18-5 win against the Chicago Cubs on Sunday afternoon at Wrigley Field.
Not only did Tejada produce his first career homer with a solo shot in the seventh inning on a fastball from Marcos Mateo, he also had five RBIs. That's as many runs driven in as Tejada had recorded in his previous 42 games/135 plate appearances.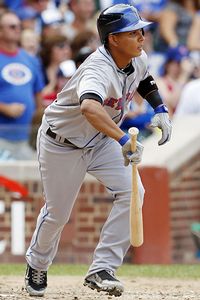 Jerry Lai/US Presswire
Ruben Tejada had his first career major league homer and five RBIs on Sunday.
"I know I hit the ball good, but I could not see the ball out there, so I kept running," Tejada said about the long ball to left field. "The umpire said, 'It's a homer.' I said, 'OK. Thank you.'"
Tejada had 11 homers in 1,444 career minor league at-bats.
Fueled by Tejada, the Mets produced their highest scoring output since beating the Arizona Diamondbacks, 18-4, on Aug. 24, 2005. Of the seven times the Mets have reached the 18-run plateau in franchise history, four times have occurred against the Cubs at Wrigley Field, according to ESPN Stats & Information. The Cubs allowed 15-plus runs for the fifth time this season, their most since 1922.
Tejada's big blow actually occurred in the at-bat preceding the homer. With the score tied at 4 and the bases loaded and none out in the fifth, Lucas Duda and Josh Thole consecutively struck out. Tejada then fell behind in the count, 1-2, before serving a tiebreaking two-run single into center field against Ryan Dempster.
Tejada (2-for-4) also batted with the bases loaded and two out in the ninth against Thomas Diamond. He fouled back one full-count offering, then walked to force in a run.
Tejada also continued to play sound defense, picking off a napping Starlin Castro at first base after recording an out at second. A day earlier, Tejada also had flashed his defensive skills. On Saturday, Tejada's laser throw from the outfield grass after a backhand retired Aramis Ramirez at first base in the second inning.
"I've always thought that he has a good swing," Jerry Manuel said. "I still feel that way. I think he does lack a little strength and speed, but I think he has the fundamentals and the foundation for a good swing. He's the type of guy that's always in the middle of things. He showed that in spring training.
"Obviously, the hit that he got with the bases loaded and two outs against Dempster, that was the biggest hit of the day for us because we have been horrible with the bases loaded. We were headed down that path with, I think, two punchouts at that time and two strikes on him. And he gets a base hit. Then we eventually put up a five-spot. That opened the floodgates for us.
"He's a good player," Manuel continued about Tejada. "He's a nice complementary piece when all the other players are playing their role. If you can get the other guys to do what they're supposed to do, he complements very well. He plays good defense. He does a lot of good things."
GEE WHIZ: The conservatism with Johan Santana's pectoral strain will result in right-hander Dillon Gee making his major league debut with the starting assignment Tuesday against the Washington Nationals.
Gee went 13-8 with a 4.96 ERA and 165 strikeouts in 161 1/3 innings over 28 starts for Triple-A Buffalo. He is scheduled to oppose Cuban defector Yunesky Maya, who also is making his major league debut.
"He was in line to pitch that day," GM Omar Minaya said about the reason for Gee. "He's been throwing the ball well down there. I think he's leading, or was leading, the International League in strikeouts. Why not give him a chance?"
The Mets also confirmed left-handed reliever Raul Valdes will join the Mets on Monday in D.C. Minaya indicated the Mets likely would have additional call-ups after Buffalo's season ends Monday. The top remaining candidates would appear to be infielder Justin Turner, reliever Sean Green and outfielder Jesus Feliciano.
Fernando Martinez has been out since Aug. 22 with Buffalo because of a knee injury.
SHORT COMING? Manuel indicated Jose Reyes likely will play in one game in Washington, although definitely not Monday. Reyes has not appeared in a game since Aug. 26 because of right oblique trouble.
Reyes hit from both sides of the plate during batting practice Sunday at Wrigley Field. However, while saying he would "probably" play against the Nats, Reyes indicated the trouble has not subsided.
"I'll try to hit a little bit harder tomorrow and we'll see what happens," Reyes said. "If I try to pull the ball, it's still a little bit of a problem there."
Why let the shortstop continue to have false starts rather than just shut him down if he feels something?
"Most guys like to finish the year playing, so we're going to keep that open," Minaya said. "… He's going to play when he feels ready to play."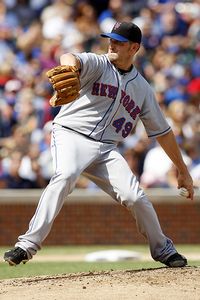 Jerry Lai/US Presswire
Jon Niese didn't care for his curveball, but notched the win.
IT'S A START: Jon Niese was credited with his ninth victory, but the left-hander was charged with five runs and eight hits while walking three and striking out four in a 106-pitch effort that included 70 strikes. Niese was pulled with the Mets leading, 8-5, after allowing a leadoff homer to Geovany Soto in the bottom of the seventh.
"I felt my cutter was good," Niese said. "Obviously my curveball needs a lot of work. I want to get my curveball back to where it was. It's something I'm going to work on. Hopefully it will pay off down the stretch."
Niese also had a pair of RBI singles, the latter in the fifth to chase Dempster after Tejada's two-run single.
Niese did have a bizarre moment in the fourth inning. He stumbled while delivering a pitch to Tyler Colvin and threw behind the Cub. A visit from assistant trainer Mike Herbst ensued, but Niese remained in the game.
"It's one of those things," Niese said. "My feet never caught the dirt. My leg went out from under me and I just fell. I didn't tweak my hamstring. It was more my knee than anything, but I just shook it off and it was no big deal."
DEEP THOUGHTS: Ike Davis belted an opposite-field two-run homer in the eighth off left-hander James Russell to give the Mets a 10-5 lead. Davis, who finished 4-for-6 with three RBIs, went deep for the second straight game after going homerless in 94 at-bats since July 29.
Davis now has 17 long balls. Darryl Strawberry has the franchise rookie record for homers with 26 in 1983.
BACK STORY: Evans, activated Sunday with rosters having already expanded, struck out as a pinch hitter for Duda with the bases loaded and one out in the sixth. He remained in the game in left field and went 1-for-3. With the Mets scheduled to face three right-handed starters during the series in D.C., Manuel did not foresee Evans starting against the Nationals.
ESPN STATS & INFO: Luis Hernandez became the second player in franchise history to have seven-plus at-bats in a nine-inning game. The other: Lenny Dykstra on Aug. 16, 1987 against the Cubs.