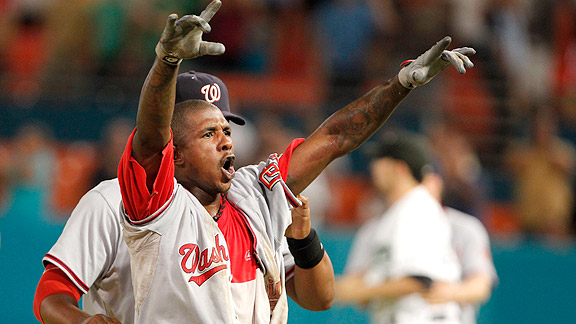 AP Photo/Wilfredo Lee
Outfielder Nyjer Morgan faces a combined 15-game suspension after an appeal hearing Friday, including taunting the crowd in Miami after a benches-clearing incident.
METS (67-70, fourth place/NL East) at WASHINGTON NATIONALS (59-78, fifth place/NL East)
Monday: RHP Mike Pelfrey (13-8, 3.72) vs. RHP Jordan Zimmermann (0-0, 4.50), 1:05 p.m. ET
Tuesday: RHP Dillon Gee (13-8, 4.96 at Triple-A Buffalo) vs. RHP Yunesky Maya (1-1, 0.87 at Triple-A Syracuse), 7:05 p.m. ET
Wednesday: RHP R.A. Dickey (9-6, 2.91) vs. RHP Livan Hernandez (9-10, 3.81), 12:35 p.m. ET
Nationals short hops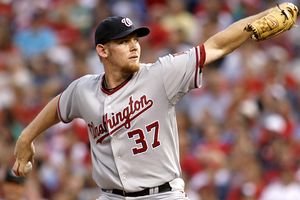 AP Photo/H. Rumph Jr.
Stephen Strasburg underwent Tommy John surgery on Friday.
Center fielder Nyjer Morgan received an eight-game suspension Friday for a series of incidents during a week's span: an unnecessary collision with St. Louis Cardinals catcher Bryan Anderson, a verbal assault on Florida Marlins fans and charging the mound against the Marlins a day later. He previously had received a seven-game suspension for an Aug. 21 incident in which he threw a ball into the stands that struck a fan in Philadelphia. Morgan has appealed and is eligible to play until Friday's hearing in D.C. As a result of the bench-clearing incident last Wednesday against the Marlins fueled by Morgan, reliever Doug Slaten received a three-game suspension and manager Jim Riggleman and third base coach Pat Listach received two-game suspensions. Listach waited until Sunday to begin serving his suspension, once Riggleman completed his ban. Hitting coach Rick Eckstein is handling third base in Listach's absence. Morgan had been hit with a pitch by Florida's Chris Volstad in the fourth inning. With the Nationals trailing 14-3, Morgan then stole second and third base, irking the Marlins. Morgan's next at-bat, Volstad threw behind Morgan, setting off the fireworks. During the ensuing fracas, Marlins first baseman Gaby Sanchez clotheslined Morgan. (Watch video here.) As Morgan left the field with jersey unbuttoned, he taunted fans and acted like a WWE wrestler. The previous night, Morgan had separated Marlins catcher Brett Hayes' shoulder in a collision, while trying to score from second base on a 4-6 fielder's choice. Morgan had been acquired from the Pittsburgh Pirates with Sean Burnett for Lastings Milledge and Joel Hanrahan in June 2009. … Phenom Stephen Strasburg had Tommy John surgery Friday in Los Angeles performed by Lewis Yocum after tearing the ulnar collateral ligament in his right elbow. Strasburg had been pulled from an Aug. 21 start in Philadelphia. Strasburg figures to miss the entire 2011 season. He went 5-3 with a 2.91 ERA and struck out 92 batters in 68 innings. … Nats analyst Rob Dibble was removed from the team's TV broadcasts after criticizing Strasburg's pain tolerance before the severity of the injury was fully known. "You can't have the cavalry come in and save your butt every time you feel a little stiff shoulder, sore elbow," Dibble was quoted as saying on Sirius XM Radio. … Cuban defector Yunesky Maya will make his major league debut Tuesday against the Mets in place of ineffective left-hander Scott Olsen, who has been reassigned to the bullpen. The 29-year-old right-hander Maya signed for $6.5 million in July. He represented Cuba in the 2006 and '09 World Baseball Classic and defected last September. Maya faced Buffalo in one of his minor league starts, and limited the Bisons to an unearned run and two hits in 4 2/3 innings while displaying a 92 mph power sinker and a multitude of breaking pitches. Olsen allowed 10 of 15 Marlins batters to reach and lasted only 1 2/3 innings while surrendering eight runs in potentially his final start as a Nat. The ex-Marlin was 3-8 with a 5.88 ERA in 15 starts. Along with Maya, Ross Detwiler and Collin Balester joined the Nats as rosters expanded. … With John Lannan also having returned from the minors last month, the Nats have seven starting pitchers. Rather than a six-man rotation, Riggleman may have a couple of starters piggyback other starters, essentially bypassing the bullpen those days. … Catcher Wilson Ramos, 23, made his Nats debut Aug. 19. Ramos was the highly regarded Minnesota Twins prospect acquired with left-hander Joe Testa for closer Matt Capps on July 29. … 2009 first-round pick Drew Storen has allowed only one homer through 44 2/3 relief innings and has emerged as the closer with Capps' departure. … Jason Marquis reentered to the rotation after missing 3½ months following having bone chips removed from his right elbow. He made his sixth start since returning Sunday, and now has a 2.25 ERA over his past four starts. … Jordan Zimmermann, back from Tommy John surgery, has not allowed a run in nine of his 12 starts between the majors and minors since returning from the procedure. In his second start with the Nationals, he threw a one-hitter over six innings Wednesday and faced the minimum number of batters against the Marlins. Zimmerman is being capped at five or six innings as he returns from the elbow procedure. … First baseman Adam Dunn sat out Saturday with a sore hamstring. Dunn returned Sunday and belted his 34th homer, one behind National League leader Albert Pujols. … The Nats signed first overall pick Bryce Harper, 17, for $15.1 million. … Livan Hernandez signed a one-year, $1 million extension with the Nationals for 2011. … Orlando Hernandez, who had been pitching with Washington's Double-A Harrisburg affiliate, left the club after being informed he would not be promoted when rosters expanded in September. El Duque, 44, went 1-1 with a 1.86 ERA in six relief appearances with the Eastern League club. … Outfielder Josh Willingham had left knee surgery Aug. 25. … Second baseman Danny Espinosa homered off Pittsburgh left-hander Zach Duke in his first major league game Wednesday. … Ivan Rodriguez has 301 homers as a catcher, joining Mike Piazza (396), Carlton Fisk (351), Johnny Bench (327) and Yogi Berra (306) as the only catchers to reach that level. … Washington posted its 59th win Sunday, matching its victory total from each of the past two seasons.
Matchups
Pelfrey vs. Nationals (career: 4-5, 4.02 ERA)
Ivan Rodriguez .667, 3 AB
Ian Desmond .500, 1 HR, 4 RBIs, 8 AB
Ryan Zimmerman .256, 1 HR, 5 RBIs, 43 AB
Roger Bernadina .250, 1 HR, 1 RBI, 4 AB
Willie Harris .250, 2 RBIs, 16 AB
Adam Dunn .227, 1 HR, 2 RBIs, 22 AB
Wil Nieves .214, 1 RBI, 14 AB
Nyjer Morgan .167, 12 AB
Adam Kennedy .091, 11 AB
Alberto Gonzalez .000, 4 AB
Mike Morse .000, 4 AB
Justin Maxwell .000, 2 AB
Gee vs. Nationals (career: never faced)
Dickey vs. Nationals (career: 0-1, 4.86 ERA)
Alberto Gonzalez .500, 2 AB
Adam Dunn .400, 5 AB
Ivan Rodriguez .333, 2 RBIs, 12 AB
Willie Harris .250, 1 RBI, 4 AB
Ian Desmond .250, 4 AB
Adam Kennedy .222, 1 HR, 3 RBIs, 18 AB
Ryan Zimmerman .167, 6 AB
Nyjer Morgan .000, 7 AB
Roger Bernadina .000, 1 AB
Zimmermann vs. Mets (career: 1-1, 5.23 ERA)
Luis Castillo .500, 4 AB
Jose Reyes .500, 2 AB
Carlos Beltran .333, 3 AB
Angel Pagan .333, 3 AB
David Wright .167, 6 AB
Maya vs. Mets (career: never faced)
Hernandez vs. Mets (career: 12-13, 4.29 ERA)
Angel Pagan .500, 1 HR, 1 RBI, 2 AB
Henry Blanco .407, 2 RBIs, 27 AB
Ike Davis .333, 1 RBI, 6 AB
Chris Carter .333, 3 AB
David Wright .308, 4 HR, 10 RBIs, 39 AB
Carlos Beltran .300, 2 HR, 4 RBIs, 30 AB
Jose Reyes .260, 2 HR, 3 RBIs, 50 AB
Luis Castillo .180, 61 AB
Mike Hessman .000, 3 AB
Ruben Tejada .000, 2 AB
Last series results:
Mets split 2-2 at Nationals Park, July 1-4 (AP game recaps)
Nationals 2, Mets 1: Ryan Zimmerman refused to let the unusual defensive alignment throw him off at the plate. Five infielders. No problem. Zimmerman hit a sacrifice fly in the ninth inning, giving the Nationals a victory. Jesus Feliciano was brought into the infield, but didn't deter Zimmerman from trying to hit the ball to the power alley in right-center. Pinch-hitter Willie Harris started the decisive rally with one out in the ninth by walking on a full-count pitch from Pedro Feliciano (2-4). Nyjer Morgan pushed a perfect drag bunt between first and the pitcher's mound to put runners at first and second. Cristian Guzman singled to left but Jesus Feliciano cut off the sharply hit ball and forced Harris to stop at third, loading the bases. Ryota Igarashi relieved Feliciano. The Mets stationed Jesus Feliciano on the shortstop side of second base in a drawn-in infield, and Zimmerman flied to right field for the game-winner. Right fielder Jeff Francoeur thought he might be able to throw out Harris at the plate, but Zimmerman got the ball just deep enough. Mets manager Jerry Manuel once again lamented the lack of a consistent relief option for late, close games. The Mets took a 1-0 lead on Ike Davis' RBI single in the first but could not give Johan Santana more support. After allowing at least four runs in each of his last four starts, Santana held the Nationals scoreless until the seventh his last inning. Ian Desmond led off the inning with a single, advanced on a sacrifice and moved to third on a wild pitch. He scored with two outs when Morgan hit a 2-2 fastball between shortstop and third base to tie it 1-all. Santana allowed a run on six hits in seven innings. He walked two and struck out seven. Desmond led off the bottom of the fifth by hitting a ball deep to left-center that glanced off the padding of the section of seats to the right of the bullpen. The ball was initially ruled in play by second base umpire Scott Barry and Desmond chugged into second. The crew huddled next to the pitcher's mound, then all but Barry went down the tunnel to the umpires' dressing room for a video review. After a minute, they returned to the field upholding Barry's original call. Washington starter Livan Hernandez yielded one run and seven hits over seven innings, walking none and striking out a season-high seven. The Mets, flying from San Juan, Puerto Rico, didn't arrive in Washington until 7 a.m. the day of the game.
Mets 5, Nationals 3: Jon Niese pitched seven solid innings, striking out a career-high eight for his fifth straight win. Washington rallied for two runs in the ninth before Roger Bernadina, in a colossal baserunning blunder, was picked off second base by Francisco Rodriguez for the final out. Niese (6-2) allowed six hits as he improved to 5-0 with a 2.43 ERA in six starts since coming off the disabled list June 5. He fanned eight in his first four innings, striking out the side in the fourth. He also didn't walk a batter. To top it off, Niese added his first career RBI on a double in a four-run fourth. David Wright, who batted .404 in June, had three hits and Alex Cora had a three-run triple for the Mets. Josh Willingham homered off Niese in the seventh for Washington's first run. The Nationals scored twice off Elmer Dessens in the ninth on RBI singles by Bernadina and Ian Desmond. The Mets chased Luis Atilano (6-5) in the fourth. In the first, Ruben Tejada was hit by a pitch, moved to third on Wright's single up the middle and scored on Ike Davis' infield out. Atilano loaded the bases in the fourth on Wright's double and two walks. He got Rod Barajas on a short fly to center and Jeff Francoeur on a liner to shortstop before Cora tripled off the right-field wall to clear the bases. Cora scored on Niese's double for the left-hander's his first major league RBI. Bobby Parnell worked a scoreless eighth. Pedro Feliciano struck out the only batter he faced in the ninth and Dessens got one out before Rodriguez picked off Bernadina, with a slick tag by Tejada, for his 19th save. While the Mets are 25-12 since May 22, the Nationals reached the halfway point heading south. They're 35-46, which projects to 92 losses -- far better than the two straight 100-plus loss seasons they've endured, but they're 15-31 since May 15. Atilano allowed all five New York runs and five hits in 3 2/3 innings. Desmond committed his major league-leading 20th error at shortstop.
Nationals 6, Mets 5: Adam Dunn will settle for a critical hit during Washington's wild rally rather than a game-winning grand slam. Ivan Rodriguez capped a three-run comeback in the ninth inning with an RBI single and the Nationals, who couldn't score for Stephen Strasburg, beat star closer Francisco Rodriguez and the New York Mets. "The freakin' worst performance I ever had in my entire life," K-Rod said. "I should be ashamed of myself. So embarrassing." Trying to protect a 5-3 lead and pitching for the fourth time in five days, K-Rod (2-2) opened the ninth by walking Cristian Guzman. Willie Harris' one-out single and a walk to Ryan Zimmerman loaded the bases. Dunn nearly hit a game-ending grand slam, but his drive to center just beyond the reach of Angel Pagan hit the top of the wall and caromed back onto the field. While Zimmerman was running and looking over his shoulder to make sure Pagan handled the ball cleanly, and Dunn was chugging into second wondering whether he had hit his 18th homer, some antics at third base almost short-circuited the comeback. Guzman had retreated to third base to tag up and nearly collided with Harris, who was running full speed from second and had to do a neat shuffle-step to barely avoid passing his teammate, which would have resulted in the inning's second out. Both runners scored on Dunn's double, one after the other as the relay throw came home, tying the game. Umpires went inside to look at the replay but upheld the call after a 2-minute review. Mets manager Jerry Manuel tried unsuccessfully to convince the umps that Harris had passed Guzman. Josh Willingham was intentionally walked and Ivan Rodriguez lined a 1-0 pitch into right field, scoring Zimmerman. The Nationals won for the first time in 40 games when trailing after eight innings, spoiling an excellent start by Mets knuckleballer R.A. Dickey. Strasburg battled early wildness, issuing three first-inning walks. He allowed two runs and four hits in five innings, striking out five. Washington has scored one run in the last 24 1/3 innings Strasburg has pitched, and none in his last 18 innings. Matt Capps (2-3) escaped a jam in the ninth for the win. The nationally televised game drew a sellout crowd of 39,214 to Nationals Park, though many exited after Strasburg was pulled. It was Washington's fourth sellout of the season, all but one coming when Strasburg has pitched. Strasburg needed 37 pitches to get through the first inning, when the Mets took a 1-0 lead on Jason Bay's RBI double and had Washington reliever Miguel Batista warming in the bullpen. After walking seven hitters in his first five starts, Strasburg walked two of the first four he faced against the Mets. Josh Thole added a run-scoring single in the third. Strasburg departed after throwing 96 pitches and Washington, limited to three hits in five innings, tied the score with two unearned runs in the sixth, including an RBI single by Ivan Rodriguez. David Wright's RBI single snapped a 2-all tie in the eighth, and the Mets got an RBI double by Thole and a sacrifice fly by Ruben Tejada later in the inning.
Mets 9, Nationals 5: The New York Mets usually don't hit well with two outs. They did in the series finale. The Mets scored six runs when the Washington Nationals were on the verge of escaping an inning, and New York held on after jumping to an eight-run lead. Jason Bay drove in four runs, Angel Pagan drove in two more and Ike Davis added a two-run homer for New York, which came into the game batting .213 with two outs, the lowest mark in the majors. All-Star third baseman David Wright contributed two hits and scored two runs. Bay's first four-RBI game with the Mets came on a two-run triple in the first that nearly cleared the fence and a two-run single in the fourth. Both hits came with two outs. New York scored eight runs in the first four innings -- seven against Craig Stammen (2-3). He's the second Nationals pitcher in the last three games who couldn't complete four innings. On a hot, humid day, Hisanori Takahashi (7-3) breezed through five innings, allowing two hits and tying a career high with seven strikeouts, including five consecutive in the third and fourth innings. He then allowed a three-run homer to Ryan Zimmerman. Francisco Rodriguez, who lost the previous game when he gave up three ninth-inning runs, had another shot. He came in with two runners on and none out in the ninth and retired all three batters he faced to record his 20th save. Rodriguez got Adam Dunn to hit into a fielder's choice. Wright, who was picked to his fifth straight All-Star team, also had two stolen bases.