Mike Pelfrey looked off, away from Jerry Manuel as the manager came to pull the right-hander in the fourth inning of Monday's 13-3 loss to the Washington Nationals. Pelfrey said he wasn't trying to snub Manuel, though, by gazing into the distance.
"I'm just mad at myself," said Pelfrey, who ultimately was charged with six runs and five hits while walking three and striking out one in 3 2/3 innings. "I always wait for the bullpen guy to come in and I always hand him the ball. I knew he was coming to take me out. He didn't need to say anything to me. At that time I was pissed. I didn't really need to hear anything. I was just staring off and thinking in my head about what happened. It's frustrating."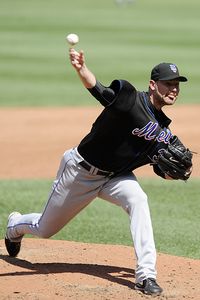 AP Photo/Nick Wass
Mike Pelfrey had his shortest outing since lasting only 1 1/3 innings at Arizona on July 19.
Pelfrey had breezed through an eight-pitch first inning and the Mets took a 3-1 lead into the fourth when things unraveled. After Ryan Zimmerman grounded out to open the five-run frame, Adam Dunn and Roger Bernadina consecutively walked. Ivan Rodriguez then cleared Chris Carter's head in right field for a two-run double.
Manuel suggested Pelfrey lost focus and confidence, while pitching coach Dan Warthen told the Star-Ledger that Pelfrey "just goes into that La-La land."
"I don't think that was an issue," Pelfrey said about losing focus. "I couldn't throw a strike. I lost the feel for it. But mentally I thought I had the right mindset, which was 'attack and be aggressive.' I just couldn't throw a strike.
"They gave me a lead early, and we got to the fourth inning and the wheels fell off. I don't think you can walk three guys in an inning -- especially two guys to lead off an inning -- and expect good things to happen. Obviously I lost my command in that inning. Before I was able to get it back, things kind of snowballed and they put up some runs."
Said Manuel: "I just see a guy that kind of loses confidence. The presence on the mound changes a little bit to me. Dan [Warthen] has gone out and talked to him about that. … What are we talking -- fourth year? Fourth year you expect to be heading into that point where you say, 'Boom, this is who you are. This is what we're going to get.' And we're still fighting some different things. I think that part is probably what's the most frustrating. You know the tools are there in the shed in which to work with. You just got to get them in the right places, and we haven't been able to get that."
Pelfrey suggested he had trouble harnessing his four-seam fastball -- that it was darting, rather than staying true. He remained stalled at 13 wins, which matches 2008 for his career high.
"I firmly believe that it comes down to the fastball," catcher Josh Thole said. "When you lose the feel for your fastball, it's hard to pitch on your offspeed stuff. As good as his fastball is, when he loses command of his fastball a little bit, he starts trying a little bit harder. And I don't think he has to."