Dillon Gee did quite nicely plugging Johan Santana's spot in the rotation -- even if the 21st-round pick in 2007 from Texas-Arlington did not get the opportunity to toss a complete game.
Gee carried a no-hit bid into the sixth inning in his major league debut against the Washington Nationals, when Met-killer Willie Harris led off with a homer. Gee ultimately allowed only the one run on two hits while striking out four and walking three in an 86-pitch effort at Nationals Park. He departed after seven innings with the Mets leading, 4-1. That proved to be the final score.
Santana had been scratched from Tuesday's start after experiencing continued tightness in a strained left pectoral muscle during a bullpen session Sunday at Wrigley Field.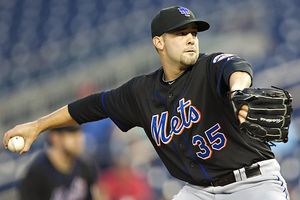 AP Photo/Evan Vucci
Dillon Gee became the third Met to take a no-hit bid into the sixth inning in his major league debut.
"That went better than expected," Gee said. "I kind of blacked out, I think. I don't even know what happened out there."
The 24-year-old right-hander became the third pitcher in franchise history to carry a no-hit bid through five innings in his major league debut, according to the Elias Sports Bureau. The others: Randy Sterling (1974 at Montreal) and Brian Bannister (2006 vs. Washington). Cincinnati's Johnny Cueto (2008 vs. Diamondbacks) was the last pitcher in the majors to complete five innings with a no-hit bid intact in his debut, according to Elias.
"I wasn't thinking about that," Gee said about a no-hit bid. "I was just thinking about not giving up runs."
Gee, who led the International League in strikeouts this season with 165, also contributed to the Mets building an early 4-0 lead.
Facing Cuban defector Yunesky Maya, who also was making his major league debut, Gee singled in his first major league at-bat. The second-inning hit drove in Ruben Tejada, giving Gee his first RBI. Nats third baseman Ryan Zimmerman tossed the baseball to third base coach Chip Hale, who ensured the memento safely reached the dugout.
Gee had been 0-for-22 this season with Buffalo.
"That was awesome," Gee said. "That's been the joke all season with me at Triple-A. I think I had 20-something ABs and not one hit, and everybody made fun of me."
Ike Davis had belted his third homer in four days, a three-run shot in the first inning, to open the scoring.
Gee became the first Mets pitcher to record an RBI in his major league debut, according to ESPN Stats & Information. He became the seventh pitcher in franchise history to get a hit in his major league debut, joining Tom Seaver, Nino Espinosa, Walt Terrell, Ron Darling, David West and Jason Roach.
It also marked the first time in Mets history both starting pitchers were making their major league debuts. The last time it happened in the majors was April 4, 2009, when Detroit's Rick Porcello opposed Toronto's Ricky Romero.
Gee benefited from a stellar catch by Angel Pagan to end the sixth inning to limit the damage to one run. Pagan make a leaping grab at the right-center wall on Adam Dunn, which stranded Ian Desmond on base.
"I was playing a little to right field," Pagan said. "He hit that ball kind of to the gap. I was trying to get to the warning track as fast as I could. I was timing the ball. I had the perfect timing. I went for it. I thought it was a homer at first because anything Adam Dunn hits like that is pretty much a homer. I just put my best effort -- and right on time. It was a pretty good catch."
Gee became only the second Met to go seven-plus innings and allow two or fewer hits in his debut. The other: Jason Isringhausen in 1995, according to ESPN Stats & Information.
Gee indicated he usually relies on a curveball, but that wasn't working, so he instead leaned on his slider. He was deprived of the complete game, Jerry Manuel indicated, so that the right-hander could ensure ending on a high note. The last major leaguer with a complete game in his major league debut: Andy Van Hekken for Detroit in 2002. One Met threw a complete game in his major league debut: Dick Rusteck in 1966.
"Not knowing him as well, I thought that was the right thing to do for him," Manuel said. "Obviously, if you spent time with your pitcher and you get to this point in the season and you have a feel for them, you can make those decisions with some experience. But not having that experience, you just kind of hope that you make the right decision by him."
Said Gee: "I always want to keep going. I was running out of gas, but as long as they want me out there, I'll keep going."
Will Gee get another start?
Not necessarily. At least not with any regularity, according to Manuel.
After all, this is Santana's spot in the rotation. And Gee has logged a ton of innings for a young pitcher already.
One thing to be careful about with Gee is overdoing it innings-wise. Between Triple-A Buffalo and Tuesday's debut, he logged 168 1/3 innings this season. That's a serious jump from last year's 48 1/3, when Gee's season was cut short by a labrum tear that was rehabbed, with no surgical procedure. Gee believes the reason he suffered that tear was because of overwork the previous season. He logged 154 1/3 innings between Double-A Binghamton and Buffalo in '08, then pitched in the Arizona Fall League and in winter ball in Puerto Rico.
"He might fall under a category where this might be it," Manuel said. "He might fall under a category where he might get one more start. Me, not doing my research and knowing all that type of stuff, I would love to see him another shot, another time out. I would love to see that. We'll probably get together at some point and map out a plan for him, because he looks like he can be a piece for this organization."
Said Gee: "I still feel pretty strong. It is a lot of innings after what I did last year, but I'm not hurting. I still feel strong. Maybe I might get tired here and there. But, overall, physically I feel pretty good."
Gee figures to be in the fifth starter's competition next spring training. He may even be a more viable candidate than Jenrry Mejia at the beginning of the 2011 season, even if Mejia has more upside. Mejia might need more seasoning in the minors. And depending on who is in charge of the organization after the inevitable changes looming, it may be concluded that Mejia is best served being a reliever.