David Wright chats with ESPNNewYork.com about the Mets' losing ...
How are you dealing with the losing at this point?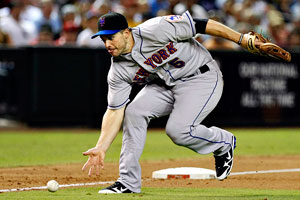 Rick Scuteri/US Presswire
Wright fields a ball barehanded at Phoenix on July 20.
"It's not a fun situation. It's not a situation I like to be in. Really, we have nobody to blame but ourselves. We put ourselves in this position. Unfortunately, this is what you get when you play the kind of baseball that we've played this year. It's tough. It really is."
So much of your career when the team wasn't doing particularly well, it was building toward something better. Does this feel the opposite -- like it's drifting aimlessly? Or you just tell yourself that when Jason Bay is healthy, Jose Reyes is playing, etc., things will be better?
"It's tough to really look ahead. If we can take any sort of positive away from what's going on now it's that we get to try out some of these younger players and see what they have. Hopefully this is part of what we build on starting next year. Obviously Jason's numbers speak for themselves. Jose Reyes, I think, when he's healthy is one of the most exciting players in baseball. With the young players that we have, I think there's a lot to offer in the very near future. But obviously this isn't fun and this isn't the kind of product that I think it's what it's all about in New York. This is something that is not fun. That's the bottom line."
When you're in a game, do you have the same edge you always have? Or is the mediocrity making it difficult to have that killer instinct?
"When you cross the lines, you take a lot of pride. It's a thing that you take personally that you want to go up there and do well at the plate. You want to make the plays in the field. Although where we are is not fun and it's not a good position to be in, I think hopefully all those guys who take the field take a lot of pride in what they do when they go out there and really try to finish as strong as they can."
You've used the line that you're not the GM so you can't overly concern yourself with this type of stuff, but the payroll commitment next year is already $130 million or so before the offseason even starts. Do you worry that what you're seeing now is what you get next year as well?
"I don't necessarily worry. I don't know what the plan is as of right now, nor do I try to go up there and figure out the decisions that the front office makes. I would hope that we'd do everything that we can to try to better this team. And, obviously, there are a lot of areas that we could get better at. Not only does that come from free agents or trades. The guys that are here -- from what's happened the last couple of years -- we need to get better and elevate our game. Then you mix in the free agents and the trades and I think that's a start. Whatever they do this offseason, I think the guys that are in here now, we need to go out there and be better for next year."
Do you feel there was a point in the season before things drifted away that the front office should have swung a trade?
"I don't know. Just like a lot of other teams, I'm sure we would have liked to have gotten better. We didn't. So that's the hand that you have to play. I don't know the circumstances. I don't know if there wasn't any fit there. Obviously I don't know the financial system with a lot of the things that go on. At the trade deadline, you look for help. You look for some guys that can make you a better team. If there wasn't a fit, there wasn't a fit. We obviously didn't do the job with what we had."
You're close with Howard Johnson. Do you recognize things have run its course with the on-field staff and accept there are going to be changes, no matter how popular someone is?
"I owe a lot of what I've been able to do here to HoJo for the work he's done with me in the minor leagues, the work he's done with me in the big leagues. But I think HoJo is the first one to understand how the system works here -- that when you sign up for those jobs, or when you play in New York, you're under a microscope. I think he'll be the first one to understand that. No matter what, I'll always be indebted to HoJo."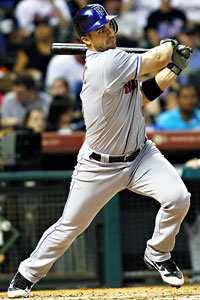 Thomas Campbell/US Presswire
Wright bats in Houston.
Do you really think your entire career is going to be spent as a Met? So few players these days because of finances that happens. And has anything in the past year or two given you pause about whether you really want to spend your whole career here?
"Just like a lot of other guys, I want to win. That's something where at the end of my career I'd like to look back and have a ring or two or three. I think it would be a lot more special to do it here, especially after what we've all been through, than to do it somewhere else. But you never know what the future holds. I can talk until I'm blue in the face about how much I love it here and how much I enjoy being here and the relationships that I have here. And who knows if they want me back? A lot of things aren't up to me. We still have quite a few years [two more years and a team option] before we have to think about that. I think it would be a lot more special to win it here having come up through the system, having been a Mets fan growing up, and having the relationships that I have."
But, for instance, say you played in Tampa Bay and Evan Longoria played in New York. Wouldn't it be so much easier for you, and your performance would reflect that, whereas he might suffer from having the intense scrutiny?
"There's two ways to look at it. I haven't played in another organization, so I don't know, but I've played in other cities in the playoffs. There's just no better place for playoff baseball than New York, from what I've experienced. You have to understand there are two sides to it. If you want to enjoy the winning and all the things that come along with winning in New York, you have to be willing to accept when things aren't going well, like the last couple of years, that there are going to be some fingers pointed. There are going to be some stressful times. We've gone through that. That's hopefully what makes it that much better when we do get things turned around and headed in the direction I think we're capable of."
You don't just get sick of it sometimes?
"I mean, I get sick of losing. There's no question about that. I've never been one to second guess or to be a Monday morning quarterback or question what's going on. I think that the thing I'm most sick of is the losing. A lot of that responsibility falls on the guys in the clubhouse and me. That's the thing I'm sick of. I want to get back to the point where we were a few years ago."
Do you think some guys didn't take losing seriously enough over the past couple of years here?
"I think different players have different ways of dealing with losing. There's probably some guys, including myself, that probably take it too hard. And there's probably other guys that don't take it hard enough. I think probably the ideal spot is somewhere in the middle of the two. It's important that the guys that want to be here, those are the guys that we want. Because the guys that want to be here are the guys that show that emotion and really, I think, are going to do everything that we can to win."
Would you agree that with everything that happened in '07 and '08 -- other guys went home in the winter and the sting quickly went away, whereas you had grown up a Mets fan, live in New York -- that your production suffered because you felt so much of a burden relative to other guys?
"Early on I just accepted the fact that I think I'm capable of shouldering a lot of that. I'm not trying to be this guy that is, 'Look at me. Look at me.'"
But didn't everything just eat away at you to the point where you combusted for a while?
"I don't think it's that. The way the seasons ended, with some of the failures that we've had as a team, I think that's what got to me more than having to listen to it and hear it. You expect it. In New York, when you don't get the job done, there's going to be criticism. You have to understand that. I like to win."
And it ended up affecting your performance?
"I don't think so. I don't think at any point in my career my performance has been affected by anything outside of just not playing well. I'd like to think that once I get to the field, nothing else affects the way I go out there and hit the baseball."