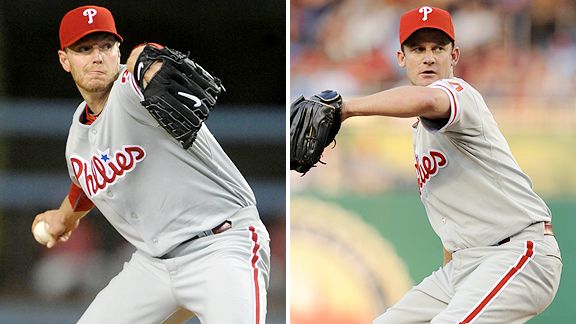 US Presswire
The Mets miss Cole Hamels, who has a 24-inning scoreless streak, but they draw Roy Halladay (left) on Friday and Roy Oswalt (right) on Sunday.
METS (69-71, fourth place/NL East) vs. PHILADELPHIA PHILLIES (81-60, first place/NL East)
Friday: RHP Jenrry Mejia (0-3, 3.86) vs. RHP Roy Halladay (17-10, 2.36), 7:10 p.m. ET
Saturday: RHP Mike Pelfrey (13-9, 3.96) vs. RHP Kyle Kendrick (9-8, 4.89) or RHP Vance Worley (0-1, 3.00), 4:10 p.m. ET
Sunday: LHP Jon Niese (9-7, 3.85) vs. RHP Roy Oswalt (11-13, 3.09), 1:10 p.m. ET
Phillies short hops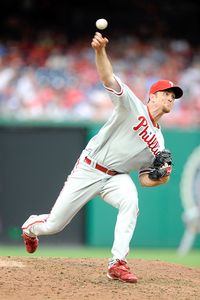 Greg Fiume/Getty Images
Closer Brad Lidge's elbow has kept him out since Monday.
Right-hander Roy Halladay allowed a career-high four homers -- including a pair to Corey Hart -- in his most-recent start, but they were all solo shots, and the Phillies beat the Milwaukee Brewers, 5-4. … The Phillies have yet to declare whether Kyle Kendrick will remain in the rotation and face the Mets on Saturday or whether right-hander Vance Worley will bump Kendrick from the rotation. Kendrick allowed five runs and seven hits in four innings Sunday against Milwaukee and has a 5.65 ERA and .330 opponent batting average in his past eight starts. Worley, in his first start and second appearance in the major leagues, limited Florida to two runs in five innings in Game 1 of a doubleheader Monday. Worley, 22, is a third-round pick in 2008 from Long Beach State University. … Roy Oswalt is 5-1 with a 2.30 ERA in eight starts for the Phillies since being acquired from the Houston Astros for J.A. Happ and minor leaguers Anthony Goss and Jonathan Villar. Two starts ago, Oswalt took a no-hit bid into the sixth inning against the Los Angeles Dodgers, when Casey Blake singled with two out. Oswalt did match a career high by issuing six walks that game. He lasted only 6 1/3 innings because his pitch count had reached 115. … Brad Lidge pledged to be ready for the weekend series against the Mets, but the closer has been dealing with a hyperextended right elbow -- the same elbow that already required surgery last offseason and two cortisone injections this year. Lidge has not appeared since notching his 21st save in 26 chances in Game 2 of Monday's doubleheader while pitching with discomfort. … First baseman Ryan Howard produced six RBIs on Wednesday, one shy of matching the career high he recorded on June 20, 2006 against the Yankees. Howard is hitting .324 (11-for-34) with four homers and 10 RBIs in nine games this month. He is due to appear on Sunday's season finale of Entourage on HBO. Howard returned Aug. 21 after missing 16 games with a left ankle sprain. … Shortstop Jimmy Rollins departed Wednesday's game with a tight right hamstring. He was replaced by ex-Met Wilson Valdez. Rollins had landed on the disabled list twice during the first half with a right calf strain. With Rollins struggling at the plate, manager Charlie Manuel had started placing center fielder Shane Victorino in the leadoff spot and Rollins fifth or sixth this week. … Second baseman Chase Utley missed 43 games with a left thumb injury that required July 1 surgery to repair a ligament. Utley returned Aug. 17. He is hitting .264 with one homer and 17 RBIs in 23 games since the procedure. … Left-hander Nate Robertson, was designated for assignment Wednesday after allowing six runs in two-thirds of an inning in his second relief appearance with the club. The Phillies claimed right-hander Cesar Carrillo off waivers from the San Diego Padres and placed right-handed reliever Scott Mathieson on the disabled list with a back strain that day. Carrillo, who made three starts for the Padres in 2009, was 5-14 with a 5.60 ERA in 27 starts for Triple-A Portland this season. Robertson had been released by the Marlins on July 27 and had signed a minor league contract with the St. Louis Cardinals in early August. … Left fielder Raul Ibanez is hitting .232 with two homers in 112 at-bats since Aug. 10. … Right fielder Jayson Werth, a pending free agent, leads the National League in doubles with 44, one ahead of San Francisco's Andres Torres. … Rookie outfielder Domonic Brown is hitting .214 with two homers and 12 RBIs in 56 at-bats since his July 28 major league debut. Brown has made only two starts and has had 20 plate appearances since Aug. 12. He was scratched from Tuesday's lineup with right quadriceps tightness. … Left-hander Cole Hamels (10-10, 3.06 ERA), who is not scheduled to face the Mets, has tossed 24 straight scoreless innings. That is the longest streak by a Phillies starting pitcher since Randy Wolf had 27 straight scoreless innings in 2002. … Philadelphia has the highest winning percentage in the second half in the National League over the past six seasons: .603. … Reliever Jose Contreras had allowed only one run in his last 16 1/3 innings before allowing three runs, including a solo homer by Florida's Mike Stanton, in the eighth inning Tuesday after inheriting an 8-4 lead. … Philadelphia overtook the Braves for first place after Tuesday's action. It marked the Phillies' first time atop the division standings since May 30. … Reliever Danys Baez, who had a rehab assignment for back spasms, is due to be activated from the disabled list for the weekend series. … Catcher Paul Hoover as well as Ross Gload and Greg Dobbs were added with rosters expanded.
Matchups
Mejia vs. Phillies (career: 0-0, 0.00 ERA)
Ben Francisco 1.000, 1 AB
Shane Victorino 1.000, 1 AB
Greg Dobbs .000, 1 AB
Ryan Howard .000, 1 AB
Raul Ibanez .000, 1 AB
Placido Polanco .000, 1 AB
Brian Schneider .000, 1 AB
Wilson Valdez .000, 1 AB
Pelfrey vs. Phillies (career: 5-4, 4.73 ERA)
Greg Dobbs .438, 1 HR, 3 RBIs, 16 AB
Ryan Howard .407, 1 HR, 3 RBIs, 27 AB
Jayson Werth .308, 1 RBI, 26 AB
Shane Victorino .303, 1 HR, 4 RBIs, 33 AB
Chase Utley .286, 4 HR, 8 RBIs, 28 AB
Jimmy Rollins .259, 1 HR, 4 RBIs, 27 AB
Carlos Ruiz .250, 3 RBIs, 20 AB
Raul Ibanez .227, 1 HR, 5 RBIs, 22 AB
Brian Schneider .167, 6 AB
Placido Polanco .125, 1 RBI, 8 AB
Ross Gload .000, 5 AB
Wilson Valdez .000, 4 AB
Ben Francisco .000, 1 AB
Niese vs. Phillies (career: 1-0, 1.29 ERA)
Jayson Werth .600, 5 AB
Carlos Ruiz .333, 1 RBI, 6 AB
Raul Ibanez .167, 6 AB
Placido Polanco .143, 1 RBI, 7 AB
Wilson Valdez .000, 4 AB
Ryan Howard .000, 3 AB
Jimmy Rollins .000, 3 AB
Mike Sweeney .000, 3 AB
Shane Victorino .000, 3 AB
Chase Utley .000, 2 AB
Ben Francisco .000, 1 AB
John Mayberry .000, 1 AB
Halladay vs. Mets (career: 5-2, 3.72 ERA)
Chris Carter 1.000, 1 RBI, 2 AB
Josh Thole .500, 6 AB
Jose Reyes .467, 15 AB
Henry Blanco .400, 5 AB
Carlos Beltran .324, 1 HR, 7 RBIs, 34 AB
Angel Pagan .273, 2 RBIs, 11 AB
David Wright .167, 1 RBI, 12 AB
Ike Davis .125, 1 RBI, 8 AB
Luis Castillo .111, 9 AB
Ruben Tejada .000, 1 RBI, 5 AB
Kendrick vs. Mets (career: 3-2, 3.00 ERA)
Josh Thole .500, 6 AB
Jose Reyes .412, 1 HR, 2 RBIs, 17 AB
Chris Carter .333, 3 AB
Carlos Beltran .308, 1 HR, 1 RBI, 13 AB
Angel Pagan .250, 2 RBIs, 12 AB
Luis Castillo .250, 8 AB
David Wright .222, 1 HR, 2 RBIs, 18 AB
Ike Davis .000, 4 AB
Worley vs. Mets (career: never faced)
Oswalt vs. Mets (career: 5-5, 3.68 ERA)
Carlos Beltran .400, 1 HR, 7 RBIs, 20 AB
Jose Reyes .286, 1 RBI, 28 AB
Luis Castillo .227, 3 RBIs, 22 AB
David Wright .200, 2 RBIs, 20 AB
Henry Blanco .000, 5 AB
Angel Pagan .000, 4 AB
Luis Hernandez .000, 2 AB
Last series results:
Phillies won 2-1 at Citi Field, Aug. 13-15 (AP game recaps)
Mets 1, Phillies 0: R.A. Dickey threw a one-hitter, allowing only a solid, sixth-inning single to pitcher Cole Hamels, and the New York Mets shut out the Phillies once again at Citi Field. The Mets blanked the high-scoring Phillies for the fourth straight time at home. New York outscored their NL East rivals 16-0 during a three-game sweep in late May, a string started by Dickey. David Wright and Carlos Beltran hit consecutive doubles with two outs in the sixth for the lone run. Despite having Mike Hessman lose a home run on a video-replay reversal, the Mets posted their first two-game winning streak since June 22-23. The Mets and San Diego are the only teams in the majors that have never pitched a no-hitter, and Dickey's bid ended with one out in the sixth. Hamels, a career .146 hitter coming into the game, lined a clean single that strong-armed right fielder Jeff Francoeur handled at medium depth. Francoeur looked at first base before deciding not to try a heave. Dickey wound up tossing the 35th one-hitter for a franchise that began play in 1962 -- this one spoiled by a pitcher's hit, of all things. This marked the fourth time in the majors since 1990 that there was a one-hitter in which a pitcher got the only hit, STATS LLC said. Atlanta's Tim Hudson was the last pitcher to throw that kind, broken up by Jason Jennings' hit for Colorado on May 1, 2006. Hit hard by the Phillies in his last start, Dickey (8-5) baffled them all evening, striking out seven and walking one in his second career shutout. His other came in 2003 with Texas. The 35-year-old righty threw 105 pitches, all but three of them knucklers. This was the Mets' major league-leading 18th shutout this year, with Johan Santana throwing one in New York's previous game. The Phillies came to town after totaling 21 runs in a three-game series against the Los Angeles Dodgers. The win provided some much-needed relief for the Mets. The last couple of days have been dominated by news of closer Francisco Rodriguez's arrest on a charge of third-degree assault against his girlfriend's father. Hamels (7-9) has not won in six starts despite pitching well. He gave up five hits in seven innings and struck out eight, and again was the victim of poor run support. The Mets swiftly struck with two outs in the sixth. Wright broke an 0-for-15 slump with a liner that sailed over center fielder Shane Victorino for a double. Beltran followed with a double beyond the leap of left fielder Raul Ibanez. Wright casually strolled home, not that he needed to sprint to score. Hessman, whose 329 career minor league home runs are the most among active players, looked as if he might have his 15th lifetime major league homer after launching a drive to left in the fifth. As he circled the bases, Ibanez complained that a fan reached over a railing above the wall and interfered. Three umpires went to watch a replay while Hamels threw some warmups. The trio of umps returned and huddled again on the field before pointing Hessman to third base with his first big league triple. In all, Hamels went more than 10 minutes between pitches.
Phillies 4, Mets 0: Roy Halladay singled and scored the first run for Philadelphia this season at the Mets' home ballpark, then managed to hold New York off the scoreboard over eight dominant innings. There was not much to smile about for the Mets on this night. Closer Francisco Rodriguez returned to the mound after his two-game suspension and was booed by a home crowd frustrated by another inept performance at the plate and sloppy play in the field. Halladay (15-8) singled with two outs in the third off Pat Misch (0-1), the first hit by a Phillies player in 19 batters going back to the previous night's loss. Placido Polanco drove him in with a base hit a few minutes later, their first run at Citi Field in 38 innings. They got three more thanks to three errors by the Mets, not that Halladay needed them. He limited New York to four hits and struck out seven without a walk. He won his season-high fifth straight start and improved to 9-1 against the NL East. Very little has been good lately for the bumbling Mets. Rodriguez was booed lustily in his first game since being arrested and charged with third-degree assault on his girlfriend's father at Citi Field. Rodriguez pitched a scoreless ninth a few hours after apologizing for the incident. Rookie second baseman Ruben Tejada made the Mets' first major mistake when he fielded a grounder in the fifth inning and threw it into left field while trying to start a double play, allowing Jimmy Rollins to score for a 2-0 lead. Then in the sixth, All-Star third baseman David Wright let a two-out grounder go through his legs and two more runs crossed the plate. All three runs were unearned, though that was probably of little solace to Misch. The left-hander was called up from Triple-A Buffalo to make his first start of the season, and held the Phillies to eight hits over six innings. He retired the first eight batters he faced to give the Mets a chance, though that's about all it was with Doc on the mound. Halladay effortlessly set New York down in order the first three innings, mixing a mid-90s fastball with a wicked slider that caught Ike Davis looking twice. Jose Reyes finally connected in the fourth inning, belting a pitch to the base of the wall in the deepest part of the park for a triple. But the Mets failed in three tries to get him 90 feet home, the second straight night they stranded a runner at third base with no outs. The Mets still had a chance in the ninth inning, when reliever Ryan Madson loaded the bases with two outs. Josh Thole struck out swinging, though, prompting yet another chorus of boos from a crowd of 39,151.
Phillies 3, Mets 1: Kyle Kendrick toyed with New York's sputtering offense into the seventh inning. Jimmy Rollins stole two bases and Shane Victorino swiped another to help manufacture two-out runs for the banged-up Phillies. Jayson Werth tripled and reached base three times as Philadelphia won the final two games of the three-game series after snapping their 38-inning scoreless streak at Citi Field. With a whimper, the Mets ended a trying week in which a civil suit was filed against ace Johan Santana by the woman who accused him of raping her (no criminal charges were filed last year in Florida) and Francisco Rodriguez, their closer, was charged with third-degree assault for allegedly beating his girlfriend's father outside the family room at Citi Field. Other than Jose Reyes' leadoff homer in the third that tied it 1-1, the Mets mustered five hits. They went 0-for-5 with runners in scoring position and were 3-for-34 (.088) in that situation during the 3-3 homestand. New York's three wins were shutouts, including two 1-0 games. Many in the crowd of 31,345 that endured a persistent drizzle in the early innings raced for the exits after Jeff Francoeur flied out to the warning track in left-center against reliever Chad Durbin to end the seventh with a runner on first. Ryan Madson walked one in a scoreless eighth and Brad Lidge pitched a perfect ninth for his 16th save in 20 chances. Victorino, who had three hits, doubled off Mike Pelfrey (11-7) with two outs in the third to drive in Rollins, who singled and stole second and third for a 1-0 lead. Victorino singled and stole second in the fifth before scoring on Placido Polanco's single. Werth tripled and scored on Carlos Ruiz's hit past diving third baseman David Wright, who was playing in, to make it 3-1 in the sixth. In the third, Kendrick (8-5) hit what appeared to be a bloop single to right field but Angel Pagan, playing shallow, fielded the ball on one hop and threw the Phillies starter out at first base. Kendrick had no embarrassing moments on the mound. He bounced back from a rough start against the Dodgers to limit the Mets' anemic offense to six hits -- and only one after the third -- in 6 2/3 innings. Pelfrey had his second solid start after seven dismal outings, giving up seven hits and three runs over seven innings. Greg Dobbs made his first start of the season at first base for the Phillies because Ryan Howard is on the disabled list and Ross Gload was nursing a strained right groin. Rookie first baseman Ike Davis gave the Mets a scare when in the eighth inning he flipped over the railing of the camera well next to New York's dugout trying for a foul ball. Davis, who has made a couple of catches falling over the rail, flipped over but landed on his feet. Before the game, Mets principal owner Fred Wilpon declined to answer questions from reporters. He said: "Nope. I've got to go to the University of Michigan." An alum of the blue and maize, Wilpon was hosting a get-together at Citi Field for the school's incoming freshmen who live in the New York area.