ESPN's Doug Glanville, a former major league outfielder, writes extensively about the challenges Carlos Beltran faces moving from center field to right field. Here' s an excerpt: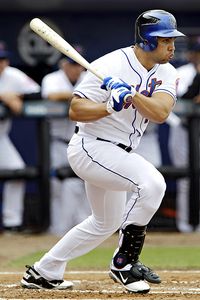 AP Photo/Carlos Osorio
Carlos Beltran went 1-for-3 as a DH on Sunday in his first Grapefruit League action. He should be in right field in seven to 10 days.
My gift was an ability to know relative distance. I could just know if Bobby Abreu was too close or if Pat Burrell was too deep. Or maybe Sammy Sosa was still upset at his last at-bat and didn't look at me or Alex Rodriguez hated going back on popups. Alex loved that I learned from Piersall to scream at the top of my lungs to call off drifting infielders.After years of committing to this idea, that you are in charge and have to eat, sleep and drink positioning, it is hard to let go of playing center field. No center fielder in his right mind would want to play left or right.
So when I read that Beltran, who turns 34 on April 24, relinquished his role as captain of the outfield in favor of Angel Pagan and would be the right fielder of the New York Mets, I knew that he would have trouble with it. It has nothing to do with his lack of understanding of the "why." He is not 100 percent healthy, he won't take reps in the outfield for a while, and he wanted to eliminate the team distraction of an outfield controversy, not to mention that Pagan has done a fantastic job out there. But in the same breath, Carlos must be saying "I can still do it."
The trouble he is having is because of what happens when you play center field for a long time. It becomes part of your essence: You lead, you are all-knowing, you make decisions, you don't have time to flirt with the girl in the stands, you don't have time to work on your batting stance after a terrible at-bat, you don't have time to chat up your teammates in the bullpen. You are "on" all of the time and quite frankly, left and right field are boring to a center fielder.
That is not to say left and right field are easier. The balls hook and slice, dip and dive a lot more in those corner spots; you may even have to deal with ivy-covered brick walls or dozing ball boys. Then add the Green Monster or Minute Maid pinball machine and you become a billiards player more than an outfielder.
But center field is where you see it all even though you are the farthest from most of the action.
Read Glanville's full piece here.