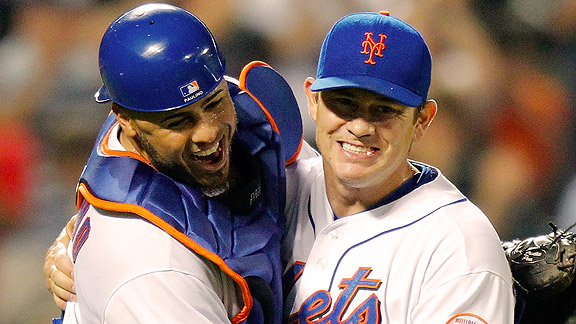 Paul Bereswill/Getty Images
Jason Isringhausen receives congratulations from Ronny Paulino after Tuesday's Mets win, and career save No. 299.
Even if reaching the 300-save plateau is particularly meaningful for him, Jason Isringhausen said he will not be thinking about the milestone when he takes the mound for his next save opportunity.
Isringhausen picked up save No. 299 on Tuesday night, as the Mets rallied from a late two-run deficit for the second straight game against San Diego. It was Isringhausen's first successful save since July 29, before the trading deadline, and only his second chance this month.
"I don't think about it," Isringhausen, 38, said about the approaching milestone. "I try to go out there and get three outs as quickly as I can. I know it's a boring answer."
Still, Izzy added after Tuesday's 5-4 victory about his next chance: "Maybe beforehand I'll be nervous. No more nervous than I was tonight. Anytime I have a one-run lead I'm always nervous. I will treat it as another game."
Isringhausen, whose first save came as a Met in 1999, before being traded to Oakland, ranks 23rd on the MLB all-time saves list. The upcoming closers he can pass:
No. 22: Bruce Sutter, 300
No. 21: Doug Jones, 303
No. 20: Jeff Montgomery, 304
No. 18: Francisco Cordero/Rich Gossage: 310
Isringhausen, in his first action in six days Monday, tossed a scoreless inning. He had suffered a pair of losses last week against Florida, one also a blown save, while allowing a combined six runs (five earned) in two innings.
"Even those days against Florida, the second day I blew the save, but I really felt sharp except for the hit batter," he said. "Other than that, I've been feeling OK. My arm has been feeling good."
Isringhausen said he began readying for Tuesday's potential work when Angel Pagan homered in the eighth to pull the Mets within 4-3. With the Mets being the home team, he knew one more run and he would pitch the top of the ninth. The Mets got two runs -- on Nick Evans' sacrifice fly and Ruben Tejada's bases-loaded walk -- to provide the save opportunity.
"It's probably better," Isringhausen said about the short notice, "because I just jump up and start throwing."