PITTSBURGH -- Sandy Alderson does not foresee any sweeping change coming to the Mets before the July 31 trade deadline, although the GM noted Saturday afternoon that it is impossible to fully foresee what opportunities may present themselves in the next 18 days.
"Look, I couldn't have predicted on June 15 or July 1 that the team was going to look like it does today," Alderson told ESPNNewYork.com. "So I'd rather not speculate. I don't see it looking substantially different, but one or two players can make a difference one way or the other. So I just can't predict that. But I think we are in a position these days where we're thinking more inquisitively than we have in the past."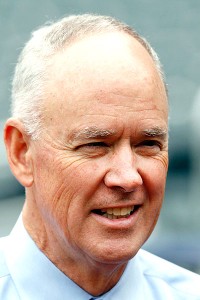 William Perlman/US Presswire
Sandy Alderson
Major League Baseball execs familiar with the Mets' thinking offer these insights:
• It is unlikely a major piece such as the Rockies' Carlos Gonzalez or Dodgers' Andre Ethier gets moved at the trading deadline with the NL West race so congested. And there is no evidence the Marlins intend to move Giancarlo Stanton this month. Still, baseball people speculate the Mets could inquire on a handful of outfielders under control beyond 2013. One example: White Sox right fielder Alex Rios, who is owed $12.5 million in 2014 and also has a club option for 2015.
• The Mets waited a long time to have an effective and affordable closer such as Bobby Parnell. And role players such as Daniel Murphy are valuable to a club. So would the Mets trade those types of pieces in the right deal? Of course. But no one is predicting that type of transaction, nor are they being shopped.
• The Mets do not have a ton of incentive to trade Marlon Byrd unless something appetizing is offered in the way of prospects, since Byrd is only making $700,000. In fact, unlike some other years, there are not contracts the Mets are trying to dump, with the exception of Frank Francisco at $6.5 million. (Good luck with that.)
Alderson, for his part, portrays Byrd as between Carlos Beltran and Scott Hairston in what he might return.
"I would say that Scott was more of a platoon player for us, although he had fallen into a starting role because of some other things," Alderson said. "Marlon maybe is a little more of an everyday guy, which makes him more central to what we're doing."
The Mets have valued trying to finish strong in recent years, which is a disincentive toward trading Byrd.
"We don't have anybody we have to move," Alderson said. "What we've been trying to do for the last several years is stockpile talent, clear payroll with significant complications and then be as competitive as we can possibly be without sacrificing Nos. 1 and 2. In order for us to sacrifice No. 3 (competitiveness), it has to be a material advantage in talent for us to do that. Is that going to happen? I don't know."
Alderson suggested there have not been substantive trade discussions yet, even though the deadline is less than three weeks away.
"There have been conversations, but more probing," Alderson said.
Alderson did say the Mets will be in position to spend this winter, although fewer and fewer marquee free agents are becoming available in recent years, so taking on contracts via trade may be the route. In other words, to use Scott Boras' parlance, the Mets may no longer be limited to the "fruits and nuts" section of the supermarket.
"We've been looking basically the bottom end for the past couple of years," Alderson said. "Trade-wise, there's top end, medium, bottom. We ought to be able to play in some of the upper echelons of both of those markets if we want to. Not everybody is going to command a five- or six-year contract."
Alderson summarized the trade deadline this way: "The bottom line is I don't know what the market is going to say."