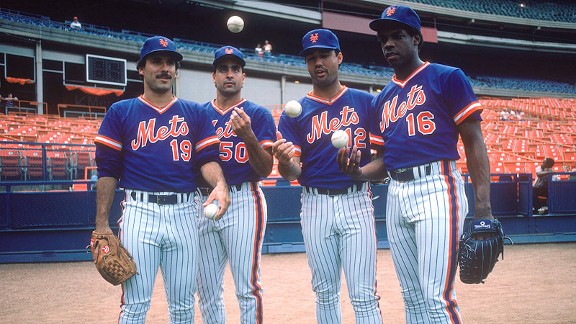 Focus on Sport/Getty Images
This quartet made up the Mets' best-ever starting rotation.Buster Olney has begun a weeklong series on ESPN Insider in which he is ranking top 10s of all-time. He's assessing starting rotations, bullpens, infields, outfields, lineups and teams.
With that in mind, I thought I'd offer up my top five for the Mets in each. We'll do both starting rotations and bullpens today, since Buster has already done those two.
Top 5 Mets starting rotations
1. 1986: It's a three-team race for the top spot, and we'll give the narrowest of nods to the 1986 team. The depth of this rotation has never been matched in club history.
1986 Mets Starters
Three pitchers (Bob Ojeda, Ron Darling and Dwight Gooden) finished in the top five in the National League and top eight in the majors in ERA, and a fourth (Sid Fernandez) was an NL All-Star.
The combined numbers of the starters: 78-33 with a 3.16 ERA.
2. 1969: The Tom Seaver-Jerry Koosman combo from that season was a combined 42-16 with a 2.24 ERA, making them the best 1-2 punch in team history. The 3-4-5 lacks the sizzle of the 1986 team, but one of the primary reasons the Mets excelled late in the season was a six-start run by Don Cardwell (0.80 ERA) and a 2.19 ERA in September/October from rookie Gary Gentry. Also of note: the 1969 starters had the lowest opponents batting average in Mets history at .221.
3. 1988: The 1988 team ranks a hair below the 1986 squad in my book, though it did have the best baserunners per nine innings rate as a group (10.32) and allowed the fewest home runs per nine innings (0.52). This was as durable a staff as the team ever had -- with Gooden, Darling, Ojeda, Sid Fernandez and David Cone combining for 156 of their 160 starts. Cone's 20-3, 2.22 ERA season ranks arguably among the top five pitching seasons in Mets history.
4. 1985: Notice a trend here? I didn't want to overload by picking three teams within a four-year span, but this team belongs on the list. It had the third-best staff ERA and second-best winning percentage of any starting rotation in Mets history. It also featured the best pitching season the franchise has ever had (Dwight Gooden's 24-4, 1.53 ERA, with 276 strikeouts).
5. 1973: The Seaver-Koosman-Jon Matlack trio was the one group of Mets that stayed healthy in what was a very unusual run to the NL East title. This wasn't the best year for any of those three, but each was at a prime stage in his career. This group also gets bonus points for its postseason run. In the NLCS and first six games of the World Series, Mets starters allowed 13 earned runs in 70 innings.
Best bullpens in Mets history
1. 1988: The effectiveness of the back end of this bullpen is hard to match. Mets relievers that season had the best save percentage (85 percent) in club history, and the team's 19 percent rate of allowing inherited runners to score was the best for the 39 years for which we have data.
1988 Mets Bullpen
Randy Myers was a "game-over" closer and Roger McDowell was as solid as he was in the Mets' championship-winning season two years prior. If we're debating 1988 vs. 1986, the difference is a small one. I'd take Terry Leach as the middle/long man over the always-unnerving Doug Sisk.
2. 2006: The lasting memory of this Mets bullpen is Aaron Heilman giving up the game-winning home run to Yadier Molina in Game 7 of the NLCS, but our choice is based on the overall body of work. Mets relievers had a 3.25 ERA and .239 opponents' batting average in a season in which the NL averages were 4.17 and .258. This is a group that was a solid six-deep, with Billy Wagner (40 saves), and Duaner Sanchez (pre-taxicab injury), Chad Bradford, Pedro Feliciano and Darren Oliver all filling their roles more than capably. One pitch should not ruin six months of work.
3. 1999: Similar to 2006, there's an unhappy ending here (two blown saves in Game 6 of the NLCS) that wipe out an impressive run of success. For all that Mets fans dislike Armando Benitez, you have to be impressed with his 128 strikeouts and 40 hits allowed in 78 innings. John Franco, injured for two months, was his usual adventurous self the rest of the season. The Mets also had what was probably their most reliable righty-lefty setup combo in Turk Wendell and Dennis Cook, as well as long-man Pat Mahomes.
4. 1969: The collective ERA for this group (3.49) doesn't do it justice. The Mets' bullpen was integral to the team's success. Once the team got rolling, so did its top relievers, Ron Taylor and Tug McGraw.
A cool stat on McGraw's value: He made a dozen relief outings that season of three innings or more. In them, he pitched 46 1/3 innings and allowed four runs. The Mets won 10 of those 12 games, seven by two runs or fewer.
5. 1971: I could have taken the easy way out and gone 1986 here, but wanted to go a different way. The numbers steer me the way of the 1971 pen, two years removed from a championship. McGraw basically replicated his 1969 relief efforts (1.63 ERA, 1.02 WHIP, eight saves in 50 relief efforts) and was joined in tandem by the underrated Danny Frisella (1.99 ERA, 12 saves in 50 games). The 1971 Mets bullpen also had the best runners per nine innings rate in club history.
What's your take? Share your thoughts in the comments.